GEORGE NUUS - Onduidelikheid het verlede week in die Tuinroete en Hessequa-distrikte geheers ná 'n vrou, wat volgens die George-krematorium aan Covid-19 gesterf het, veras is.
Op Vrydag 3 April het George-krematorium 'n Facebook-plasing gemaak waarin hulle hul 'eerste Covid-19 verassing' bekendmaak.
"Eerste Covid-19 verassing by George-krematorium, dankie aan my personeel. Mense besef die erns van die saak. Bly asb. by julle huise. Dankie vir almal se gebede vandag. Dit het ons deur gedra," lui die plasing.
"Dit is vir ons deurgegee as 'n Covid-19 sterfte," het George-krematorium se bestuurder, Madelein Laufs, by navraag aan George Herald gesê.
"Ons bedien 'n groot area: van Beaufort-Wes tot Swellendam, Riversdal en Plettenbergbaai. Covid-gevalle moet voorkeur kry en sodra die nodige mediese dokumentasie afgeteken is, moet die verassing binne 48 uur plaasvind. Ondernemers moet bel vir 'n afspraak en in die lig van die situasie waarin ons is, moet hulle sê as dit 'n Covid-geval is sodat ons die nodige voorbereidings kan tref."
Krematorium-personeel in gebed voor die kis uit Riversdal by hulle aankom.
Die George Herald kon later vasstel dat die vrou, glo tussen 70 en 80 jaar oud, van die Hessequa-distrik afkomstig was.
Talle navrae is tussen Vrydag 3 April en Maandag 6 April, aan die Wes-Kaapse departement van gesondheid en die Wes-Kaapse regering gestuur.
Albei partye het bevestig dat daar geen sterfgevalle weens Covid-19 in die Suid-Kaap, aangemeld is nie.
George-krematorium se Facebook-plasing.
Volgens Francine Higham, 'n woordvoerder wat die naweek ingestaan het vir die premier van die Wes-Kaap, Alan Winde, se woordvoerder, kon hulle geen besonderhede van die oorledene bekendmaak nie. Selfs nie die oorsaak van haar dood nie.
Nadia Ferreira, woordvoerder vir die Wes-Kaapse departement van gesondheid, het by navraag bevestig dat daar tans geen Covid-19 sterftes in die Tuinroete-distrik aangemeld is nie.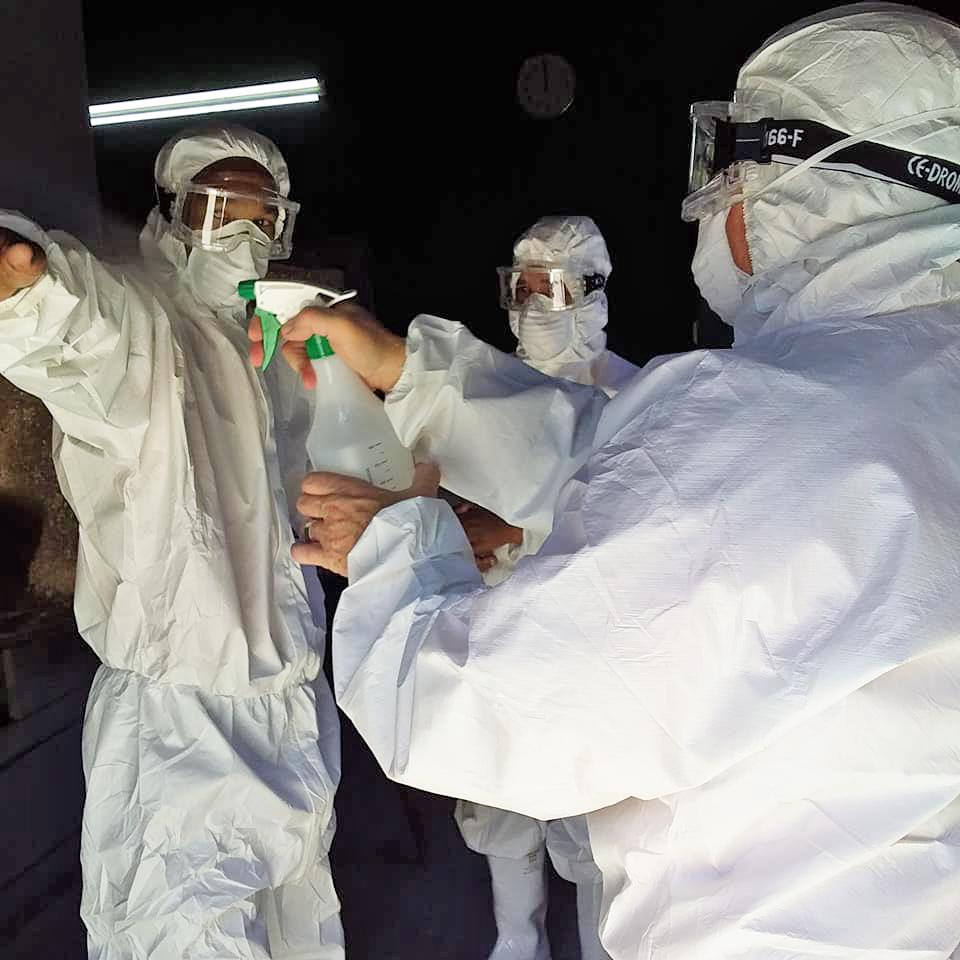 Die krematorium se personeellede het alle nodige voorsorgmaatreëls getref.
Op 'n navraag of die personeellede van die Avbob-kantoor op Riversdal onder kwarantyn geplaas is, wou Dihanna van Wyk, die bestuurder van dié kantoor, geen kommentaar lewer nie.
Die oorledene se familie kon tot dusver nie bereik word nie.
Die eienaar van die George-krematorium het Sondag 5 April gesê dat hulle volstaan by die feit dat daar vir hulle deur die betrokke begrafnisondernemer gesê is die persoon is dood weens Covid-19.
Dié foto van 'n kennisgewing op die deur van Avbob op Riversdal is Maandagoggend om 09:00 geneem.
Dear reader, As your local news provider, we have the duty of keeping you factually informed on Covid-19 developments. As you may have noticed, mis- and disinformation (also known as "fake news") is circulating online. Group Editors (publications and online platforms) is determined to filter through the masses of information doing the rounds and to separate truth from untruth in order to keep you adequately informed. Local newsrooms follow a strict pre-publication fact-checking protocol. A national task team has been established to assist in bringing you credible news reports on Covid-19.
'Ons bring jou die nuutste George, Tuinroete nuus'