Gallery Video
GEORGE NUUS EN VIDEO - Vooruitgang vat harde werk en soms briewe skryf en mooi vra. So vertel Magdalene Fortuin, waarnemende hoof van Sonneblomland-kleuterskool in Proteapark.
Magdalene sê vandat sy waarneem probeer sy hard om die skool weer op te bou en mooi te maak. Sy het moeite gedoen om verskeie sakelui te gaan sien met die visie dat hulle aan boord sou kom as borg vir 'n nuwe naambord vir die skool. Hulle het onlangs 'n pretdag by die skool gehad om dankie te sê aan al hul borge.
"Ek het by ons raadslid geleer om tot by mense te gaan eerder as om net 'n e-pos of brief te stuur. Dit is dan moeiliker om nee te sê."
Sy sê sy het ook die raadslid van hul wyk, Peter Louw, genader. Hy het geld geskenk vir die opknap en verf van hul speelapparate.
Louw sê hy help waar hy kan en sal vir organisasies, groepe en skole gee.
"Ek probeer om oor elke twee jaar te gee, dan kry dieselfde mense nie elke keer nie. Ek sal selfs raad gee oor hoe mense te werk moet gaan om borge of finansiële hulp te kry."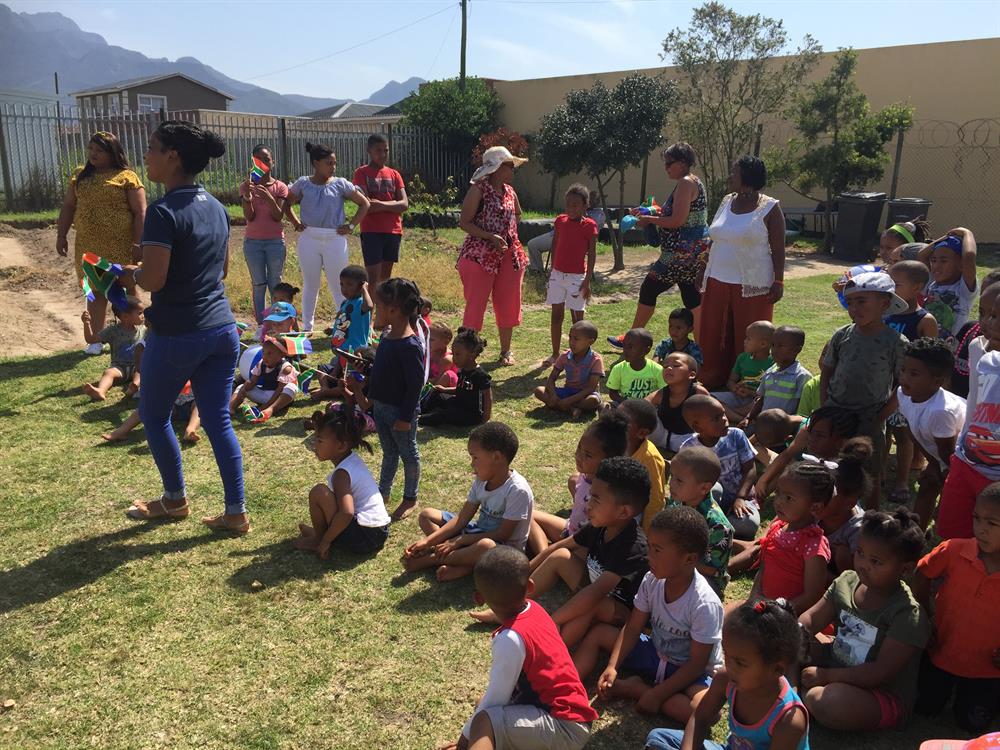 Die skool het Vrydag 'n pretdag gehou om hul nuwe naamborde te vier. INLAS: Nizam Mansoor van die BP N2 Oasis word hier bedank deur Magdalene Fortuin, die waarnemende hoof van Sonneblomland Speelskool. BP was een van die borge vir die skooltjie se nuwe naamborde.
Kyk video hieronder.
Hy het self ook die oggend saam met die kinders geniet.
Magdalene sê hulle het 'n paar projekte waarmee hulle besig is omdat sy graag wil hê die gemeenskap moet weer trots wees op hul skool. Sy het ook borge gehad wat koek, koeldrank en sand vir hul sandput geskenk het, waarvoor sy baie dankbaar is.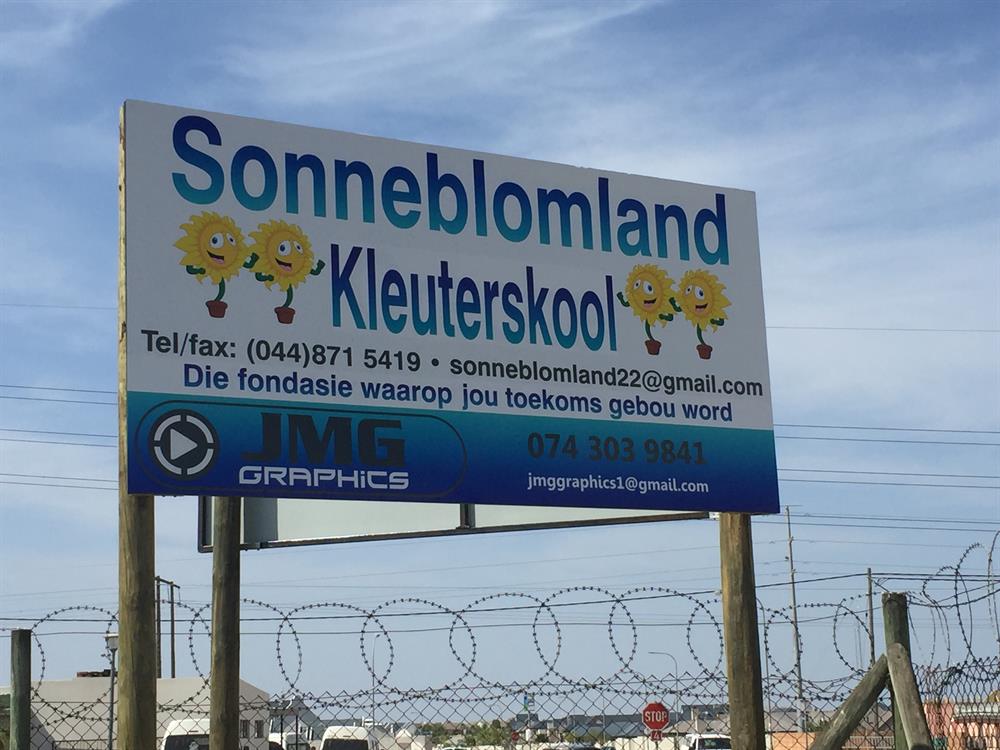 Een van die naam borde wat deur JMG Graphics geborg is. Hulle kon ongelukkig nie Vrydag die geleentheid bywoon nie.
'Ons bring jou die nuutste George, Tuinroete nuus'