Video
GEORGE NUUS EN VIDEO - Einde Julie, wanneer sy klasmaats 'n blaaskansie tydens die wintervakansie neem, is Marcus Buxmann (17) op pad na Nasa (National Aeronautics and Space Administration*) se United Space School in Houston, Amerika.
Marcus, 'n gr.-11 leerder van Hoërskool Outeniqua, is een van twee Suid-Afrikaanse tieners wat genooi is om die ruimteskool by te woon. Marcus reis saam met Mari Borman (17), 'n gr.-11 leerder van Paarl Gimnasium en Silke Redecker (17), 'n matrikulant van die Deutsche Höhere Privatschule in Windhoek, Namibië.
Altesaam 50 studente van 25 verskillende lande neem aan die program deel.
Dit strek oor twee weke, met die tema "A Manned Mission to Mars". Die studente blink uit in wiskunde en fisika, en toon 'n sterk belangstelling in ruimte-wetenskap.
Marcus het verlede week gehoor hy is vir die somerkamp in Houston gekeur.
Op 'n vraag oor hoe hy oor dié nuus voel, het Marcus soos 'n tipiese ingenieur geantwoord: "Opgewonde."
Sy belangstelling in die ruimte het reeds as sesjarige begin en sedertdien lees Marcus so veel moontlik oor die onderwerp, waaronder die biografie van die Suid-Afrikaans gebore, tegnologiese entrepreneur Elon Musk, 'n Amerikaanse ingenieur en stigter van die maatskappy SpaceX.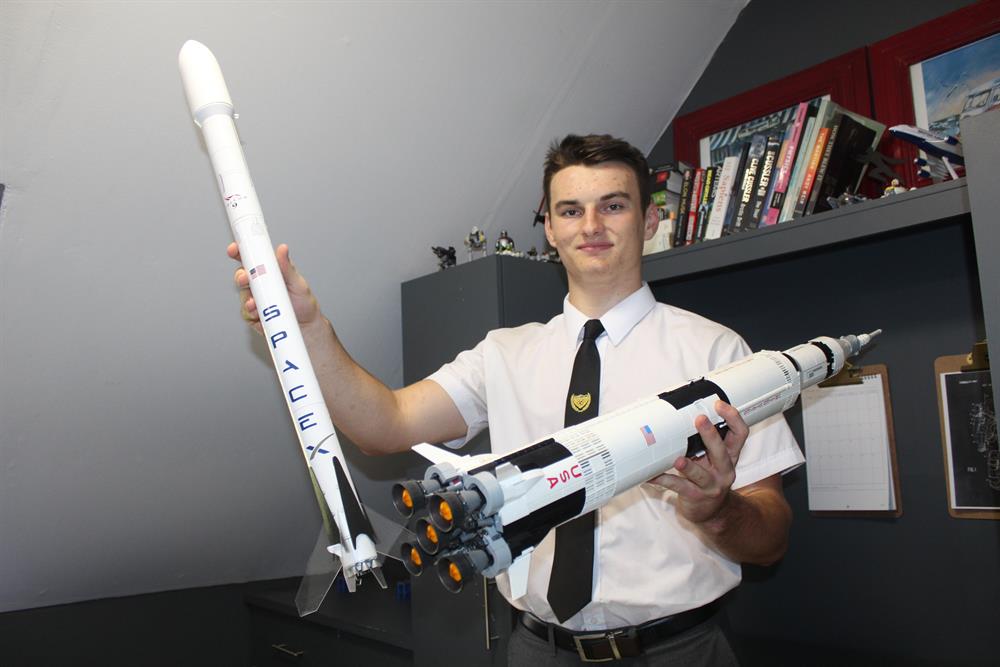 Marcus Buxmann (17) is 'n stappie nader aan sy droom om eendag 'n lugvaartingenieur of vuurpylwetenskaplike te word. Foto's: Michelle Pienaar
Volgens Marcus se ma, Marelize Buxmann, het haar seun 'n "liefdesver-houding" met wiskunde.
"Hy kan jou 17 maniere wys om een som te doen. Hy kry volpunte vir sy wiskunde-vraestelle, maar dit is normaal vir daar waarheen hy wil gaan. Die Here het sy talente en sy drome in lyn gebring," het sy gesê.
As 17-jarige neem Marcus reeds klasse in ingenieurswiskunde, en het hy deur sy hele skoolloopbaan Kumon-wiskundeklasse geneem.
Kyk 'n video hieronder:
Wida du Plessis, Suid-Afrika en Namibië se amptelike spanbestuurder en verteenwoordiger van die United Space School, het gesê sy is reeds die afgelope 16 jaar by die program betrokke.
"Dit is 'n hoë akademiese somerkamp," het sy gesê.
"Die toekomshoop en ontwikkeling wat jongmense tydens die twee weke ervaar is ongelooflik.
"Ek stuur kinders hier weg en hulle kom as volwassenes terug."
Du Plessis raai die leerders aan om dagboek te hou, want die program is baie vol.
"Laai jou foto's af, skryf notas by, want na 'n week vergeet jy wat gebeur het. Van die kinders gee 'n aanbieding by hul skool nadat hulle teruggekeer het en dit het ook 'n impak op die ander kinders.
"Hulle sien dit maak nie saak hoe groot jy droom nie, daar is 'n kans om dit te bereik.
"Kinders leer ook die wêreld is bereikbaar. Hulle maak internasionale kontakte met ander leerders. Die groter prentjie is verstommend."
* Die federale agentskap wat verantwoordelik is vir lugvaartnavorsing, lugvaartkunde en die burgerlike ruimteprogram.
'Ons bring jou die nuutste George, Tuinroete nuus'