GEORGE NEWS - What should have been a simple appendix removal in October last year, turned into a year of hell for a 12-year-old girl and her family from George. She is still suffering from the ramifications of what her mother, Bianca, calls three "botched" operations at the George Hospital.
Bianca refuses to pay the hospital bills. She is convinced that, if the first operation had been done properly, there would be no need for her daughter to go back for the second or third. She believes the doctors did not do a good job the first time and tried to rectify their mistakes twice.
Long wait
Bianca says her daughter suffered much pain and trauma when they took her to hospital because a hospital nurse made them wait, even when they showed a letter from a private doctor saying that this was an emergency case.
Bianca took her daughter to George Hospital on 5 October 2018 where they waited from 11:00 till about 16:30 that afternoon without her being attended to. "The waiting room was so full and according to the triage, her level of pain did not qualify as an emergency," says Bianca.
"While we waited to be helped her appendix must have burst, because her pain became severe, she started throwing up, had the worst cramps and could not walk because of the pain."
Bianca eventually called her husband to take them to a private doctor. There they were told to go back to the hospital and get help immediately. However, when Bianca showed the hospital staff the letter from the private doctor, she was once again told to wait. It was about 22:00 that evening when they finally saw a doctor, she says.
"They sent my daughter for a scan and the doctor called a surgeon to also take a look at her and she was put on a drip." When the results of the scan showed that her appendix had indeed burst, the doctor wanted to know why they had waited so long.
Bianca informed him that they had been told by the staff to wait as the girl's condition was "not an emergency".
The girl underwent three surgical procedures in October and November last year, every time leaving her with more internal damage and a bigger scar. "My daughter was a sporty person. Now she cannot lift her arms above her head. She has no navel because they kept cutting at the same place, and we don't know if her reproductive system will work," says Bianca.
It also worries her that at first, her daughter was never treated by the same doctor, and then suddenly there were three doctors attending to her.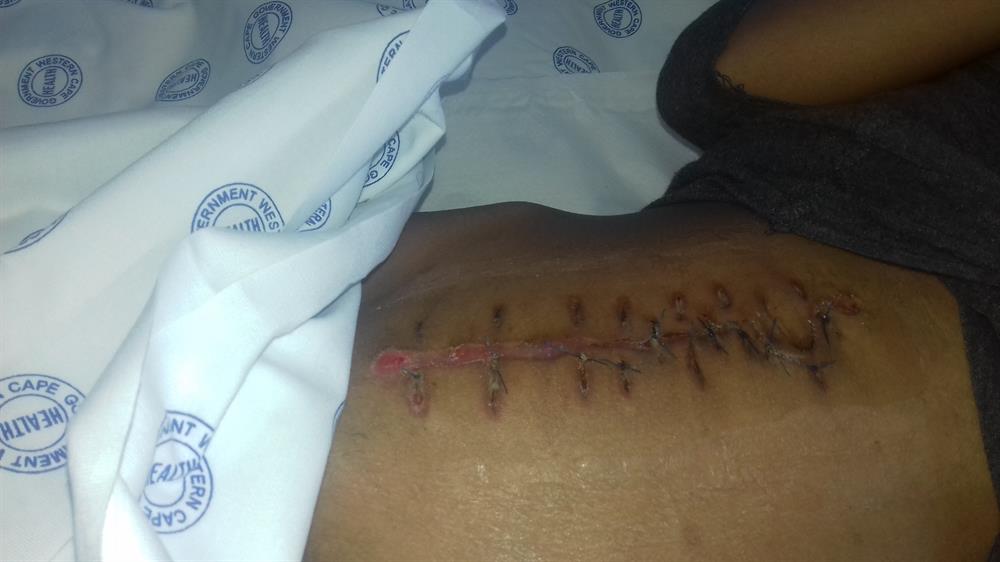 The scar caused by three operations in the same spot.
Bills
Now Bianca is held responsible for four hospital bills. "I'm not being nasty but if they did not botch the first operation, we would not be in this situation. And even if we wanted to pay, we can't. We are not in a financially strong position to do so," she says.
Bianca had to take two months' unpaid leave to be at her daughter's side, which left her husband to shoulder all the financial responsibilities.
"We lost income, I found out I was pregnant during that time and there were children to maintain - and we had just bought a house."
Responsibility
The family wants the hospital to take responsibility for their errors and be liable for any future medical expenses that the girl may have because of the "botched" surgery. This is because a year after the surgery her abdomen is still swollen, she has pain when urinating and her nose bleeds for no apparent reason.
The photo was taken in October 2018. A drain was put in to help drain excess blood and pus.
Nadia Ferreira, a communications officer for the Garden Route and Central Karoo districts, says they regret to hear that the client had a negative experience at their facility and apologise for the long wait.
"We urge our clients to speak to management should they be unhappy with the service that they have received. The hospital does not have record of an official complaint from the client for services rendered in 2018. Although the hospital allows terms of payment, it is the client's responsibility to make full payment for services rendered."
* Names have been withheld to protect the child's identity.
'We bring you the latest George, Garden Route news'