GEORGE NEWS - One of the oldest graveyards in George, the Memorium Street cemetery, is getting a welcome revamp from volunteers and descendants of those buried there.
According to records, the historical graveyard houses about 1 200 graves, with the first burial that of CJ van Huysteen in 1881, and the last GF van Wyk in 1997.
"This facility is probably the largest and richest cultural historical repository on the Garden Route," says Councillor Sean Snyman who, as part of Ward 19, is powering the rejuvenation drive.
"Moreover, Memorium Street, which leads into Hope Street, is earmarked to become one of the main arterial routes for George and for Go George buses. As such, the cemetery attracts the attention of thousands of motorists using this busy thoroughfare," he says.
According to local historian Lynne Thompson, the facility was previously known as the Railway Cemetery, with many of the burials emanating from the Dutch Reformed Mother Church and St Mark's congregations.
"One of the graves belongs to a 19-year-old scout, Temple Pulvermacher, who was shot in a skirmish with Jan Smuts's boer commando outside Oudtshoorn on 26 October 1901," she says.
Some of the more prolific family names there include Aspeling, Ballot, Barnard, Boshoff, Botha, Butler, Claasen, Cronjé, Desai, De Swardt, Du Plessis, Du Preez, Fourie, Gerber, Gericke, Heunis, Jonck, Koen, Lamprecht, Meyer, Moore, Muller, Nelson, Olivier, Pienaar, Robertson, Sayers, Smith, Stander, Stevens, Stopforth, Strydom, Swart, Terblanche, Theron, Thorpe, Van der Merwe, Van Niekerk, Van Rensburg, Van Rooyen, Van Tonder, Van Zyl, Venter, Volschenk, Watson, Westenraad and Zeelie.
"While the municipality is responsible for the cutting of grass around the graves and the perimeter fence, the maintenance of each grave is the responsibility of the individual family," says Hilton Spies, municipal superintendent of Parks and Recreation. "With 13 municipal cemeteries to tend to, we really appreciate the help from volunteers."
George resident Warren Escherich has taken it upon himself to clean some of the graves over weekends and has started a Facebook page, Memorium Street Graveyard.
Although the cemetery is locked to keep out vandals, the key to the front gate can be obtained from the George Fire Station in Mitchell Street.
Volunteers interested in joining the steering committee can e-mail Warren Escherich at 3dwarr@gmail.com or WhatsApp him on 073 963 8879.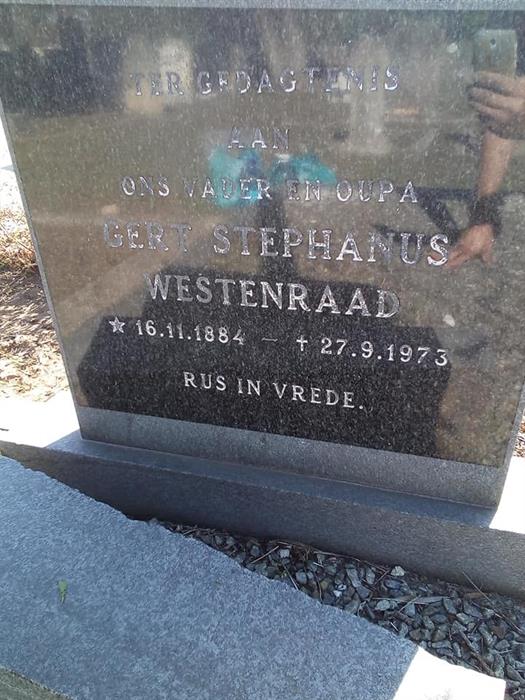 The gravestone of Gert Westenraad, who was born in 1884.
'We bring you the latest George, Garden Route news'