GEORGE NEWS - Urgent calls for help from residents in life-threatening situations were made to the George Municipality during the heavy rain downpour last week. The heavens opened last Wednesday afternoon from 16:00 until about 22:00 that evening, showering down on George.
George Municipality had to prioritise their calls as some were life-threatening, said Chantel Edwards-Klose, George Municipality media liaison officer.
In six hours, a total of 62mm of water was measured in George. According to Wouter Jacobs, of Eden Disaster Management, this is by far the most for the Eden District. This downpour ensured that the Garden Route Dam is 100% full, confirmed Edwards-Klose.
Eden Disaster Management didn't have to deal with any major incidents. "There was an erosion at Hansmoeskraal near Glentana, and a lot of very wet houses throughout the district, but luckily no sliding houses," said Jacobs.
Many areas in George were affected by the severe rainfall. At the end of business last Wednesday, Cradock Street in George South looked like a small river. The water was ankle-deep at some places and whirled around fire hydrants on the corner of Cradock and Market Street. Vehicles sloshed through the street, spraying people and other cars with water.
The George Municipal Emergency Services received a total of 109 complaints, said Edwards-Klose. "The directorate for Human Settlements, Land Affairs and Planning provided gun plast to 169 houses in Borcherds, Thembalethu, Parkdene, Conville, Rosemore and Rosedale. Four stormwater teams were established on Wednesday and the worst areas were addressed between 16:30 and 23:30."
A number of stormwater systems were not able to handle the heavy downpour. Streets and sidewalks in Delville Park, Blanco, Borcherds and Thembalethu were damaged. "The teams worked in difficult and dangerous circumstances and clean-up operations were completed on Thursday in the affected areas," said Edwards-Klose.
Power outages were repaired on Wednesday evening and Thursday. The affected areas include Victoria Bay, Syferfontein, Hansmoeskraal, Hoekwil, Wilderness Heights, Barnard Line, Glenwood line, Saasveld line, Thembalethu: Portion of Zone 7 and 9, Rondebossie, Herold's Bay, Brakfontein Line and portion of George Industrial.
• No heavy rain is expected for this weekend says the team at the George Weather Service. Weather will be mostly partly cloudy, with cooler temperatures and a 30% change of light rain tomorrow.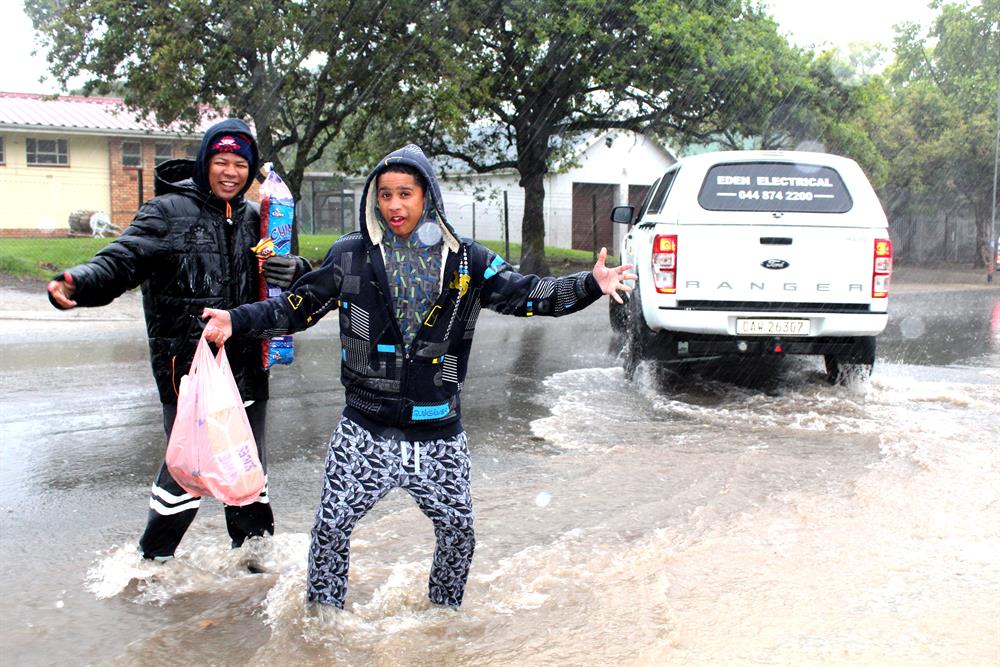 Two jokers fool around in the water in Cradock Street, in front of the entrance to Golden Harvest. The water level was ankle high. Photo: Michelle Pienaar
Sophumezo Manisi shows the height the water reached in her house in Dick Street in Zone 9, Thembalethu. Photo: Myron Rabinowitz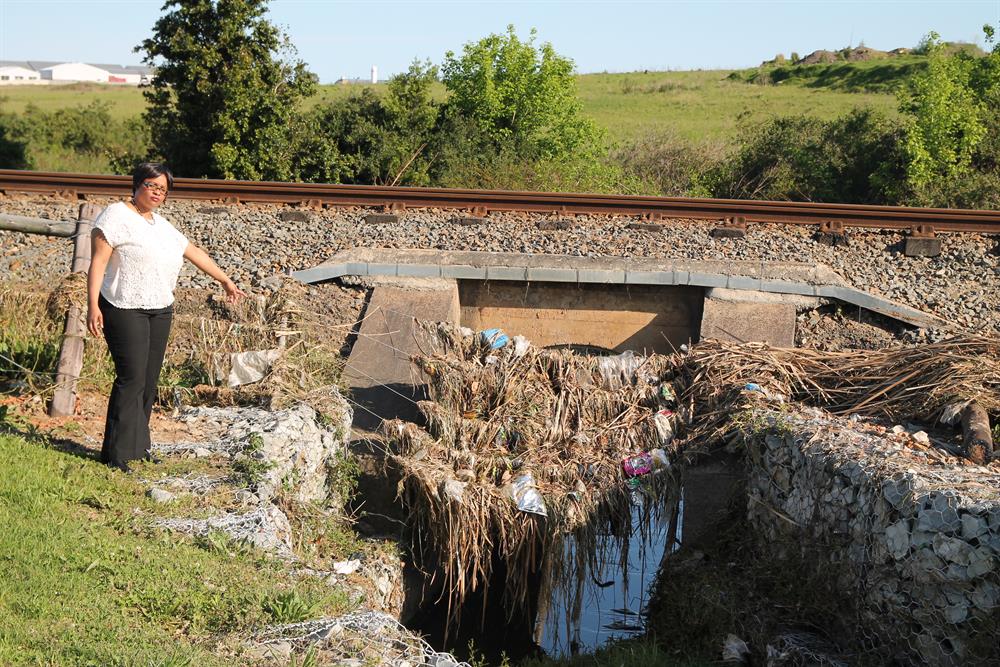 Elizabeth Swanepoel, from Bos en Dal, points to the debris on the wire fence of the Department of Correctional Services, indicating the water level during the downpour last Wednesday. Photo: Myron Rabinowitz
ARTICLE: MICHELLE PIENAAR, GEORGE HERALD JOURNALIST
'We bring you the latest George, Garden Route news'