WESTERN CAPE NEWS - Today I had the opportunity to visit the Tuffy factory in Stikland, where they manufacture plastic bags from recycled materials, contributing towards a cleaner, greener environment.
The company has also been producing all of their products locally in the Western Cape, thereby creating approximately 300 jobs.
The Western Cape Government has identified jobs as one of our key focus areas in our recovery plan. Local manufacturing and the green economy are important drivers of job creation and we welcome businesses that are committed to local manufacturing, making our province greener and which contribute to the employment and dignity of the people of the Western Cape.
The Western Cape is a hub of green technology and manufacturing. GreenCape, established ten years ago, has done excellent work in promoting the sector and helping business to become greener.
We are also establishing the green manufacturing zone at the Atlantis Industrial Development Zone, an export-oriented manufacturing hub, which will attract investment, increase exports, and will ultimately create more jobs in the province.
The green economy has been an ongoing focus for this government for a number of years, and we have spent time laying the groundwork for green energy generation which now stands us in excellent stead to take advantage of the recent directives from the National Minister of Mineral Resources and Energy.
In order for our economy grow and for us to create new jobs, we must be energy secure. This is why we have committed to assisting municipalities to develop their own power generation projects and also secure power from independent power producers.
Minister of Finance and Economic Opportunities, David Maynier will be making further announcements in this regard soon.
Being safe this Black Friday:
This week, many retailers will be holding their annual Black Friday sales. We know that this has been a tough year for consumers and for retailers alike and these sales provide welcome savings and trade. In previous years, we have seen many people gathering at retail stores and malls, with large queues and crowds forming.
This year, we must remember that we are still in the midst of a pandemic and that extreme caution must be practiced in order to avoid these sales becoming super spreader events.
The Department of Economic Development and Tourism has held a meeting with retailers and the property groups which manage major shopping centres to stress the importance of having the correct safety measures in place.
I would also like to personally appeal to retailers to do the right thing, and to ensure that measures are in place to limit the risk of Covid-19 infection.
This includes queue and crowd management, access control, and ensuring hand sanitisers are widely available and that masks are worn, correctly, and at all times by both staff and by customers.
We also appeal to retailers to consider expanding the duration of sales, or their trading hours in order to better manage crowds.
My message to shoppers is to try and shop online as much as is possible. If this is not possible, ensure your safety and the safety of those around you by wearing your mask and practicing social distancing. Ensure that you regularly wash or sanitise your hands. If you do not feel well, do not go to the shops.
We appeal to everyone to remember to avoid the 3 Cs: close contact, crowded spaces and confined spaces. No saving is worth the cost of your health, or the life of someone who may be in a risk group.
We have seen the numbers of active infections and hospitalisations increasing in the province. We must all play our part in reversing this trend by following covid safety advice.
Update on the coronavirus by Premier Alan Winde
As of 13:00 on Monday 23 November, the Western Cape has 6 527 active Covid-19 infections with a total of 124 715 confirmed Covid-19 cases and 113 658 recoveries.

The Western Cape has recorded additional 7 deaths, bringing the total number of COVID-19 related deaths in the province to 4530. We send our condolences to their loved ones at this time.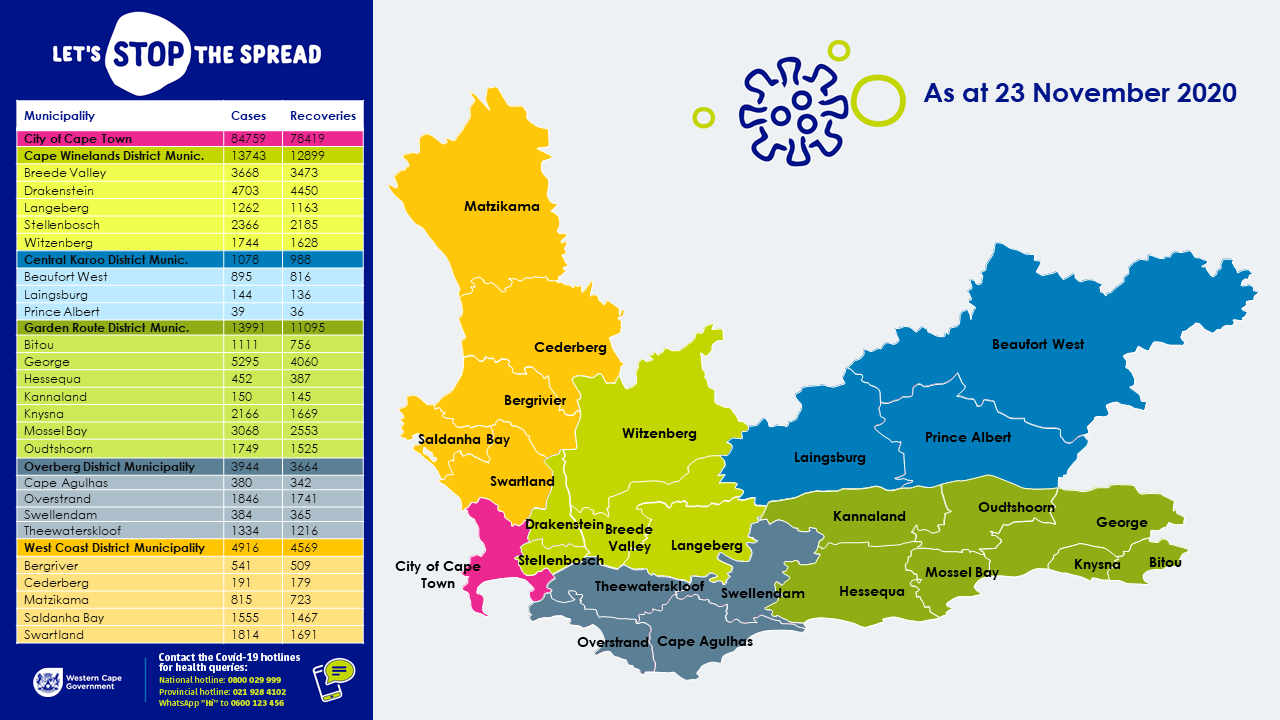 'We bring you the latest Garden Route, Hessequa, Karoo news'