WESTERN CAPE NEWS - Today, I had the opportunity to engage with community members, local businesses and stakeholders in the Paarl area to talk about the Western Cape Government's Recovery Plan and what it means for the people of this province.
I was joined by Drakenstein Municipality Executive Mayor, Conrad Poole and Executive Director for Planning and Development Lauren Waring.
Over the next few weeks, I plan to visit more communities to discuss our plan to deliver Jobs, Safety and Dignity and Wellbeing to the people, as set out in the plan I presented to Parliament.
These engagements provide an important platform for residents to share their ideas on how we can continue to move the province forward.
Residents of Cape Town can also tune in tomorrow evening for my monthly First Thursday Radio show on Bush radio, where I'll be joined by City of Cape Town Mayor Dan Plato to talk about our COVID-19 response and answer resident's questions.
Old age home recoveries
Western Cape Minister of Social Development, Sharna Fernandez has encouraged residents to adhere to the COVID-19 health and safety protocol when visiting loved ones at old age homes. Please see the link to Minister Fernandez's statement.
She announced today that the current number of positive cases at old age homes is currently at 20 active cases in the Western Cape. As of 4 November 2020, a total of 1695 older persons have recovered from COVID-19. There has been an increase of 29 recoveries and an additional 13 infections since DSD last provided an update on 14 October 2020.
While the number of recoveries is encouraging; we must continue to be vigilant and strictly adhere to the five golden rules of hygiene. This means that if you are visiting your loved ones, you must frequently wash your hands, and wear your masks correctly each time you leave home.
Let's do everything we can to ensure that we stop the further spread of the virus and protect those who are older and live with high-risk comorbidities.
For more information about our other services, please refer to the DSD website here.
Update on the coronavirus by Premier Alan Winde
As of 13:00 on Wednesday 4 November, the Western Cape has 3 103 active Covid-19 infections with a total of 116 871 confirmed Covid-19 cases and 109 385 recoveries.

Unallocated: 2185 (2008 recovered)
Data note: It is not always possible to check and verify that the address data supplied for each new recorded case is correct, within the time frames required to provide regular and timely updates. This means that in some instances, cases could be allocated to the wrong sub-districts. We are working with the sub-districts to clean and verify the data and where errors are picked up locally, cases will be re-allocated to the correct areas.
The Western Cape has recorded 6 additional deaths, bringing the total number of COVID-19 related deaths in the province to 4 383. We send our condolences to their loved ones at this time.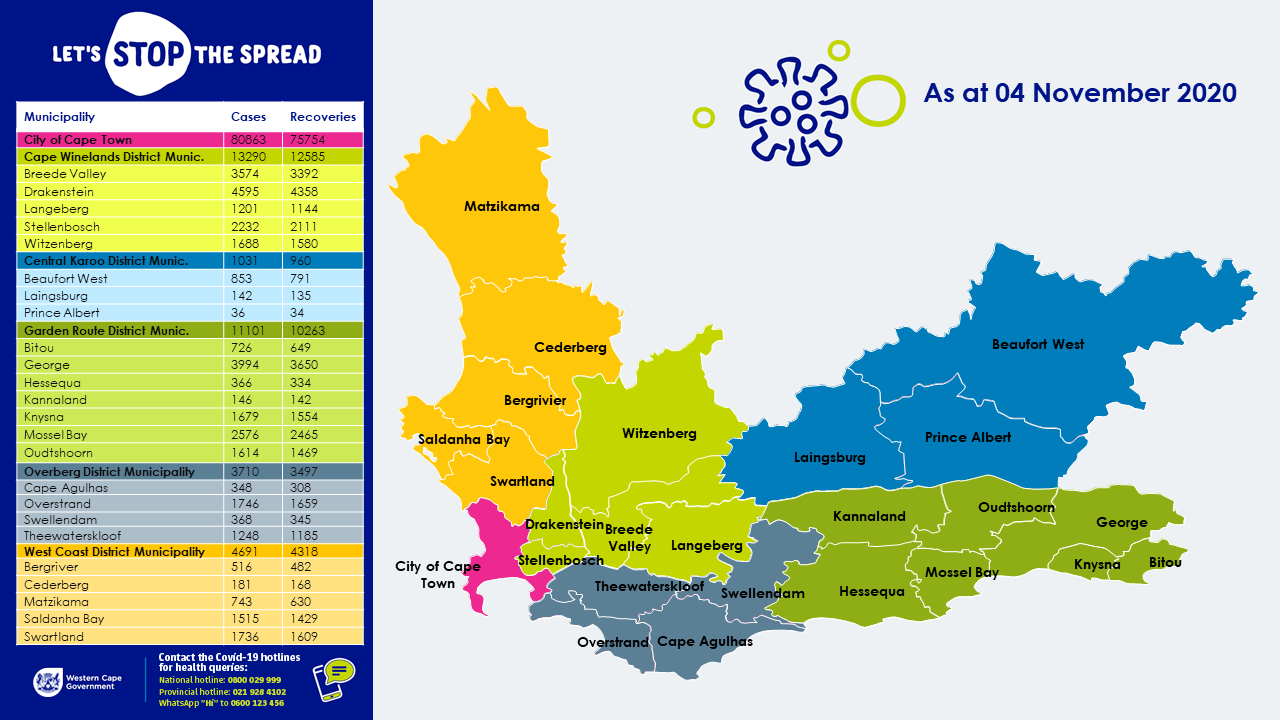 Western Cape Liquor Authority update
I echo the Minister of Community Safety, Albert Fritz, in welcoming the Auditor Generals findings, noting that the Western Cape Liquor Authority (WCLA) has received its first unqualified audit with no findings or a 'clean audit'.
Between 27 March and 30 October 2020, the WCLA conducted 207 investigations into license holders who were allegedly contravening the National Disaster Management Act's regulations and the Western Cape Liquor Act. Read Minister Fritz's statement here.
Of the 207 investigations conducted, 83 Section 71 matters were placed on the Liquor Licensing Tribunal's (LLT) case roll, of which:
49 licenses were suspended;
23 applications were dismissed; and
11 applications were reverted to the prosecutor.
Of the 49 licenses that were suspended, 49 Section 71(4) return hearings took place. As a result:
One license was revoked after finalisation of a section 20 consideration;
46 suspensions were lifted by the LLT;
Two suspensions were lifted, one in the Western Cape High Court and one as part of internal appeal LLT proceedings; and
There are no return hearings pending.
'We bring you the latest Garden Route, Hessequa, Karoo news'