GEORGE NEWS - The Eden District Municipality approved the final annual budget for the 2018/2019 financial year as tabled by Executive Mayor Memory Booysen, without any objections. Council sanctioned an operating revenue budget of R390-million with an expenditure budget of R388-million as well as R9,3- million for the capital budget.
The budget meeting on Tuesday 29 May was done and dusted in just over an hour as councillors from both sides of the house were getting ready for the expected heated George council meeting scheduled to start an hour later.
ANC Cllr Piet van der Hoven said that most of the issues were dealt with at the numerous workshops held in the lead-up to the budget meeting. "I just want to clarify that many of the issues the opposition raised at the workshops have been accommodated in the budget and I want to thank the mayor for listening to us." Van der Hoven said the ANC's concerns were regarding a "lack of proper planning" for the mayor's budget and the donations handed out by the mayor from his discretionary fund.
Booysen thanked the councillors for their input in the budgeting process and said this is the best possible budget, considering the tight financial constraints. Virgill Gericke from the PBI asked when the staff vacancies on council's organogram would be filled. He also expressed concern over the funding model of the district council. "Currently we are funded by provincial and national government grants. We will have to use the assets of the municipality more efficiently so that they become income generators."
In response, Municipal Manager Monde Stratu said the critical vacancies in the municipality have been identified and will be filled as a matter of urgency.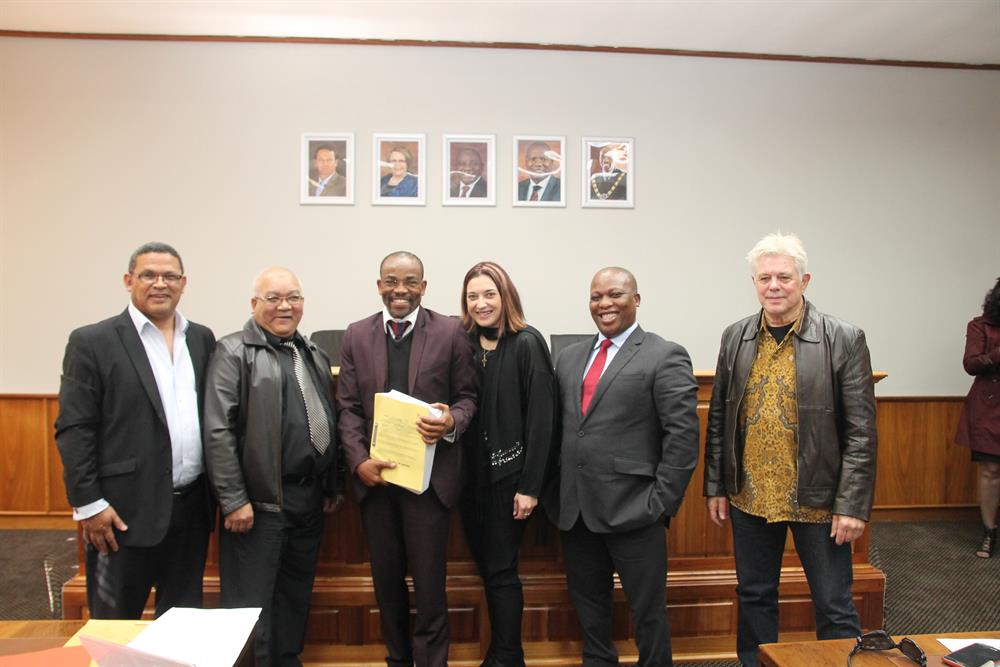 From left: Cllrs Virgill Gericke, Jerome Lambatjeen, Mayor Memory Booysen, Louise Hoek (chief financial officer), Monde Stratu (municipal manager) and Piet van der Hoven. Photo: Myron Rabinowitz
New logo for new name
Council adopted a new logo to be in line with the name change of the Eden District Municipality to Garden Route District Municipality. The mayor thanked the public for their enthusiasm and the logo designs submitted. "It made the final decision easy," he said.
This new logo for the district council was adopted.
'We bring you the latest George, Garden Route news'