Gallery
GEORGE NEWS - The Eden and Central Karoo Education Department (Ecked) embarks on an anti-bully campaign on a yearly basis. Although it is expected that schools must address this issue throughout the year, the month of August is declared as anti-bully month and schools are encouraged to launch a concerted campaign against bullying during this period, says Roger Jacobs of the Ecked office.
"This could include various activities, programmes and a pledge against bullying. It is a widespread problem that can affect your child's mental and emotional health.
Unfortunately, there are still too many incidences of bullying reported by schools also noting that it could involve learner on learner, learner to teacher and teacher to learner."
Jacobs says once any form of bullying has been identified, it remains important to address the situation as soon as possible with the school, where appropriate measures and actions can be discussed and implemented.
Click here for a photo gallery.
Parents can assist by identifying behavioural changes in their children or simply asking their children about their school day. Schools need to deal with the issue in line with codes of conduct and intervene appropriately to support the victim and to change the behaviour of the culprit.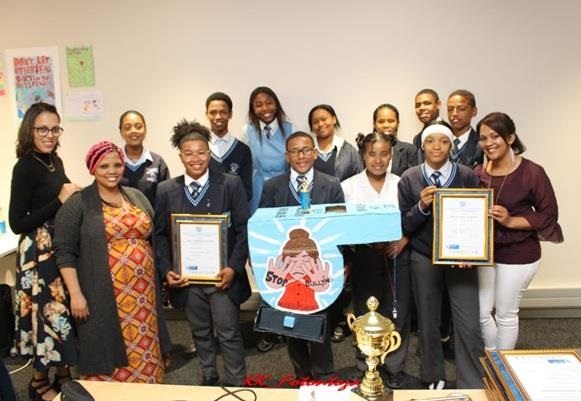 Anton Titus, circuit manager at Ecked, with Amber Smit of Hoekwil Primary, who was third in the poster competition.
Districts provide training and support on this issue as part of broader support on disciplinary issues. Class rules and guidelines by the teacher together with creating empathy and instilling values all play a role to prevent bullying, he adds.
This year Ecked acknowledged winners in the different categories of the anti-bully campaign. A special prize-giving event was held on 1 November at the conference room in the York Park building.
The overall winner with the best anti-bully campaign was Excelsior Primary in Calitzdorp, followed by Môrester Secondary in Oudtshoorn (second) and Holy Cross Primary in George (third). Other schools in the George area that did well was Parkdene Secondary, that won the best drama for high schools as well as the best whistle-blowing box, Hoekwil Primary, Rosemoor Primary, Carpe Diem, Mzoxolo Primary, George Preparatory, Outeniqua High and Holy Cross Primary.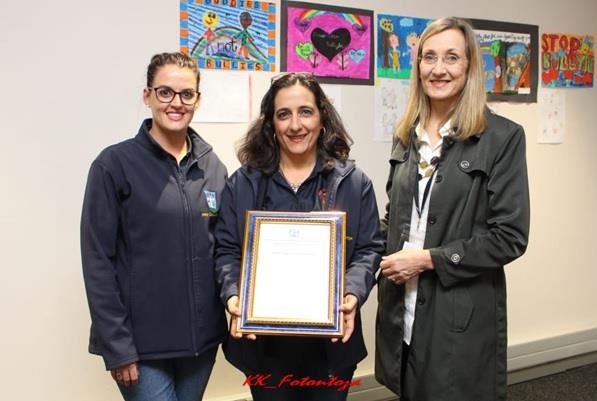 Marietjie Beukes (right) from the education department with teachers of the Holy Cross Primary School who won overall third prize.
Individual learners from the George area who won awards were as follows:Poster competition: Brock Little (Hoekwil) first: foundation phase, Amisha Bagirathi (George Preparatory) second: foundation phase, Nerissa Erasmus (Hoekwil) first Grade 4/5 and Amber Smit (Hoekwil) first Grade 6/7.
The essay competition winners are Buntle Jola (Mzoxolo) first Grade 4/5, Minke Katze (Outeniqua High) first Grade 10-12, Zintle Ukhendane (Outeniqua High) second Grade 10-12, Ane Snyman (Outeniqua High) third Grade 10-12. Jadha Abrahams (Carpe Diem) was the overall winner in the speech competition.
'We bring you the latest George, Garden Route news'