GEORGE NEWS - With children back at school to tackle another school year, many are excited to continue their academic careers and see what the future holds for them. However, there are many who face an uphill struggle, lacking essentials needed for school.
The renowned Thembalethu DJ Sandile Mcube, aka "International DJ", was so touched by the plight of these children that he decided to help out as many as he can - out of his own pocket.
Mcube recently donated items such as shoes, school uniforms, and stationery to deserving school learners in primary schools across George such as Heidedal, Tyholorha and Tabata primary schools.
"I was moved when I learned how many children are struggling to go to school or face humiliation at the hands of fellow school mates because they don't have shoes, uniforms and other school essentials. I then decided to collect and buy these items out of my pocket to donate to the less privileged," he told the George Herald.
It is Mcube's dream to see no child on the streets during school hours when they should be at school. He wants every child to be afforded an opportunity to dream and achieve great things in life, despite bad circumstances. He believes in the African proverb, "It takes a whole village to raise a child'.
The schools on Mcube's list are the following primary schools: Tyholorha, MM Mateza, Mzoxolo, Thembalethu, Holy Cross, Outeniqua, Parkdene, Conville and Heidedal. "Although I am using my own money to buy these items it is not nearly enough. I need support from each and every person from George who feels the same pain and is willing to assist," he says.
Anyone who would like to join him in his noble effort is asked to contact him on 074 710 8356.
Some of the stationery Mcube donated.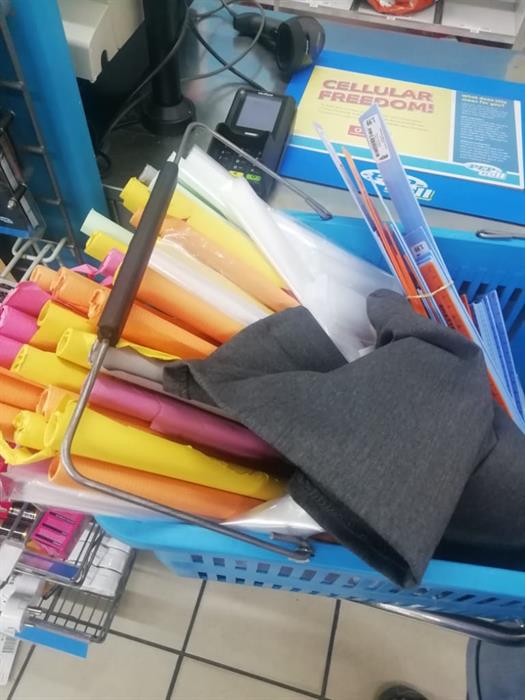 Mcube buys school items from his own pocket and donates them to deserving learners.
Mcube donated school uniforms to the less fortunate.
'We bring you the latest George, Garden Route news'