Video
GEORGE NUUS EN VIDEO - Minder as twee eeue gelede was slawerny nog aan die orde van die dag en 'n doodgewone praktyk in Suid-Afrika.
Die bekende aktivis vir inheemse regte, Neil Dikwex Carelse van Blanco het Vrydag 1 Desember in die George-museum aan 'n groep Khoisan-aktiviste gesê, vandag is die viering van die eerste slaweloop 179 jaar gelede.
"Op 12 Julie 2018 gaan ons die heilige oorblyfsels van ons voorvaders wat hier in die George-museum is, in Groot-Brakrivier en Mosselbaai in Watsonsdorp of Preto soos ons dit noem oorkant CapeNature se Witfonteinstasie, herbegrawe.
"Toe die destydse paaie-owerheid die N9 na Oudtshoorn gebou het, het die pad regdeur ons begraafplaas gestrek en om en by 800 grafte is geskend."
Slawerny is amptelik op 1 Desember 1834 in die Kaapkolonie afgeskaf.
Slawe moes egter eers daarna vier jaar lank as vakmanne vir hulle eienaars diens doen alvorens hulle hul vryheid bekom het.
Slawe is gevolglik vir alle praktiese doeleindes eers op 1 Desember 1838 ten volle vrygestel.
'n Plaaslike geskiedkundige Kathleen Schulz, het by die geleentheid die verskil tussen die slawe en die inheemse bevolking in die vroeë 1800's in die Kaapkolonie uiteengesit.
Slawerny was wettig en so ook die beperkings van toepassing op die inheemse bevolking.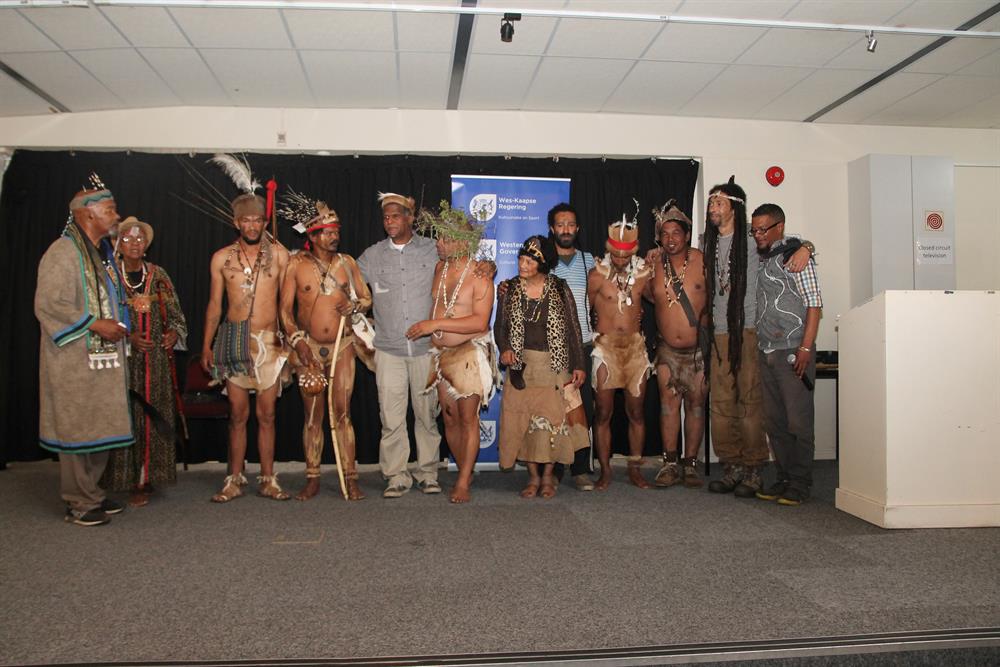 Khoisan-aktiviste van die Suid- en Oos-Kaap by die viering van die eerste slaweloop 179 jaar gelede.
Die eerste beperkende klousule is in 1809 in die Kaapkolonie geproklameer toe die wet inheemse mense verbied het om uit hul woongebied te beweeg sonder 'n dompas.
Die straf was óf 'n boete of gevangenisstraf.
Klik hier vir 'n video:
In 1810 is vakleerlingwette ingestel om leerlinge op te lei. Die grootste konsentrasie van leerlinge was by die staatsgefinansierde Bethelsdorp-sendingstasie buite Port Elizabeth.
Om die koste van opleiding te verhaal, moes die vakleerlinge vir sewe jaar by 'n sendingstasie bly en werk, wat 'n lang internskap was.
Duisende weeskinders, tussen die ouderdom van 8 en 18 jaar is in 1819 deur die owerheid toegelaat om vakleerders te word.
Hierdie kinders is wetlik toegelaat om deur koloniste aangeneem te word en moes op die plase bly en werk.
Na die emansipasie van slawe het die Kolonie teen 1842 nie meer 'n arbeidsmag gehad wat hulle kon beheer nie en inheemse mense is op die plase gebruik en die vakleerlingwet is met 25 jaar verleng.
"Dit is die deel van ons geskiedenis waarvan ons baie min weet en dit word nie in ons skole geleer nie," het Schulz gesê.
ARTIKEL, VIDEO & FOTO'S: MYRON RABINOWITZ, GEORGE HERALD-JOERNALIS
'Ons bring jou die nuutste George, Tuinroete nuus'