WESTERN CAPE NEWS - Yesterday, the country observed 200 days since the lockdown first started in this country. Throughout this period, we have held regular, extended cabinet meetings which have included representatives from the City of Cape Town, all our district municipalities as well as SAPS and law enforcement.
These meetings, initially held daily, allowed us to get daily updates on the work being done in the respective workstreams, and to tackle issues as they unfolded. Over the past few months, we have continued to hold regular meetings where we receive updates from the Department of Health and from all of our hostpot teams.
These meetings have been invaluable in ensuring a coordinated and effective response to the Covid-19 crisis in the province. As we turn our attention to our recovery, cabinet today agreed on a different format for our extended cabinet meetings.
We will still continue to work closely with municipalities and law enforcement, but each week's meeting will now focus on a specific area- working in a cycle of five areas including: the health response which will include the regular hotspot updates, jobs, safety, dignity and wellbeing, and transversal issues such as infrastructure and ICT.
This will allow us to concentrate on each of the focus areas we have identified for our Covid-19 recovery- jobs, safety and dignity and well-being and creating the space for each of the teams tasked with implementing strategies and programmes in these areas, to report back on the progress they have made, while at the same time still providing regular updates on the Covid-19 response in the province.
I believe that the close working relationship we have developed with local government, disaster management, and law enforcement over the past ²six months, has contributed significantly to the world class response the Western Cape has provided throughout the pandemic so far.
I thank all of my members of cabinet, municipal representatives, government officials and the leadership of SAPS and the City's law enforcement, for their attendance, and their contributions in these meetings, and I look forward to similar robust engagements and informative inputs as we move forward with our recovery phase.
Update on the coronavirus by Premier Alan Winde
As of 13:00 on Tuesday 13 October, the Western Cape has 2 701 active COVID-19 infections with a total of 112 318 confirmed cases and 105 347 recoveries.

Data note: It is not always possible to check and verify that the address data supplied for each new recorded case is correct, within the time frames required to provide regular and timely updates. This means that in some instances, cases could be allocated to the wrong sub-districts. We are working with the sub-districts to clean and verify the data and where errors are picked up locally, cases will be re-allocated to the correct areas.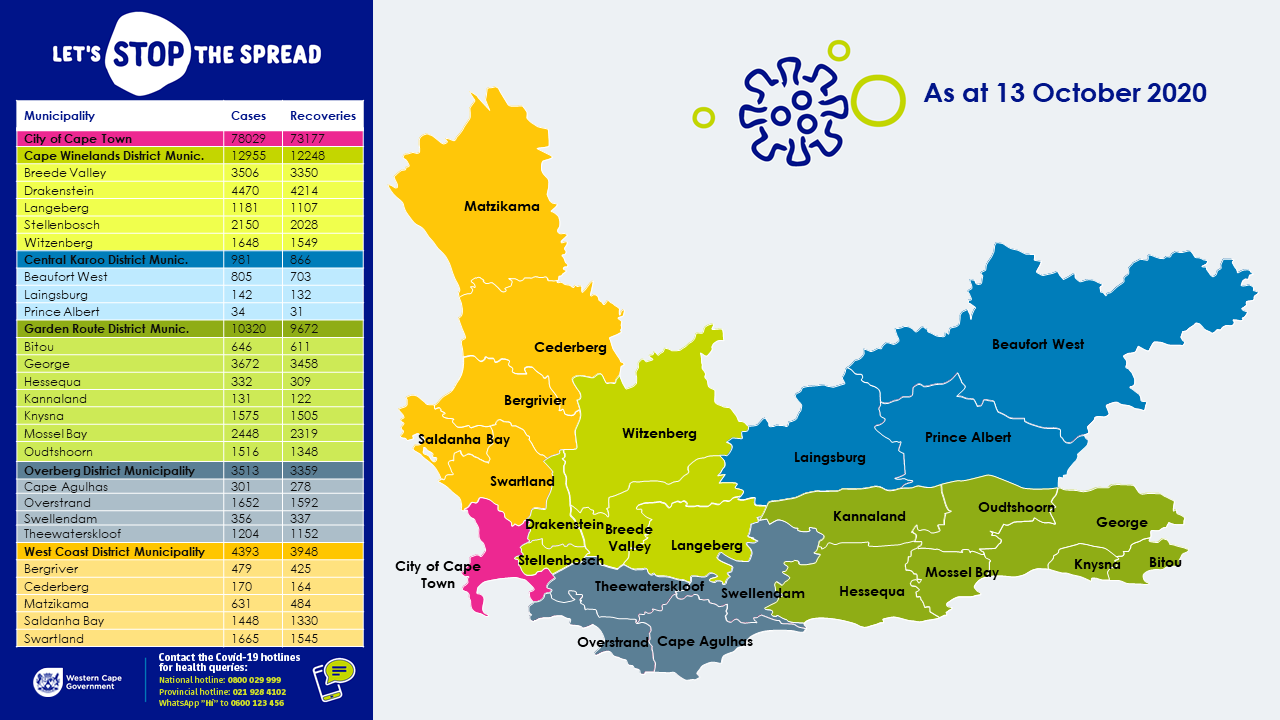 The Western Cape has recorded an additional 15 deaths, bringing the total number of Covid-19 related deaths in the province to 4 270. We send our condolences to their families and friends at this time.
Taking responsibility so we can all move forward:
As we move forward, we must remain vigilant as Covid-19 is still with us and will be a part of our lives for many more months to come, until a vaccine is available. This requires all of us to take personal responsibility so that we can protect ourselves and others.
The Western Cape has worked hard to put our health response in place and has lobbied for the safe re-opening of business. As individuals, we can play our part by ensuring that we continue to stick by the golden rules of infection prevention: wear your mask, wash your hands and practice social distancing.
If you visit a mall, a shop, a restaurant or any other business, and you find that they are not adhering to safety protocols because they are too full, not properly ventilated or other patrons are not wearing masks, don't stay. Rather support a business that puts your safety and the wellbeing of its staff first.
Businesses must also take responsibility and ensure that they have put the appropriate safety measures in place, and that they are operating within the regulations.
If we all take responsibility now, we can protect ourselves, our loved ones and those around us, allow for businesses to continue to operate and people to work and earn a living. We are not out of the woods yet, and we must all work together to ensure that we slow the spread of Covid-19.
'We bring you the latest Garden Route, Hessequa, Karoo news'