GEORGE NEWS - Carl de Campos, a blind Magaliesberger who bravely lives life to the full despite his disability, has recently made George his new home, moving here to be closer to family.
The 37-year-old sequel database administrator is a keen runner, horse rider and tandem cyclist. He has completed one Comrades and many of the other major races, and has done the Argus and a number of other cycling races by tandem.
With his horse, Billy, he completed numerous endurance rides, including the Fauresmith ride, becoming the first blind person to do so. The Garden Route being a paradise of mountain biking trails, Carl is switching over to mountain biking and a week after settling into his spacious garden flat in George, his new tandem mountain bike was delivered. "I am looking for people who would like to try out the tandem bike with me and also runners who I can join," says Carl, who is a bit of a daredevil.
On his uncle and aunt's Magaliesberg farm, where he lived until relocating to George, he delighted in horse riding all on his own, cantering in the paths right alongside his other great love - main line trains, which regularly pass through the area.
Carl was taught to be independent since childhood, having been blind from birth. He cooks, cleans and does his own laundry; he did the furniture arrangement in his new flat and even set up the surround sound system by himself. On the day he moved in, he ventured out on his own, taking a walk around the block to suss out his environment and, a few days later, after more walkabouts further out, established where the nearest takeaway and supermarket are - on foot. The routes are all logged on his iPhone's GPS, a feature that also enabled him to have outrides on Billy and go running on his own on the farm.
Watch a video below:
His sense of touch and hearing are highly developed. He can, for instance, pick up the position of objects by their echo, which helps him to move around safely.
Carl has been to the Transnet Museum twice, a wonderful place to satisfy his keen interest in steam engines, which originated from his trips on the former Trans Karoo train from Johannesburg to Worcester where he was a pupil at Pionier School. "I use touch to discern what something looks like, so I can identify the different classes and garrets," he says.
He might be buying a younger horse as he has retired Billy from endurance riding. "In the meantime, I ride now and then with a relative of my cousin, Karen Young, in Wilderness Heights," says Carl. And always willing to try new things, he has also gone kayaking with another relative.
His positive attitude to life is an inspiration to all who meet him. "I do not have sight, but I live life to the full. My outlook is that problems are surmountable. Do not let them keep you back."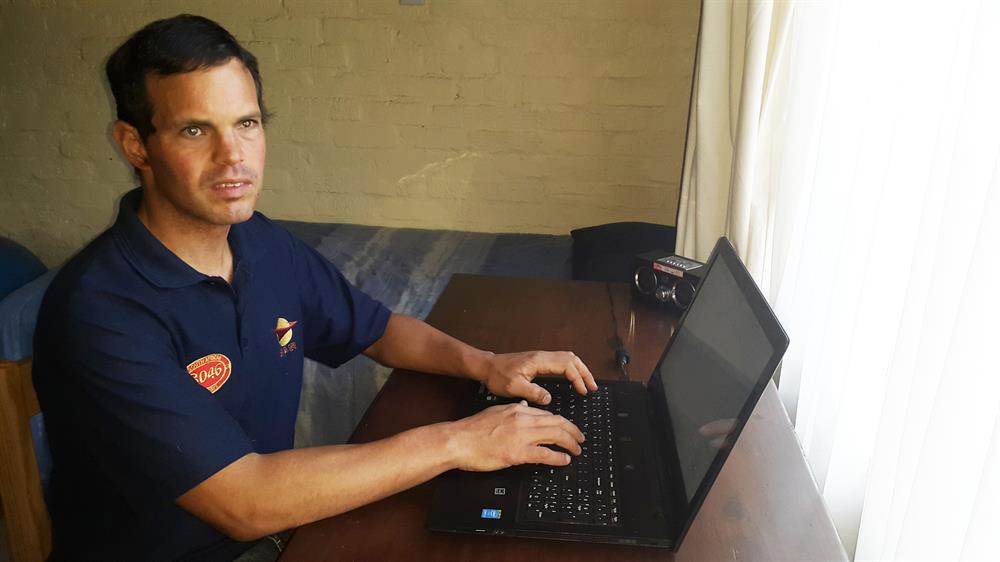 Carl in front of his computer. He is employed by Business Connection as a sequel database administrator. "I am really fortunate to have wonderful employers who had no problem with me relocating to George," says Carl. Photo: Alida de Beer
ARTICLE & VIDEO: ALIDA DE BEER, GEORGE HERALD JOURNALIST
'We bring you the latest George, Garden Route news'