GEORGE NUUS - George-munisipaliteit werk tans daaraan om dienslewering by die lisensiekantore in Hiberniastraat op te skerp. Dit volg nadat dinge by die lisensiekantore in Hiberniastraat verlede Woensdag, 1 Julie, vir die soveelste keer nie glad verloop het nie.
Die publiek moes by tye in lang toue wag omdat die deure eers later oopgemaak het en het na aanleiding van dié voorval heelwat kritiek uitgespreek.
Beweringe is selfs gemaak dat personeel nie aangestel word in vakante poste of hul kontrakte nie hernu is nie.
Volgens Steven Erasmus, direkteur beskermingsdienste van die munisipaliteit, beoog hulle om die aanstellingsprosesse elektronies te behartig om "aangesig tot aangesig kontak te beperk om personeel en werkaansoekers sover moontlik teen Covid-19 te beskerm."
"George-munisipaliteit stel ondersoek in om aanstellingsprosesse wat in die verlede kontaksessies benodig het - soos toetsing en onderhoude - aan te pas om elektroniese metodes daar te stel sodat aanstellingsprosesse hervat kan word," het hy by navraag gesê.
Erasmus het die publiek daaraan herinner dat die munisipaliteit elektroniese metodes in plek gestel het sodat dit nie nodig is dat die publiek na die voertuiglisensiekantore gaan nie. Die publiek word gevra om daarvan gebruik te maak.
"Hierdie maatreël is nie net om kontaksessies tot 'n minimum te beperk gedurende Covid-19 nie, maar ook omdat die gesondheidsprotokol streng by die sentrum toegepas word en uiteraard 'n vertraging in dienslewering veroorsaak.
"Die verkeerslisensiegebou se grootte en uitleg is sodanig dat 'n beperkte hoeveelheid mense op 'n keer in die gebou en selfs in die parkeerarea mag wees, asook beperkings op die hoeveelheid personeel wat in die kantoorspasie mag wees.
"Die publiek word ook daaraan herinner dat die geldigheid van motorlisensies wat gedurende die grendeltydperk verstryk het, verleng is met 90 dae en dus eers op 30 Augustus 2020 sal verstryk," het Erasmus gesê.
Volgens hom lewer die munisipaliteit nie kommentaar via die media rondom menslike hulpbron-aangeleenthede nie. Hy kan wel bevestig dat Covid-19 die munisipaliteit se aanstellingsprosesse tydelik tot stilstand gebring het.
IN SHORT
In response to rumours and unhappiness about insufficient service at the municipal licencing offices in Hibernia Street, Director of Security Services Steven Erasmus said safety regulations due to the coronavirus has slowed down face-to-face services. He reminded the public that they can pay licences electronically and that vehicle licences that expired within the lockdown are extended with 90 days. He confirmed that Covid-19 had brought the municipal appointment processes to a temporary standstill.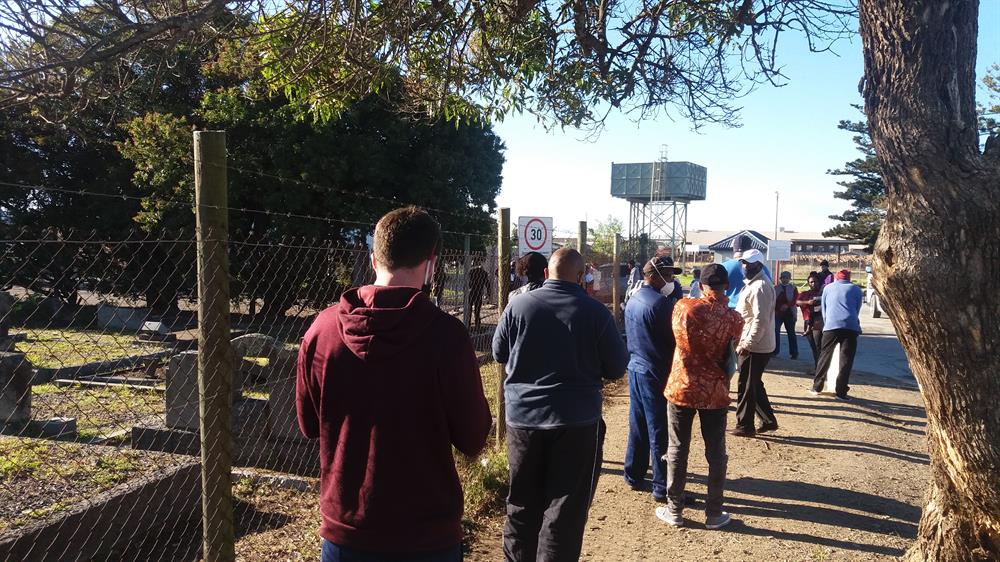 Lang toue mense staan langs die heining in Hiberniastraat.
Mense wag voor die lisensiekantore in Hiberniastraat verlede Woensdag, 1 Julie. Foto: Eugene Gunning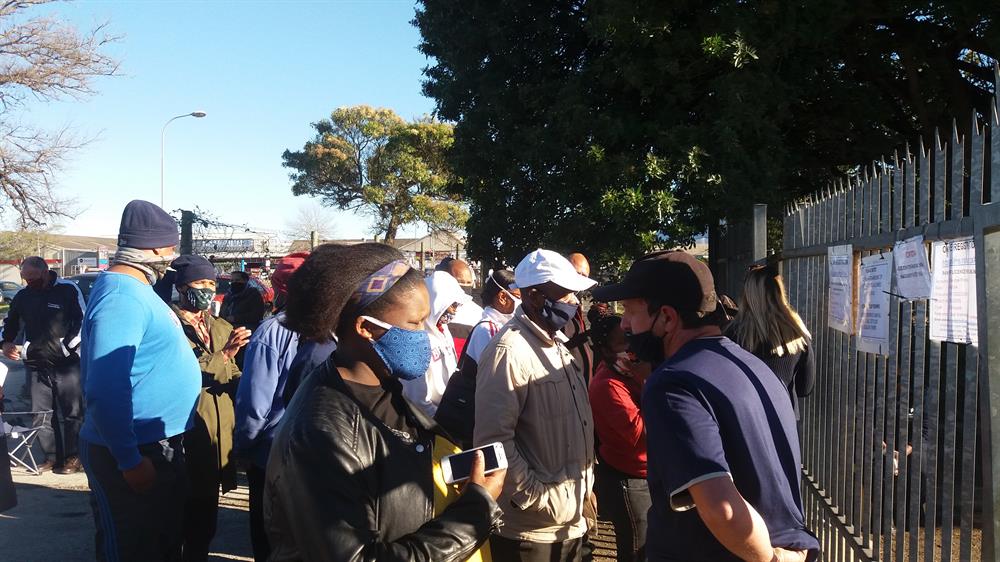 Lang toue mense verlede Woensdag, 1 Julie, voor die lisensiekantore in Hiberniastraat. Foto: Eugene Gunning
'Ons bring jou die nuutste George, Tuinroete nuus'