GEORGE NUUS - Op 'n nuwe kennisgewingbord wat Maandag by Victoriabaai deur inwoners aangebring is, word mense tot 30 Junie geleentheid gegee om alle gedenkstene, kruise en kissies met die as van gestorwenes te verwyder.
As dit teen daardie dag nog nie weg is nie, sal dit verwyder word. Die bord is aangebring by die suidwestelike punt waar verskeie kissies met as, gedenkstene en kruise is.
Een van die inwoners het Maandag bevestig dat hulle die kennisgewingbord aangebring het. Dit is die nuutste verwikkeling oor die sensitiewe aangeleentheid wat nou al etlike maande duur.
'n Inwoner van die Suid-Kaap, het in Oktober verlede jaar op 'n Facebook-groep verwys na die teenwoordigheid van die kissies en gedenkstene. Dit het wye reaksie op sosiale media uitgelok.
Die George Herald het in Januarie berig dat inwoners in Desember besluit het dat gepoog moet word om dit te verwyder. Daarna is wye reaksie ontvang en die familie van die Afrikaanse sanger, wyle Lucas Maree, het uit eie wil besluit om sy gedenksteen te laat verwyder.
Die George-munisipaliteit het vroeër alle navrae oor die kissies en gedenkstene na die Garden Route-distriksmunisipaliteit verwys. Klaarblyklik is die grond waarop die kissies en gedenkstene is, die verantwoordelikheid van die distriksmunisipaliteit.
Die distriksmunisipaliteit het begrip vir die besorgdheid wat deur toeriste en/of mense wat soms Victoriabaai besoek geopper is. Die aangeleentheid kry daadwerklik aandag. Dit is nie bekend hoe ver dit gevorder het nie.
Een van die inwoners het die afgelope Maandag gesê hulle wil graag die betrokkenes kans gee om dit self te verwyder. Mense het die gebruik begin en dit skend die natuur. "Baie mense met kinders wil nie meer hier kom nie. Hoe sal iemand voel as kissies naby hul eiendom geplaas word?" wou die inwoner weet.
Tydens die George Herald se besoek Maandag, was dit opvallend dat daar aansienlik minder kissies, gedenkstene en kruise as 'n paar weke gelede is.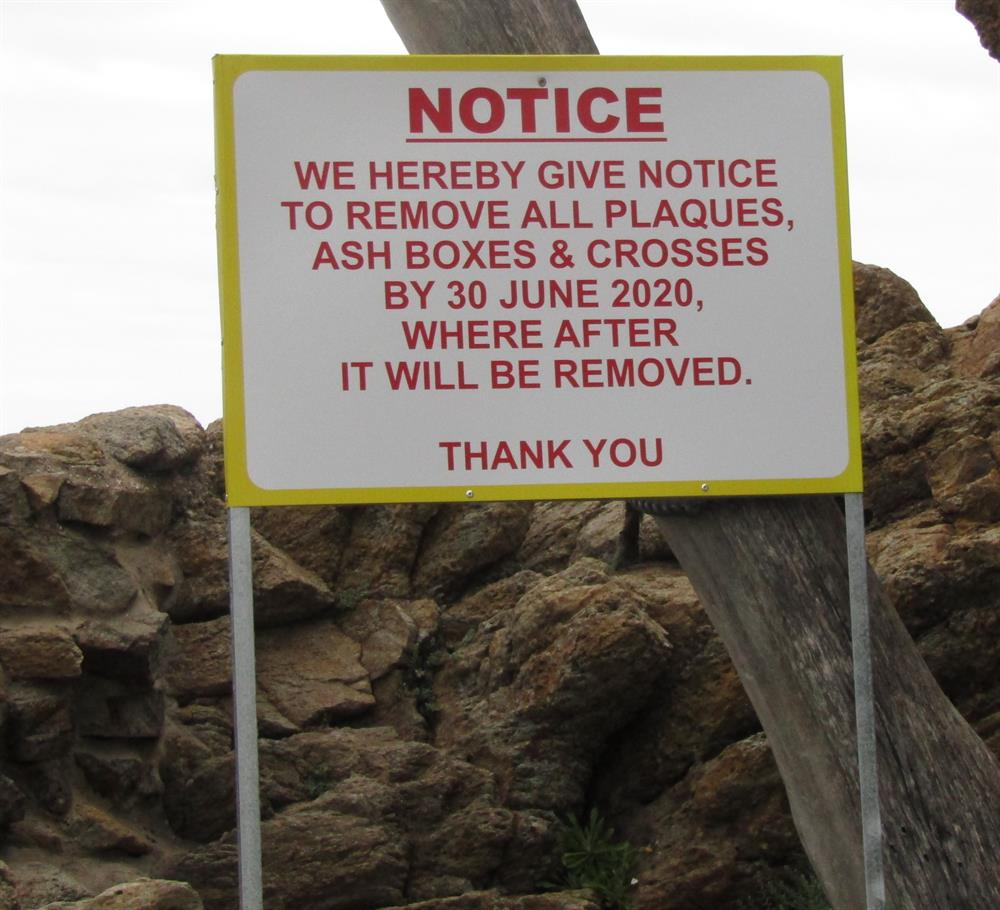 Die nuwe kennisgewingbord wat Maandag deur inwoners by die suidwestelike punt van Victoriabaai aangebring is. Foto: Eugene Gunning
Residents of Victoria bay has placed a new notice board at the southwestern point. People are given till 30 June to remove all plaques, ash boxes and crosses by 30 June 2020. Thereafter the remaining will be removed.
Vorige artikel: Wye reaksie oor planne by Vicbaai
'Ons bring jou die nuutste George, Tuinroete nuus'