Advertorial
GEORGE BUSINESS NEWS - Tjhoko Paint is a proudly South African chalk paint that has been available at Paint Centre George since last year.
It has since truly become the chalk of the town.
On Monday 1 July, Paint Centre George held a workshop hosted by Tjhoko Paint's expert, Nadine Vosloo.
Attendees completed a project using various techniques as Nadine demonstrated the versatility of Tjhoko Paint.
Tjhoko comes in 44 colours and four metallic colours and is available in 1-litre, 500ml, 250ml and 28ml bottles.
Why Tjhoko?
It can be applied to many different surfaces without the need to prime.
This includes bathroom and kitchen tiles, melamine cupboards, glass, wood, aluminium and cement. It can also be used as a chalkboard paint. There is no need to seal with glazes or waxes, as the product has a built-in sealer.
A water-based glaze is available in both clear and antique for use in areas where moisture is an issue. This includes bathrooms, kitchens and exterior surfaces.
Use Tjhoko Paint for makeovers of bedrooms, bathrooms and kitchens. There is no limit to what you can do.
"Use your imagination and transform your home like never before.
"Our showroom at Paint Centre George allows customers to see how Tjhoko Paint can be applied to different surfaces, including furniture pieces, walls, floors, curtains and many other areas," says Wilma Viljoen of Paint Centre George.
Join her for workshops where your creative juices are sure to flow. Contact Wilma on 044 884 1888 to book your spot.
Paint Centre George is located at 80 Hope Street, George, and is a Plascon appointed contractor centre.
From left are Albert and Wilma Viljoen, owners of Paint Centre George, with Tjhoko Paint experts Nadine and Jaco Vosloo.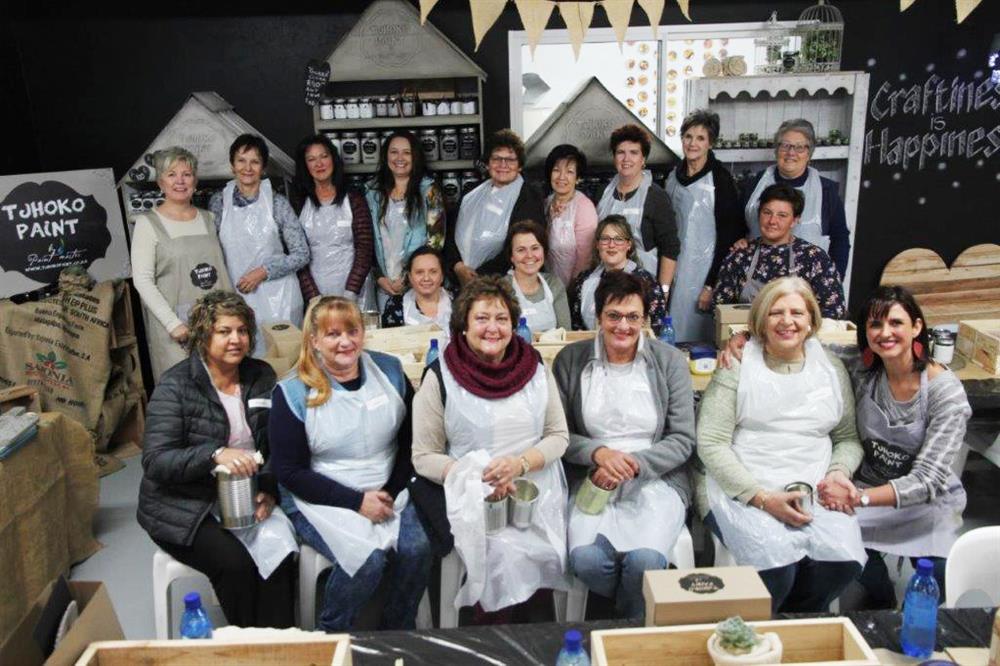 Tjhoko Paint expert Nadine Vosloo (front, far right) with all the ladies who attended the workshop at Paint Centre George last Monday.
'We bring you the latest George, Garden Route news'