Advertorial
GEORGE BUSINESS NEWS - M Tool CC was started by Corrado Danielis (Corry) in 2001 as a Cyber Machine Tool Warehouse, who also had and still has a company called All-In Auctioneers and Appraisers, traded as All-In Machine Tools. This Company was registered many decades ago. Corry trained as an Auctioneer with S.A. College of Auctioneers under Hedley Harris, specialising in machine tools and was shortly thereafter appointed by the Master of Supreme Court as a sworn appraiser and is still active in appraisals.
Corry did an apprenticeship as a Turner Machinist specialising in gear cutting. After that he worked for a company owned by his farther Dino Danielis and Lino Leoni called Heli Machine Tools under the umbrella of Heli Engineering based in Johannesburg. Heli Engineering was one of the largest manufacturers of press breaks and guillotines, plate rolls and hydraulic presses in South Africa.
Heli Machine Tools Durban branch in Natal (Corry's farther) was run by Dino, Enore (Corry's brother) and Corry himself. Heli Machine Tools gave great technical back up, sales and services to most of the major companies in Natal, such as Bell Equipment, Henred Fruehauf, KIC, Pool Industries, Reunion Metals, City Metal and so many more companies just to mention a few.
Also manufacturing special purpose machines and tools for all types of industries. This continued till Corry's farther Dino decided to retire and his brother Enore (Eno) decided to go into commercial fishing. Corry then relocated to Johannesburg and put serious effort and energy into manufacturing press brakes and guillotines and special purpose machinery and also put a major focus into reconditioning machine tools across the board. At the same time he set up a tool room manufacturing and designing press punch tools and forming tools.
With the help of great artisans and engineers such as the late Nick Snyders, Frans Westland and his two nephews Carlo and Wesley Danielis who had extensive training over the years with his father, their grandfather and Corry. Carlo now heads M Tool as General Manager South Africa. Wesley manages the entire service team as Service Manager who has incredible knowledge in auto cad and design and CNC Programming on all type of machines. Frans (Dutch) remains a fantastic Factory Manager.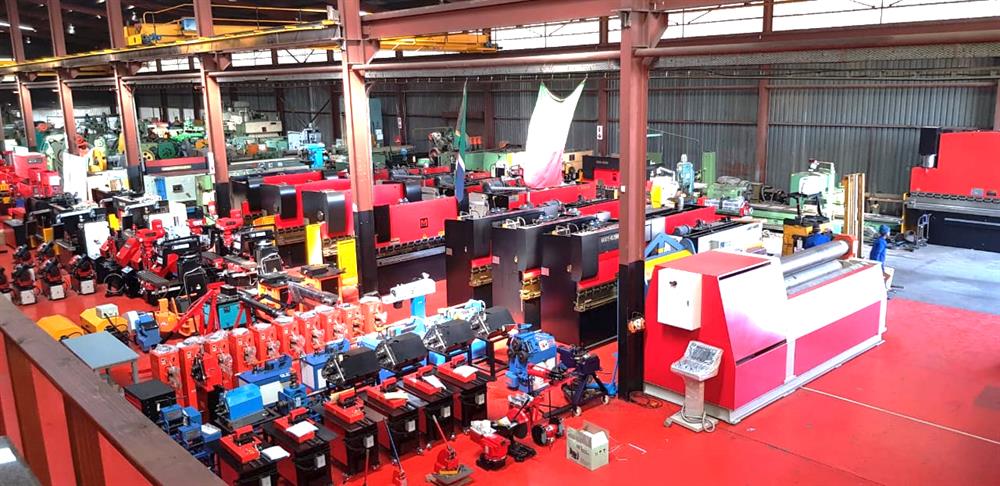 The interior of M Tool in Johannesburg.
M Tool has developed close working relationships over the years with great companies such as Spartan Machine tools owned by Nick Cardases and his son Kiron and Bruce. Spartan for many years has operated out of M Tool's factory in Boksburg mainly focusing on pre-owned machinery, but also has played a great role in selling M Tool's new machines. Nick has been in the industry for over forty years and he is very well known and respected.
M Tool also has a very close relationship with CML Machine Tools owned by Luis Torres, specialising in CNC Punching Machines from Euro Mack from Italy, laser cutters from China and safan range of products being upmarket press brakes and guillotines imported from Holland. Not to mention Bluff Road Brokers owned by Rynard Botha who has played a big role in setting up M Tool Durban and helping grow M Tool countrywide. A big thanks goes out to all the sales person such as Ettiene Claassen, Wayne McCall and Ron Zinn, just to mention a few.
M Tool has grown from strength to strength to become one of the largest machine tool companies offering many aspects in the industry in-house in South Africa in new and pre-owned machinery. M Tool is proud to announce that we had extended our services to the Cape Province with a new warehouse in George.
From the CEO's desk of M Tool Corry Danielis would like to extend his gratitude to all the companies and cross border that has supported and had faith in M Tool over the years, to enable the amazing growth and success of M Tool. A big thanks also goes out to M Tool suppliers just to mention a few such as Tool Quip and Allied, Harp Machine Tools, Easson CML, Spartan, Heli Engineering, Mandirk and many, many other suppliers.
M Tool is committed to quality service delivery and back up and will remain faithful to all our clients and suppliers for years to come.
'We bring you the latest George, Garden Route news'