Advertorial
GARDEN ROUTE BUSINESS NEWS - You know that you have reached your happy place the moment your foot crosses the threshold at Metelerkamps. Jam-packed with vibrant colour and a myriad of everything you can conceivably need in your house, it is simply impossible to leave without hauling yet another treasure home with you.
Whether you're looking for a quality new fridge, innovative appliances, a cosy fireplace, or perhaps new goodies for your kitchen, the Metelerkamps store in Knysna offers something for everyone!
Die unieke Metelerkamps is 15 jaar gelede gestig toe die eienaar, John Metelerkamp, die winkel aangeskaf het. John en sy vrou, Avril, het op daardie stadium gespesialiseer in die verkoop van klein gastoestelle, maar het egter met verloop van tyd die reeks gehalteprodukte so aangevul dat Metelerkamps in grootte en verskeidenheid gegroei het tot een van die mees besonderse en gesogte winkels van sy soort in die land.
"Ons sal slegs produkte verkoop wat ons weet ons self sal koop," sê die verkoopsbestuurder, Barbara Bamber. "Ons weier eenvoudig om 'n produk te verkoop wat van so 'n lae gehalte is dat die klant 'n paar maande later sal moet terugkeer om dit te vervang."
A family affair
The Metelerkamps team are very close, having survived a couple of successive recessions, the Knysna Fires and more recently still reeling from lockdown. The store and its contents have become very much a family affair.
"Whenever a new staff member joins, it's like getting a new family member," says Barbara. This love and passion is something that they extend to their customers too.
Bamber sê hulle geniet dit wanneer die kliënte hulle tyd gebruik om rond te stap en nuuskierig produkte uit te soek. "Ons moedig hulle eintlik aan om so te maak!" voeg sy entoestiasties by. En hulle geniet dit veral wanneer 'n kliënt opgewonde raak oor 'n produk, en oor hoe mooi dit in hulle huis sal pas.
"Metelerkamps is trots daarop om nie net die beste produkte aan te bied nie, maar ook die beste moontlike koopervaring. Al is ons nie so groot soos 'n winkelsentrum nie, kan jy beslis vir ure lank verlore raak in ons winkel." As dit gebeur, verseker Bamber dat daar altyd iemand beskikbaar sal wees om jou te help en enige vrae te beantwoord.
The store especially takes great pride in its diverse range of close-combustion wood-burning fireplaces, all boasting European ratings, according to head of fireplace sales, Koos Steyn. But Steyn believes that a fireplace does more than just keep a house warm.
"While the heat generated is vital when it comes to keeping warm in winter in the Southern Cape, a fireplace also adds immense value to your home. A fireplace at the heart of your living space makes everything feel more homely and cosy," he says.
"We hand-pick the fireplaces we have on offer, and that is our way of assuring the customer there won't be any issues, and if there is somehow an issue, we are always on hand to assist where possible."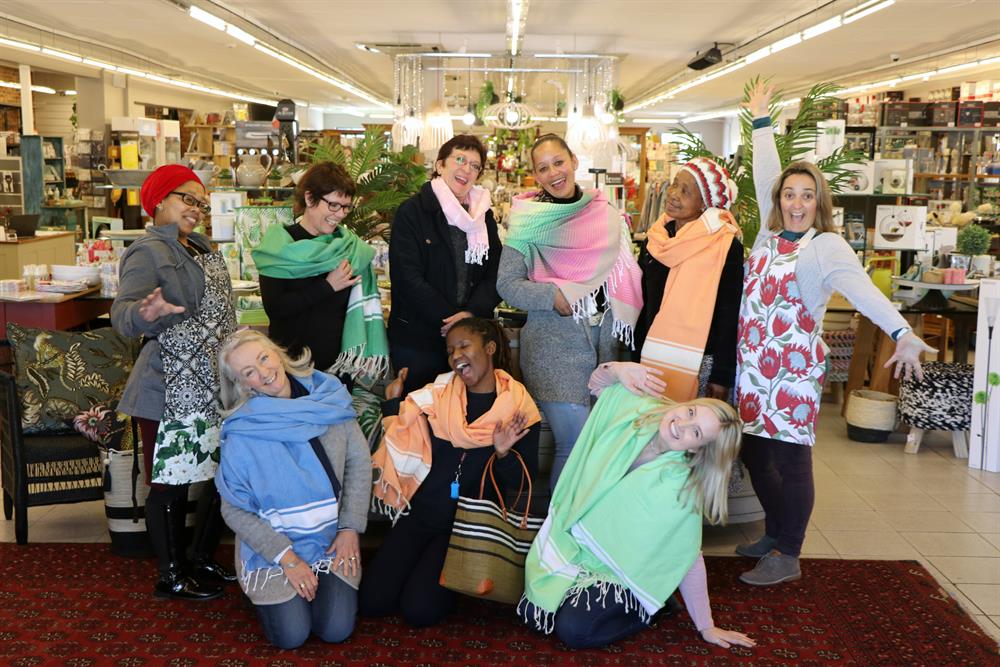 Metelerkamps' ever-friendly and helpful staff.
Onbeperkte verskeidenheid
Wat Metelerkamps wel bied is nie net beperk tot dit wat mens op die rak sien nie. "As iemand hier instap en sê hulle wil hulle hele kombuis met produkte van net een handelsmerk uitrus, sal ons dit vir hulle bestel. Ons verskeidenheid is onbeperk," vertel inhoudsbestuurder, Yolande Steyn. Aflewering is ook geen probleem vir hulle nie, want Metelerkamps sal dit by jou besorg ongeag van waar jy bly.
En nou, met meer bewustheid rondom internet-aankope, is dit goeie nuus dat Metelerkamps ook 'n gerieflike aanlynwinkel aanbied met 'n reeks produkte vir diegene wat nie tot 'n besluit kan kom in die winkel nie, of net eenvoudig wil aankope doen vanuit die gerief van hul eie huis. Die webtuiste het die afgelope tyd aansienlik gegroei. "Dit gebeur ook gereeld dat mense inkom en rondkyk en later aanlyn bestel," verduidelik Steyn.
Metelerkamps won the prestigious Global Innovation Award (GIA) in 2015, making them the first ever GIA winner in South Africa, and the African continent chosen by the International Houseware Association! This award rewards overall excellence, business innovation, creative merchandising and online presence in home-goods retailing.
The Metelerkamps team boast more than 100 years of experience, and between offering a personal touch and a wide range of quality products, they are prepared to welcome you with open arms the next time you visit Knysna and pop in at the store.
'We bring you the latest Knysna, Garden Route news'