Sponsored Content Video
BUSINESS NEWS AND VIDEO - We are certainly living in interesting and challenging times! Recently, South Africa lost its official investment grade rating and the world was hit with one of the biggest global pandemics in history.
No-one can safely say that the outbreak of COVID-19 does not affect them either directly or indirectly in some way.
When we experience such events, we tend to think of ourselves as being in a unique situation. We read many articles and use platitudes like 'unchartered waters' or 'unfamiliar territory'. We tend to forget however, that history has a strange way of repeating itself, and there are always global and local events of which we cannot control the outcome.
It does currently feel as if uncertainty is heightened, with stock markets across the globe falling by more than 20% in the first quarter of 2020, the outbreak of the COVID-19 global pandemic and the oil price war between Saudi Arabia and Russia. But it is at times like these that we have to remind ourselves that no one can predict the future and that it is more important for us to focus on the things we can control. Things have also been uncertain in the past – and yet somehow we got through those tough times, and will again.
At PSG Silver Lakes, George Central and Mossel Bay Diaz we therefore look at the things we can control. The diagram below makes it clear that while we tend to focus on returns to the exclusion of other factors, it is actually the one thing we do not control.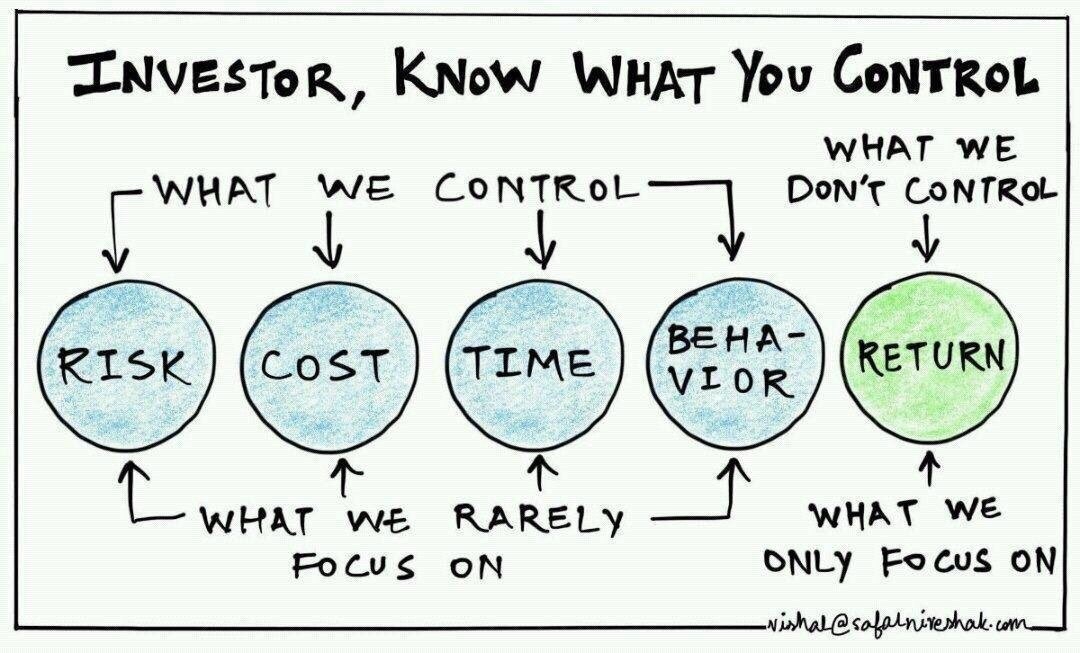 Source: (FiPhysician, 2020)
Our focus is on structuring, growing and protecting our client's wealth
Whether you are in the process of accumulating capital for retirement or already retired, suitable structuring of your investment portfolio always plays a critical role in achieving the required goal. There are four main asset classes with distinctly different characteristics in long- and short-term return expectations as well as tax implications: cash, bonds, equities and property. All of these asset classes are available locally and offshore.
Markets are and have always been volatile. Emotions can be one of the biggest destroyers of wealth when panic sets in and assets are sold at undervalued prices during market downswings.
"The stock market is a device for transferring money from the impatient to the patient" – Warren Buffet
It is often best to stay the course. Economies are cyclical, and the markets have shown that they will recover. Here are 12 examples of bear markets in the Dow Jones Index that are worse than the current version along with the ensuing one, three, and five year forward returns: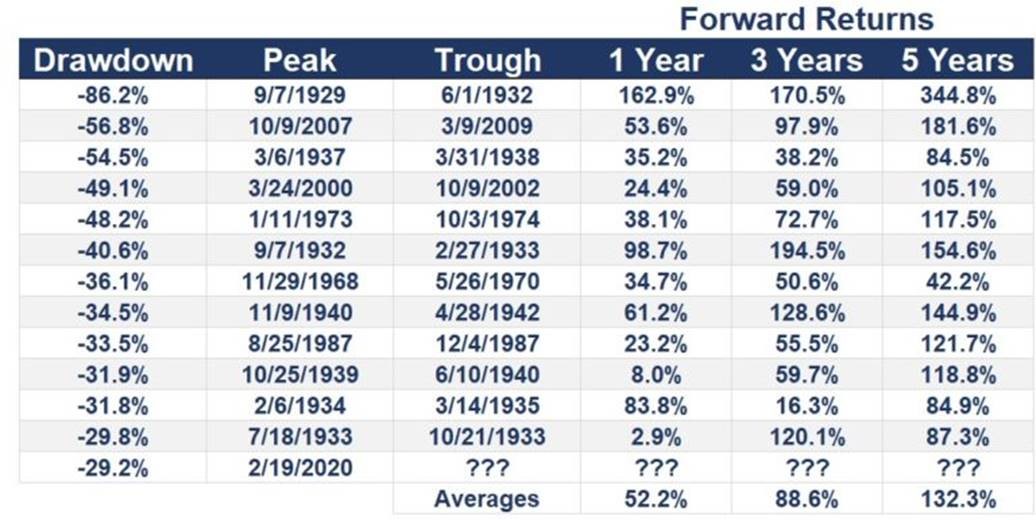 Source (Carlson, 2020)
Our office details in the Garden Route:
PSG Mossel Bay Diaz
Sioux Building
16 Sioux Street
Mossel Bay
PSG George Central
Dynarc House, 2nd Floor
31 Courtenay Street
George
Kindly contact Adriaan de Waal at +27 (72) 591 4557 or Janko Sieberhagen at +27 (79) 731 1388 or email us for further information at adriaan.dewaal@psg.co.za or janko.sieberhagen@psg.co.za
Connect with us:

'We bring you the latest Garden Route news'