Advertorial
GEORGE BUSINESS NEWS - The first of five office blocks in Eden Business Park was officially introduced on Tuesday night at a cocktail function where guests could view the impressive facilities at their leisure.
The building has a total of 1 467m² AAA-grade office space of which a large portion is still available. Located between the Garden Route Mall and SA Revenue Services, the modern, three-storey building faces the N2 and is highly visible to passing traffic.
The developers own the lower ground floor, while the middle and top floors are jointly owned by two companies.
Currently, there are two rental spaces that have been reserved on the lower ground floor, six on the middle floor and five on the top floor. Jeanne-Pierre van der Poel, co-owner and managing agent, says various space options are being offered and offices of as small as 42m² can be made available, depending on the requirements of prospective tenants.
"The middle and top floors are available on a 'white box' basis, which means that the tenant can decide how they want to divide and structure their office space - whether they require smaller, separate offices or an open-plan layout. A tenant installation is provided for expenses such as air-conditioning, floors and ceilings according to the tenant's preferences."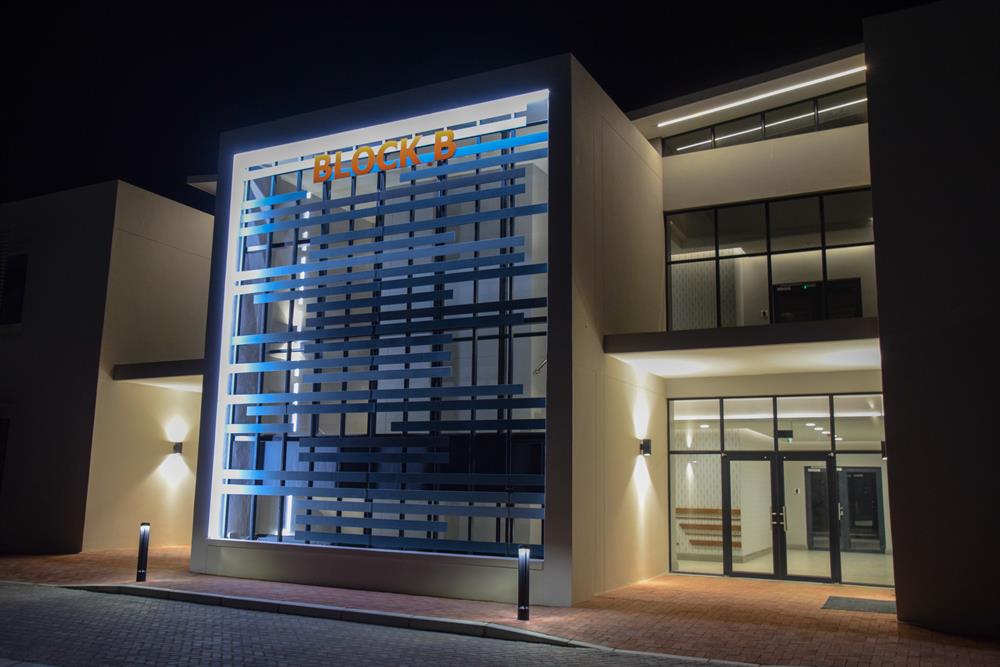 Rental space is now available in the first completed block of the modern Eden Office Park.
A future off-ramp from the N2 will give direct access to the building. The building has a biometric security system and the complete business park will eventually be a security development.
High-speed fibre is available and a lift plus a wheelchair-friendly layout are other advantages.
Construction, executed by Semper Prima, started eight months ago. According to co-owner/developer Loot Steyn, the five buildings will each offer 900m² of rental space. "We have already registered a sectional title over the development and businesses can buy their own office space if preferred."
Van der Poel said their decision to invest in George was based on the value created by the city's growth potential and the rapid expansion that is already taking place.
For more information on rental space available, phone Jeanne-Pierre van der Poel on 082 878 5582.
Developers and owners of Eden Business Park's first office block, from left: Jeanne-Pierre van der Poel, Truhann van der Poel, Gerhard Hoepfner, Ryno Wilson, Fahdiel Manuel, Loot Steyn and Chris Roodt. Photo: Alida de Beer
'We bring you the latest George, Garden Route news'