KLEIN KAROO NUUS - Drie vragte voer, bestem vir boere van Herold en De Rust wat in die wurggreep van die voortslepende droogte is, is Woensdagoggend deur Gift of the Givers afgelewer.
Die drie vragte ronde bale ruvoer is deur boere van Mpumalanga, Gauteng en die Vrystaat geskenk. Gift of the Givers het hul eie vragmotors gebruik vir die vervoer daarvan, en Agri Wes-Kaap het die brandstof geborg.
Volgens Joey Potgieter, voorsitter van Agri Klein Karoo, wat die mees onlangse skenkings koördineer het, moet 80-90% van die lusernlande langs die hele lengte van die Olifantsrivier oorgesaai moet word. "Planttyd vir lusern is verby vir vanjaar, en boere sal eers Maart weer kan saai – indien dit goed reën.
"As ons nou goeie opvolgreën kry, sal boere voergewasse, soos sorghum, kan plant, maar dit sal eers teen November gesny kan word. Daarom is ons so dankbaar vir die voer wat boere landwyd vir ons skenk."
Volgens Ali Sablay, koördineerder van Gift of the Givers, het hulle 'n lys van byna 40 dorpe se boeregemeenskappe veral in die Noord-Kaap, Oos-Kaap en Klein-Karoo wat in nood verkeer. "Ons probeer ons bes om oral te help; namate die droogte voortduur, kom net nog meer gemeenskappe by."
Volgens Sablay maak Gift of the Givers gebruik van hul eie vragmotors en brandstof wat uit hul eie fondse aangekoop word om die geskenkte voer na die dorpe in nood aan te ry. "Die skenking vir brandstof van Agri Wes-Kaap is die eerste wat ons nog ontvang het."
Meer as 20 vragte
Meer as 20 vragte voer is sedert einde Augustus deur die bemiddeling van verskillende droogtehulp-instansies en individue in die Klein-Karoo afgelewer.
Dinsdag is twee vragte voer, deur bemiddeling van Boere in Nood uit Elliot en Barkley-Oos in die Oos-Kaap in Bo-Kammanassie afgelewer.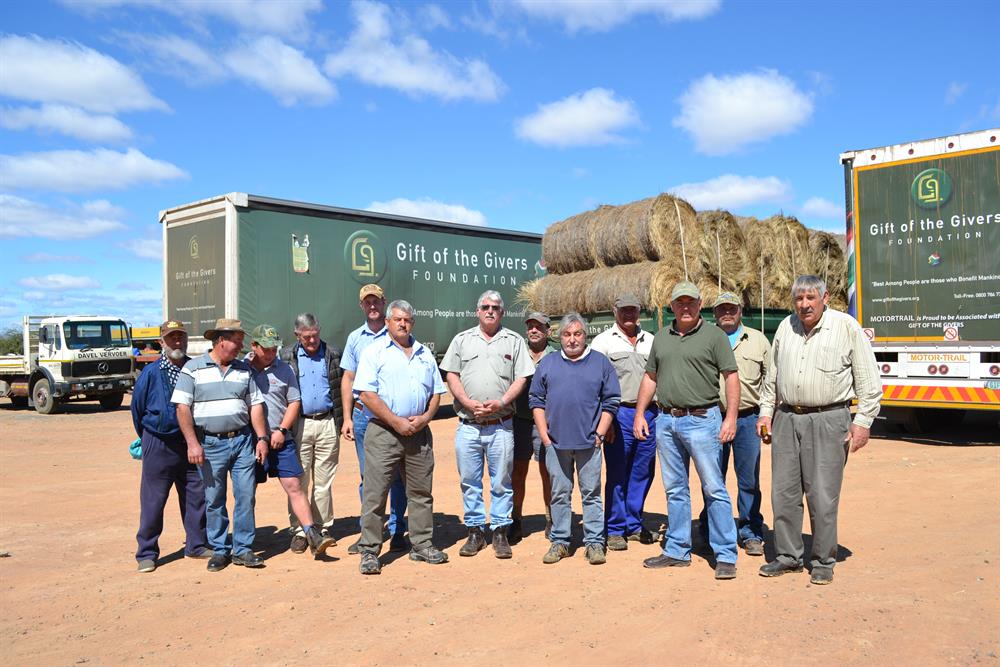 Van die boere wat die voer van Gift of the Givers ontvang het. Foto's: Tisha Steyn
Sondag is 'n vrag, wat met AfriForum se hulp uit Aliwal-Noord in die Oos-Kaap gebring is, is op Rooiheuwels afgelaai.
Verlede week is twee vragte, wat ook met die hulp van Boere in Nood bekom is, uit Amersfoort in Mpumalanga gestuur en op Volmoed afgelewer.
Vier vragte voer van Daniëlsrus in die Vrystaat, wat geskenk is deur familie en vriende van Koos Grundling, is ook Dinsdag op Armoed-Noord afgelewer.
Altesaam 13 vragte voer is einde Augustus deur bemiddeling van Burre Burger Droogtehulp vir die boere van die onderste deel van die Olifantsrivier naby Calitzdorp afgelewer.
Enigiemand wat voer, vragmotors of brandstof aan die boere van die Klein-Karoo wil skenk, kan Helen Butler by Agri Klein Karoo se kantoor kontak by info@agrikleinkaroo.com of 044 279 1425.
Kontak Laubscher Coetzee by 082 898 5941 vir meer inligting oor die droogterampfonds Klein Karoo Drought Relief.
'Ons bring jou die nuutste Tuinroete, Hessequa, Klein Karoo nuus'