GEORGE ENTERTAINMENT NEWS - The Garden Route's home-grown orchestra Carpe Musicam! will soon start rehearsing for their next concert series, Hello, Spring! which will be presented on 3 October in Sedgefield and on 15 and 17 October in George.
This programme will consist almost entirely of 20th century music and will include composers such as Debussy, Albeniz, Gardel, Gershwin and Shostakovitch.
The orchestra's performance at their latest show Rock, Pop and Romance in Sedgefield last weekend was a memorable event.
"The hall was packed to Covid limits and it was good to see so many people out and enjoying the full programme of music, which has taken this 35-piece community orchestra months of rehearsal to bring to the very high standard of performance displayed," said conductor Norman Carless.
The audience complimented the orchestra and soloists with no less than four standing ovations during the show - a fitting end to a season of great musical growth by this local group of "part-time" musicians.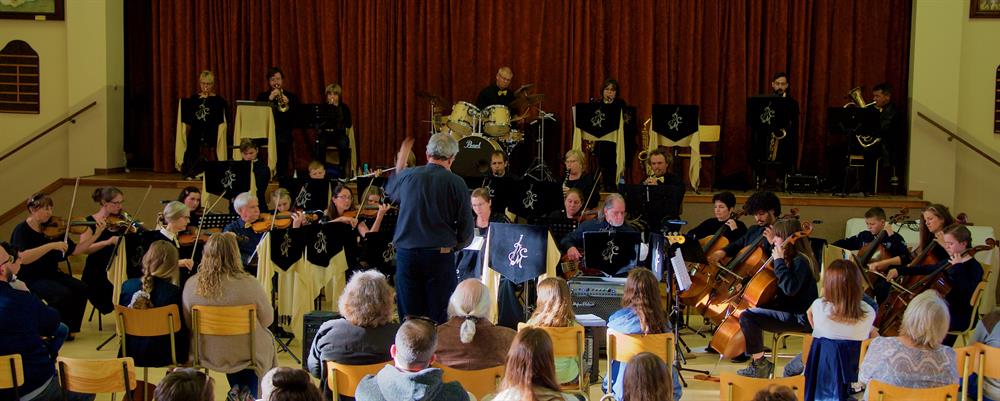 Carpe Musicam! in action during their latest performance in Sedgefield.
Photo: André Victor
Spring is in the air
Two highlights of the upcoming show Hello, Spring! will be violinist Cherith Bain's solo versions of Por Una Cabeza and Amazing Grace. Carless says he wants to concentrate on neatness of playing and sensitive group work, with musicality in the varied styles of music that will be presented.
The Carpe Musicam! Choir will begin rehearsals on 6 June. The youth ensemble, Strings and Winds, has room for more young musicians who wish to play in a group for fun and are not yet up to orchestra standard.
For more details about the choir and S&W, please contact Elsabe at elsabe@carpemusicam.co.za. Visit Carpe Musicam!'s brilliant new website by Dawid Stoltz of Yobo.
'We bring you the latest George, Garden Route news'