Video
NATIONAL NEWS & VIDEO - KwaZulu-Natal Health MEC, Nomagugu Simelane-Zulu expressed concern that the movement of people between provinces, over the next few days, may cause a surge in Covid-19 cases in rural areas which have been 'insulated' from the deadly virus so far.
Speaking at the launch of the Township Sanitisation Programme in Newcastle, yesterday (May 3), Simelane-Zulu announced that there have been eight confirmed cases of Covid-19 in the Amajuba District (this includes Newcastle, Utrecht and Dannhauser) altogether.
She commended Amajuba for being able to contain the spread of the coronavirus, but advised district mayor Musa Ngubane and Acting Director for the Health Department Mthokozisi Khumalo that the onus fell on them to ensure carriers of the virus are identified upon entering KZN from other provinces.
"There should be roadblocks at the borders of Amajuba, where our people screen travellers and test for the coronavirus. This effort needs to be intensified, at this time, when there is a lot of movement. If we don't the virus is going to come in and we will see a surge in numbers," warned Simelane-Zulu.
"Our police need to be firm; even it means they have to take shifts to ensure there is always someone manning the roadblocks. We must be there to check temperatures, and if people have symptoms, the mobile unit must be available to test them. The next seven days is the one time we will have when we are able to make sure nothing comes in, or if we pick up a problem, to ensure that we deal with it."
Watch a video below:
Simelane-Zulu further expressed concern that South Africa is likely to go back to level 5 lockdown restrictions due to the failure of the general public to take the virus seriously.
"Level 4, in essence, means that a few more people can go to work. It has not removed the regulations that were in place," she stated. "I am worried about the number of people who are at the malls and the shops. This is going to create a serious problem for us, especially when you observe that there is no social distancing. People are there, they are moving around, it's as if it is business as usual. We need to remind people that social distancing is key and that they must keep their masks on."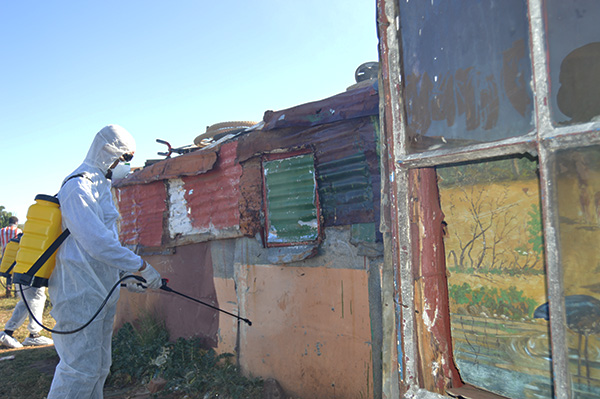 The Township Sanitisation Programme began in the informal settlement of Siyahlala-la, in Newcastle yesterday. It is a joint initiative between the departments of health, agriculture (which provided the chemicals used) and human settlements (which identified the people who are involved in the programme and trained them). The outside of township homes will be sanitised weekly over the winter months.
The decision to sanitise public spaces, especially congested areas, like informal settlements and taxi ranks, was taken by the Provincial Command Council, and was officially launched by KZN Premier Sihle Zikalala, in Ilembe, on 21 April.
The programme aims to, "…pro-actively stop the virus," according to Simelane-Zulu. Residents of the informal settlements, where sanitisation takes place, are given soap to encourage the frequent washing of hands.
"While it is important to use hand sanitizer, the message we want to drum in is that people must wash their hands with soap and water. This is our new normal. We will only be able to reduce the spread of infections if we continue to work together," she said.