Once a towering behemoth loathed for its size, the SUV has evolved to become the must-have vehicle for the modern family at the expense of the traditional three-box sedan.
The 67 year rivalry
There however some exceptions to this rule with the most prominent being the Toyota Land Cruiser 200, which has kept up with the more fashionable compact SUVs without losing its trait of blending luxury with absolute go-anywhere ability.
Of course, the Land Cruiser has always had one similarly large shadow following it around since 1951, that of the Nissan Patrol. Icons and legends in their own right, it has however been an easy ride for the former as Nissan stuck to offering the almost decade old Y61 Patrol in South Africa until 2016, opting instead to sell the Y62, available in some market since 2010, under its Infiniti division as the rather chintzy QX80.
A mid-life facelift for the Y62 last year though left the doors open for local introduction, which Nissan South Africa duly took in December. Overly late but undeniably a huge step up from the QX80, there was no shortage of interest when an imposing black Patrol arrived for the customary seven-day stay.
When size counts
Hailing from a bygone era, the Patrol makes an entrance right from the off with a solid block-like appearance capped off by a vast chrome grille, bulging wheel arches housing the seemingly inadequate 18-inch alloy wheels and two rather conspicuous V8 badges on the front fenders.
Unlike the Infiniti though, the flowing side lines goes some way to add a touch of uniqueness to the Patrol, while the clear taillight lenses, despite appearing aftermarket, are more digestible than that of the QX80.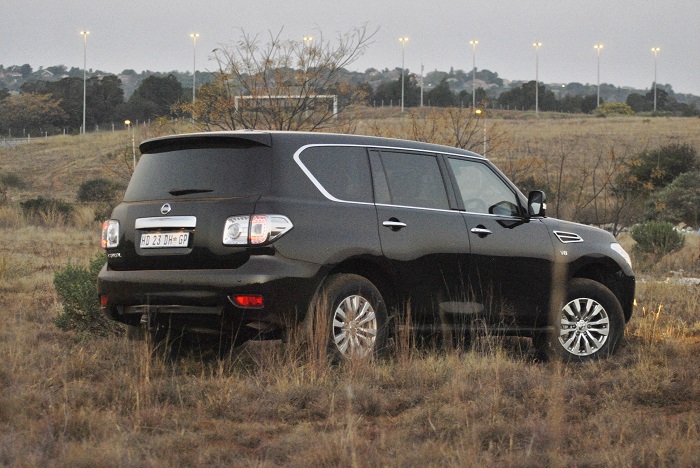 With a length of over five metres and width approaching two metres, the Patrol's interior, to put it mildly, is massive and could just as well serve as a small living room. It is however here where the big Nissan's near decade old layout is most prominent, with a button festooned centre console, an infotainment display appearing lost in the expansive dashboard and overuse of retina searing gloss "wood" backed by smudge prone tan leather. Aside from these additions, perceived quality is good with soft touch materials and liberal use of silver chrome inserts.
Lavish and cavernous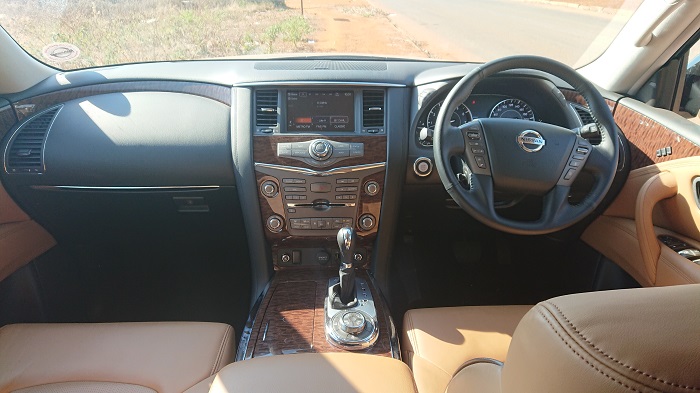 Like its arch rival, the Patrol is all about opulence and comfort, with items such as a refrigerated centre storage area, a very impressive 13-speaker Bose sound system, a DVD player complimented by dual rear screens with wireless headphones, separate rear ventilation switches, dual USB ports, a heated steering wheel, heated and ventilated front seats, a sunroof and electric tailgate going some way to momentarily distract one from the dated facia.
While the Patrol is still able to seat seven, its sheer size creates the impression of it being able to accommodate more occupants, while still swallowing 550-litres of luggage with all the seats up. That said, while the third row will provide more than enough comfort for kids, adults will be seated in relative cosiness, albeit for short trips.
The power station up front
Slide into the extremely supportive captain's chair and press the starter button, the Patrol's old-school nature comes to the fore as the 5.6-litre V8 fires up with a satisfying rumble. Producing 298kW/560Nm, the motor comes mated to a seven-speed automatic gearbox, which is at its happiest in Drive with smooth, seamless shifts.
Poke it with a stick, and the engine responds with a stream of instant power and a noticeable growl as the higher regions of the rev-range are exploited. Although this is guaranteed to leave a lasting smile, it would result in the Patrol emptying its 140-litre fuel tank a lot quicker, with a best of 14.4-litres/100km being recorded during its stay, which quickly shot up to near 16.0-litres/100km when more throttle was applied.
Off-road warrior with some chinks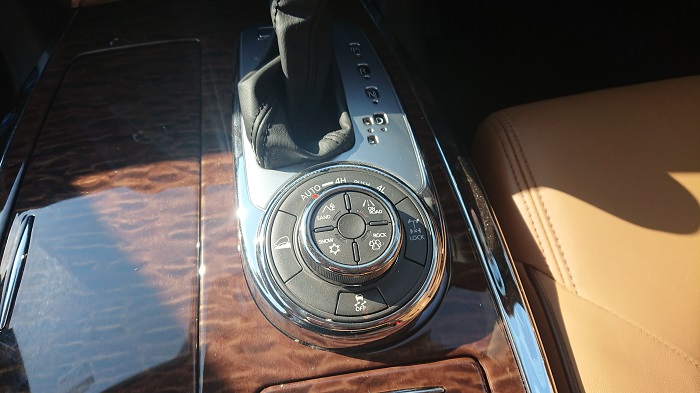 The uncomplicated nature of the engine, multiple off-roads modes and softly sprung suspension means that the Patrol's off-track heritage is kept in tacked by it being virtually unstoppable on the rough stuff, while back on the tar, the steering proved to be rather light and devoid feel, which frankly was nowhere as irksome as the old-fashioned foot-operated handbrake or lack of automatic unlocking doors.
Still usable everyday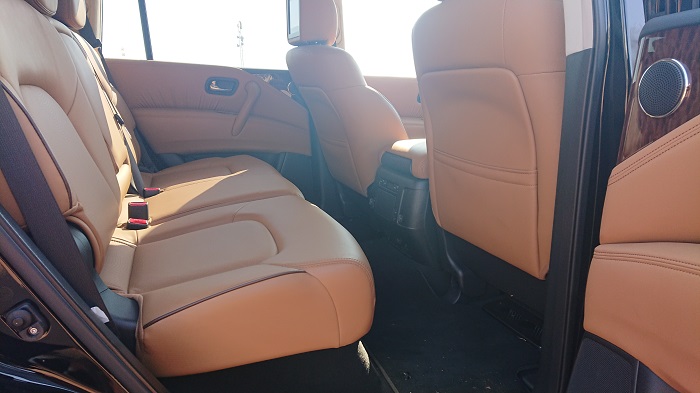 In spite of its girth, Nissan has made manoeuvring the Patrol in everyday situations a tad easier by equipping its Intelligent Mobility range of driver assistance systems, namely Blind Sport Intervention, Surround View Camera system, Lane Departure Warning, Lane Intervention, Forward Collision Warning, Emergency Braking, Adaptive Cruise and Distance Control, as well as Driver Awareness Monitor.
Conclusion
Its dated interior aside, there is still a massive charm about the Nissan Patrol irrespective of whether you point its nose to the city or the far corners of Africa. Undeterred by frankly anything, it is an unashamedly, proud one-finger salute to modern SUV conventions, which at a still eye-watering sticker price of R1 353 500, makes it R19 300 cheaper than it's admittedly diesel powered Toyota rival.