MOTORING NEWS - From the garage where the vehicles were kept, our driveway went up a steep hill and it was a huge challenge to brake, pull up the handbrake and pull away on the hill towards the street, without the vehicle sliding backwards.
Today I am still grateful for that hill, because I never let a vehicle stall when pulling away on an incline.
At first, my dad would drive the Jetta out of the driveway and park it next to the road, where I would take over. I remember this being quite stressful for him.
We used to drive to a street called Johann Rissik. It was long, with a steep incline, and my dad used to make me stop and pull away, stop and pull away again. He made me repeat the steps over and over until I mastered them.
I remember the exhilarating feeling when I first took the Jetta out on the highway. To move up to 120km per hour for the first time, and having to remember to change gears, was very difficult.
However, once I got the hang of it, my friends and I used to drive on the highway with the windows open and the music pumping.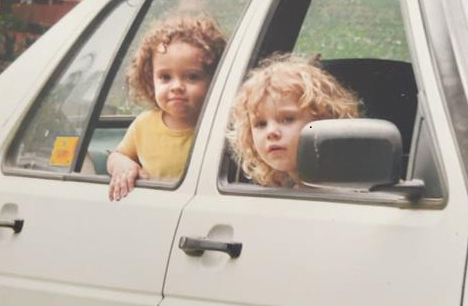 My daughter Anoux and her cousin Ciska played in my dad's Jetta many years after I learned to drive in it.RIGHT: My dad with our Jetta.
What I never told my dad was what happened the day we were driving next to a handsome guy on the highway. My friends were yelling and the music was loud. Doing my utmost to look cool behind the steering wheel, I kept the Jetta next to the hunk's car. All of a sudden I saw a lot of smoke coming from the exhaust. I looked down and realised I had forgotten to change gears - I was driving 120km/h in third gear!
We have many memories of that car, as my dad believed one should keep a vehicle for as long as possible. He always said it should be like the rest of your life: one job, one wife, one house and one car.
When my daughter was born my dad used to take her and my cousin to the shops to buy sweets, in the very same Jetta.
I have fond memories of that car and will always have. Thanks, dad.
'We bring you the latest Garden Route, Hessequa, Karoo news'