GEORGE NEWS - A wheelchair-bound woman from Parkdene, Magdalena du Plessis (57), died on Saturday 2 November after the room she was sleeping in caught fire.
According to Conville police station commander, Col AB Kriga, the deceased's partner told the police that he left the house to go to the shop and when he returned the house was on fire.
"According to the occupant of the house there was a candle in a bottle burning when he left the house. On arrival he saw their house burning and he called for help," said Kriga. The woman succumbed to her wounds in hospital. An inquest docket has been opened and no foul play is suspected.
The family did not want to comment when the George Herald visited the house in Parkdene. In Swift Close, Conville, a man lost all his belongings when his shack, which stood in a backyard, burned down on Monday morning.
No one was injured and no one was inside the structure at the time of the fire. The cause of the fire has not been confirmed.
In a separate incident in New Dawn Park, Isabella Gertse (44), her daughter Hayley (22) and her 18-month-old granddaughter lost all their belongings after their corrugated iron structure next to a house in Japonica Street, caught alight early on Sunday morning, 3 November.
The cause of the fire still has to be determined. They were not at home at the time of the incident and no one was injured. No foul play is suspected.
Denneoord home destroyed
A family from Denneoord lost all their belongings when their house was gutted by fire late on Monday morning, 4 November.
The burning house in Ribbok Street in Denneoord on Monday. Photo: Kristy Kolberg
According to the owner of the thatched roof home, Heyn de Jongh, he was sitting on the deck outside their home with his wife, mother and father, when their gardener came running from behind the house to tell them that the roof was on fire. "I ran upstairs with a hosepipe but when I got there it was already too late. We were able to save our vehicles and that was all. Before we knew it the house was up in flames. It all happened so quickly,"
A backyard dweller from Swift Close, Conville, lost all his belongings when his wooden structure burned down on Monday. Photo: Kristy Kolberg
De Jongh told the George Herald. While the family was evacuating their home only one of their two dogs, Shrek, ran out with them. "We couldn't find Shelly and she didn't follow us out. The cats were also nowhere to be seen," De Jongh said.
It was only later, when most of the flames were quenched and the fire was under control, that Garden Route District firefighter Deon van Wyk emerged from the thick smoke with Shelly in his arms.
"We all cried when we saw Shelly. We are very relieved that no one, not even our dogs and cats, were injured during the fire," said De Jongh.
"I wish to thank everyone involved and everyone who dropped off donations for us. If someone tells me that George can't stand together, I will tell them different. A special thanks to Denneoord Neighbourhood Watch for everything they have done for us. You feel so numb when something like this happens. There's absolutely nothing you can do except watch your home burn to the ground and we are truly thankful for the support we have been receiving the last couple of days."
The cause of the fire has not been confirmed.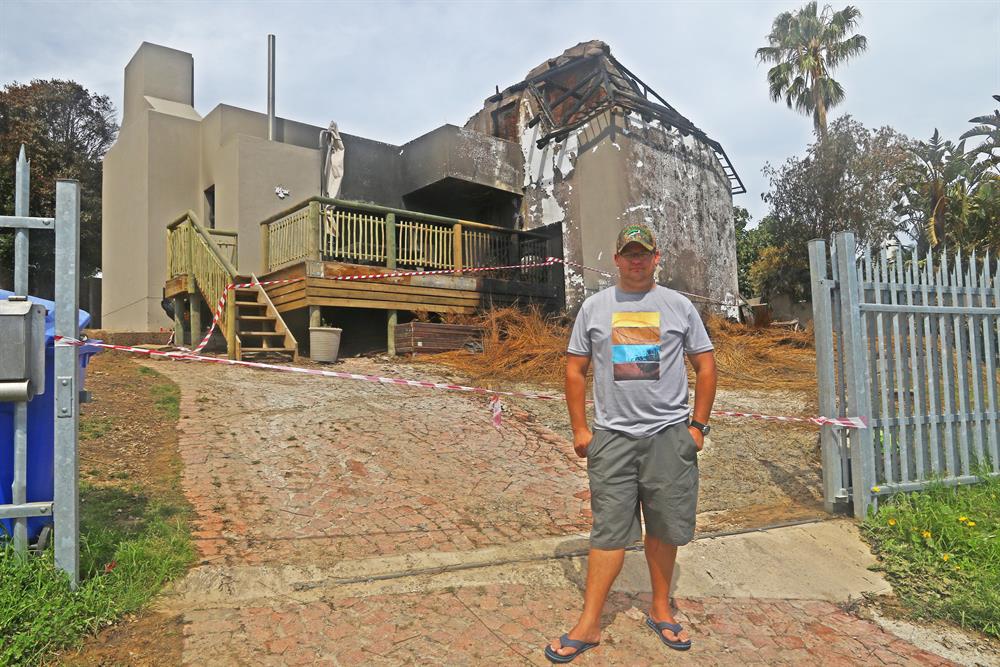 Heyn de Jongh at their house in Denneoord on Tuesday afternoon. The De Jonghs couldn't save anything from their burning home and were literally left with the clothes on their backs. Photo: Kristy Kolberg
'We bring you the latest George, Garden Route news'