GEORGE NUUS - Ten minste het dit baie mense aan die oefen gekry. So het Abrie de Swardt, bekende sportadministrateur van die Suid-Kaap, gesê oor die nuwe reëling wat dit sedert verlede Vrydag, 1Mei, vir mense moontlik maak om tussen 06:00 en 09:00 buite hul erwe fisiese oefening te kan doen.
De Swardt was in die verlede betrokke by die afrigting van Suid-Afrikaanse atlete vir die Olimpiese Spele.
Ofskoon dit baie gewild is, is kritiek uitgespreek oor die tyd. Volgens De Swardt het hy nie 'n probleem met die tyd nie. Dit gee geleentheid vir mense wat nou weer kan werk, om eers te kan oefen saam met hul gesinne.
Hy het gesê dis baie belangrik dat mense oefeninge doen. In die huidige situasie is dit nie net die fisieke oefening wat voordelig is nie. Mense voel waarskynlik dat dit hul vryheid gee.
Dis goed om te sien dat baie mense daaraan deelneem. "Dis amper of 'n klok vir mense gelui het. Hulle kan sien dat fisiese oefening is ook goed vir hul gesondheid."
Fisiese oefening is nie net goed vir iemand se liggaam nie, maar dit help ook die psige.
Christie Els, voorligtingsielkundige, het gesê oefening help mense om sielkundig gesond te wees. Die brein stel chemiese stowwe vry tydens oefening. "Daardie stowwe laat 'n gevoel van wel wees, by 'n persoon."
Eleanore Bouw-Spies, 'n parlementslid van Knysna besig om te stap.
Op emosionele vlak bemagtig dit ook mense om goed en sterk or hulself te voel. Dit help beslis om die inperking makliker te maak. Die oefeninge wat nou buite mense se erwe toegelaat word, het ook hul beweegruimtes vergroot en gee hulle 'n gevoel van ruimte en vryheid.
Eleanore Bouw-Spies, 'n parlementslid van Knysna het gesê sy het op 'n bepaalde roete gaan stap. Sy het 'n paar bekendes raakgeloop en dit het gelyk of die mense dit geniet. Oor die algemeen het dit gelyk of mense die reëls gehoorsaam en gesigmaskers dra.
Haar pa, Pieter Bouw (71) het ook gaan stap. Hy stap gewoonlik elke dag. "Dit was soos manna uit die hemel vir hom. Hy het vir my gesê hy is al moeg om om die huis te stap."
Sy is bly dat mense toegelaat word om fisiese oefening buite hul erf te kan doen, maar miskien is die drie ure wat opsy gesit is bietjie te min.
Fietsryers geniet die buitelug vroeg Maandagoggend naby die Tuinroetedam. Foto: Eugene Gunning
Grant Riddles, burgemeester van Hessequa, het gesê op Riversdal en van die ander dorpe soos Stilbaai het mense die geleentheid benut om te stap en te draf. Die mense is gehoorsaam en dra gesigmaksers. "Vir baie mense is dit 'n tyd om bene te rek. Van die mense wil graag op die strande gaan stap, maar ongelukkig is dit verbode."
Ilse Jacobs, inwoner van Oudtshoorn, het gesê mense op die dorp het die naweek deelgeneem aan die oefeninge. Daar was nie oorweldigend baie mense nie. Baie mense het geloop met hul honde en saamgestap met hul kinders op hul fietsies.
Sy het Maandag die eerste gegaan en die geniet. "Dit is net koud so vroeg. Dit sal help as dit 'n bietjie later is," het sy gesê.
Mense stap oor die wal van die Tuinroetedam naby George. Die foto is vroeg Saterdagoggend geneem. Foto: Eugene Gunning
Georgians have welcomed the slight relaxation of the lockdown rules now that we've entered Level 4, which allows us to exercise outside our premises between 06:00 and 09:00 in the mornings. Many used the opportunity to take to the streets, most wearing their masks as required. Abrie de Swardt, well known sports administrator from the Southern Cape said sport is good for a person, both on a physical and psychological level.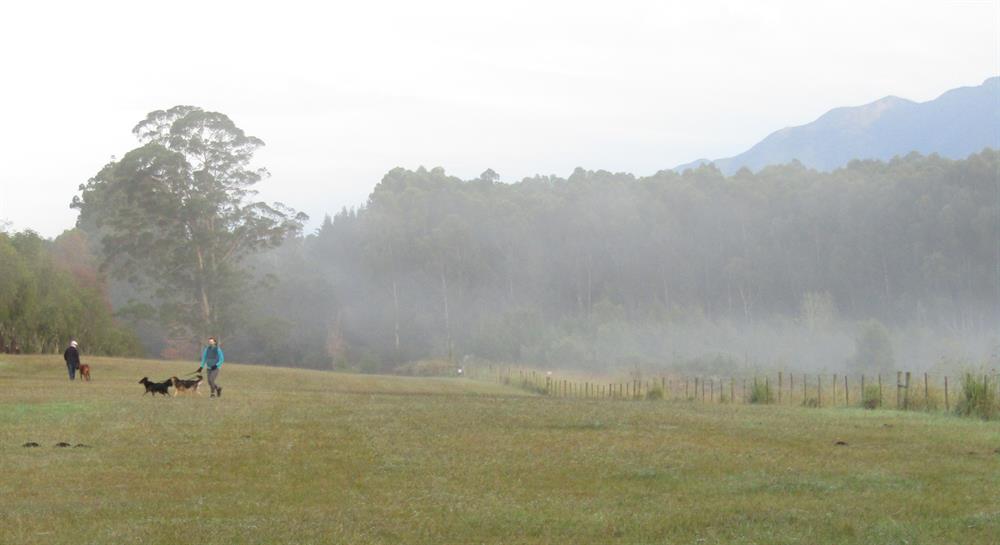 Mense stap Maandagoggend met hul honde in George. Nie eers die koel weer kon hul afsit nie. Foto: Eugene Gunning
'Ons bring jou die nuutste George, Tuinroete nuus'