TUINROETE NUUS - Sowat 801 pare skoolskoene is verlede Maandag deur die nie-regerings organisasie ServOne aan kleuterskole in die Tuinroete oorhandig. Deon Britz van ServOne sê hulle het drie tot ses maande gewerk om die projek 'n werklikheid te maak, en sonder Samaritan's Feet, 'n nie-winsgewende organisasie in Kaapstad, sou hulle dit nie kon doen nie.
Britz sê dit het begin nadat hulle die nood in gemeenskappe in en om George raakgesien het.
Hul het hande gevat met Samaritan's Feet, wat reeds jare werk om skoene te verskaf aan kinders wat nie het nie. Dit was net die begin van groot dinge, vertel Britz. "Ek weet nie hoe hulle dit doen nie of waar hulle die skoene kry nie, maar ons is dankbaar dat hulle ons kon help."
ServOne het egter 'n groter doelwit om vorentoe ook skryfbehoeftes aan minderbevoorregte kinders te verskaf, behalwe die brood wat hulle twee maal 'n week by kleuterskole en behoeftige mense aflaai.
Die kleuterskoolhoofde ontvang skoene vir al hul behoeftige kinders.
Kleuterskole in en om George het verlede Maandag by die George Youth Cafe bymekaargekom, om die skoene in ontvangs te neem. Daar was tien kleuterskole van George en vier van Mosselbaai. Britz sê hulle het baie nou saam met die hoofde van die skole gewerk.
Daar is syfers gekry van die behoeftige kinders en die oproep is gemaak. Daar was selfs skoene vir kinders in Calitzdorp en Dysselsdorp.
Volgens Britz gaan die skoene voor die skole sluit aan gr. R of voorskoolse leerders oorhandig word sodat hulle skoolskoene het wanneer hulle volgende jaar na gr. 1 gaan.
Die vier hoofde van kleuterskole in Mosselbaai, wat die skoene in ontvangs geneem het.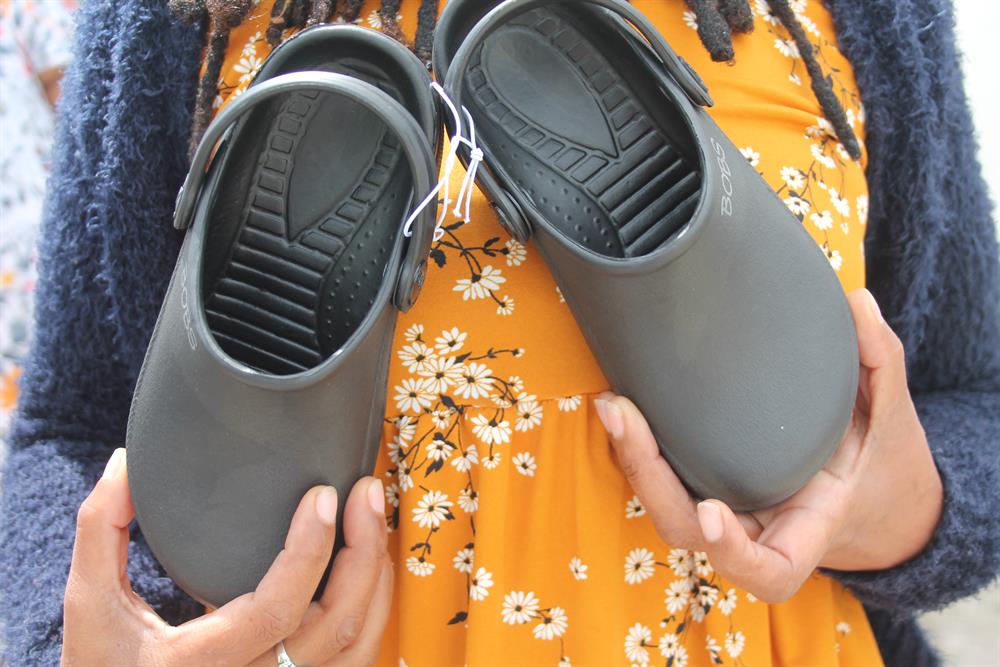 Die oulike paar skoene gaan 'n behoeftige kind se hart baie bly maak.
'Ons bring jou die nuutste Tuinroete, Hessequa, Karoo nuus'