GEORGE NEWS - Retired engineer Vivian Ladbrooke (75) is one of a team of dedicated volunteers that have over the years added to the picturesque railway model room at the Outeniqua Transport Museum. The model depicts the Southern Cape landscape along the railway tracks, with 1:87-scale railway trains making their rounds.
The Ken Wheeler Model Room adds to the uniqueness of the museum, which attracts tourists from all over the world who come here to admire the old steel horses of yesteryear.
Vivian is currently giving the landscape as well as the controls a general upgrade. A hops farm has been added to the landscape and the buildings, including the George Station and the iconic Kaaimans railway bridge, are all painstakingly recreated in this minuscule railway set. The men have great fun applying their ingenuity to create the landscapes and Vivian spends at least three days a week working on it.
After he sold his engineering company, Vivian had the opportunity to devote his life to his favourite hobby. He added a basement to his Hoekwil home for his own private model railway layout. One of these days the Ken Wheeler Model room will celebrate its 20th anniversary.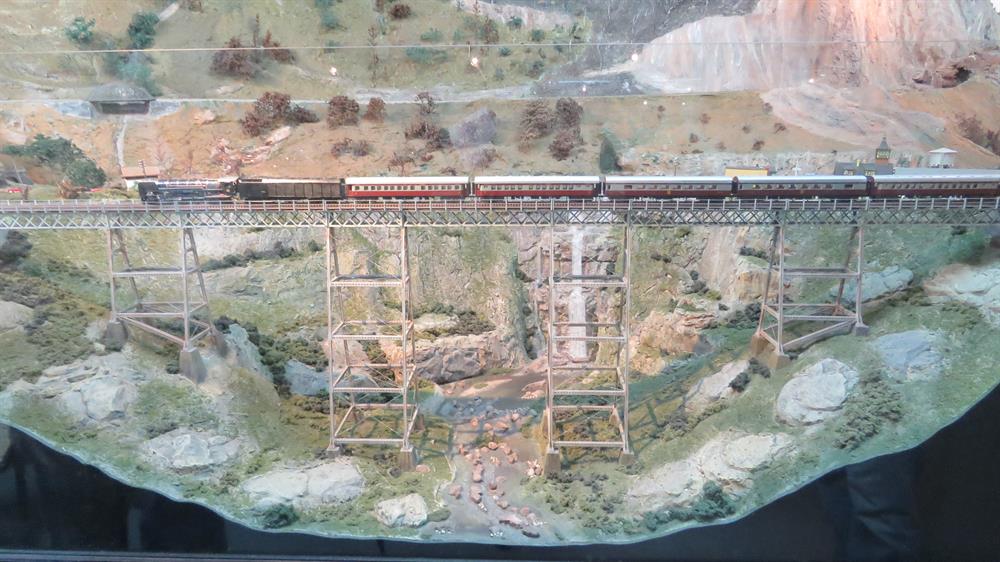 Some railway enthusiasts are still hoping that the Kaaimans railway bridge will one day be restored and be operational again. Vivian believes it is possible and that the construction costs currently being bandied about are greatly inflated. He was an aircraft instrument technician at one time and has spent many years in the engineering industry.
Railway enthusiast John Crook next to the donation box (in the shape of a locomotive) situated in the model railway room. In the background is the honorary scroll inscribed with the names of the men who have contributed their time and labour to expand this tourist attraction.
It is a great place to visit during the school holidays. Children and their enthusiastic parents can view the 87 trains in action at the Ken Wheeler Model room on Wednesdays from 09:30 to 14:00 and on Saturdays from 09:30 to 14:00.
'We bring you the latest George, Garden Route news'