GEORGE NEWS - A concerted effort to get the main water pipeline between George and Wilderness fixed was launched in the past week and a half to ensure that residents of Wilderness and surrounds do not go without water.
Taps in Wilderness Heights were dry for several days and water pressure in Wilderness fell after the pipeline broke on Sunday 6 October. The line supplements the supply from the Ebb and Flow Water Treatment Works, which serves areas as far as Touwsranten, Hoekwil and Kleinkrantz.
Repair efforts to the pipeline, which runs along the Kaaimans Bridge, were delayed because of the unsafe conditions on the deteriorating bridge. The municipality first had to obtain an opinion from a safety specialist.
Corroded steel walkways and railings on the bridge had to be made safe. Municipal communications chief Chantel Edwards-Klose said pre-safety measures were put in place by professional rope work experts and work can be carried out during the day only.
Safety personnel from the George and Garden Route District Municipality fire brigades are in attendance while work is carried out.
Strict safety measures on the bridge are essential.
The contractors' job is to transport and install 34 HDPE (high-density polyethylene) pipes of six metres in length. These are replacing the old, corroded steel pipes that were laid in 1984.
"HDPE piping has a high level of impermeability and a strong molecular bond, making it suitable for high pressure pipelines."
On Monday 14 October she announced that repairs were at last being initiated. The estimated date of completion is 19 October.
New pipeline is temporary
Civil Engineering director Regenald Wesso said the new pipeline is a temporary measure. Long-term planning to abandon and re-route the line, and find alternative options to supplement water demand in Wilderness started in February this year. "A permanent solution should be available within the next six months."
Entry to the bridge is along the railway line.
Scurrying to keep water levels up
To maintain levels in the reservoirs, George Municipality fills them up with water trucks and a new fire services truck which can carry 35 000 litres. Additional trucks had to be hired.
On Monday 7 October rain made access roads to the Ebb and Flow reservoir impassable and efforts to keep the water level stable were hampered. This left Wilderness Heights, and at some stage also a lower-lying part of Wilderness, without water, but supply was restored after a few days, although at a low pressure.
The municipality stationed several water trucks in the Heights and at the Wilderness Hotel. Tammy Primo of the Wilderness Hotel said residents from the Heights were also allowed to make use of their bathroom facilities while they were without water.
Shiralee Moore, chairperson of the Wilderness Residents and Ratepayers Association (WRRA), was satisfied with the municipality's efforts to keep up supply. "The municipality has also been extremely cooperative by keeping the community up to date about the water at least three times a day," she said.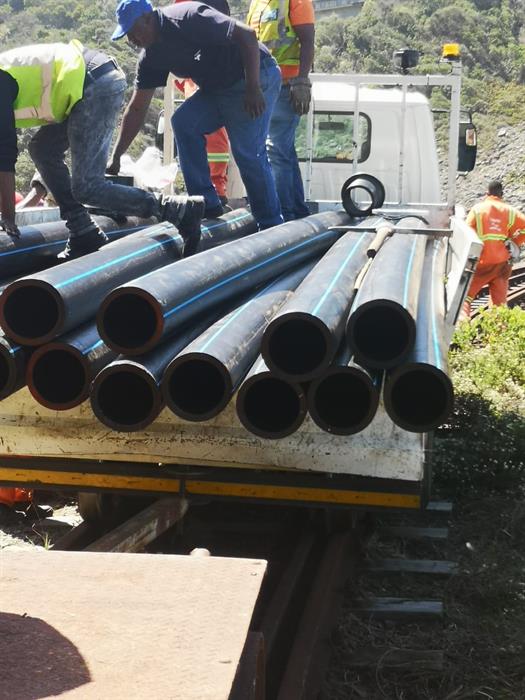 Pipes are delivered to be installed along the railway bridge.
'We bring you the latest George, Garden Route news'