GARDEN ROUTE DISTRICT NEWS - The Western Cape has recorded an additional 22 deaths, bringing the total number of COVID-19 related deaths in the province to 3 911.
We send our condolences to their family and friends at this time.
As of 13:00 on 1 September, the Western Cape has 3 705 active cases of COVID-19, with a total of 105 253 confirmed cases and 97 637 recoveries.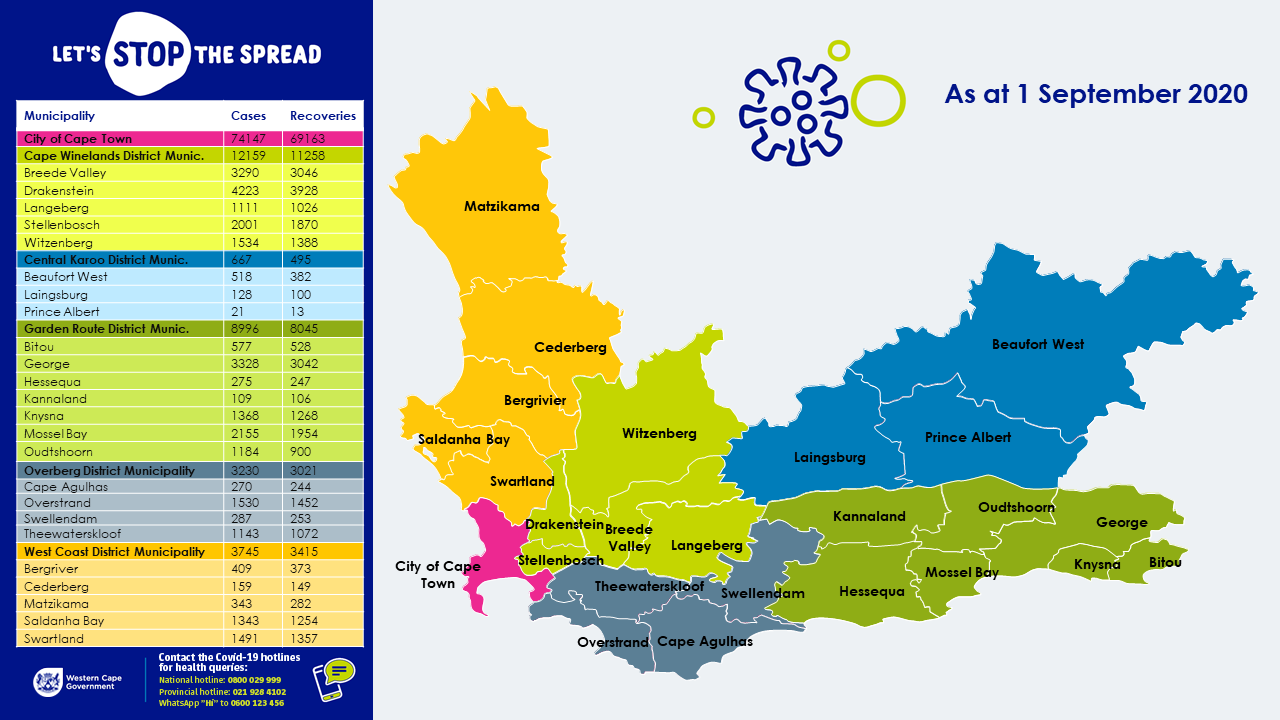 Premier's Coordinating Forum:
Today, I held the Premier's Coordinating Forum (PCF), with mayors from across the province. I had the opportunity to thank the districts for the part they have played in our world-class response to COVID-19.
However, I also emphasized that our work is not yet done. Our combined efforts are still required in responding to this pandemic, and the new challenges which now present themselves.
The COVID-19 response thus far has showed us how we can all work together to achieve a common purpose. We've all learned how to work differently, and to respond quickly and efficiently.
This is a lesson we must take into the next stage of our response- as we work towards recovery. As with COVID-19, this is not something we will be able to achieve on our own or working in silos.
This too will take an all of society approach to ensure that we are able to continue moving forward as a province and country.
New procurement disclosure report released:
Yesterday the Western Cape Provincial Treasury made our second COVID-19 procurement report public. As part of our efforts to ensure transparent procurement, the Western Cape Government committed to releasing monthly procurement reports.
This edition differs from the previous version in that it does not only cover the procurement of personal protective equipment, but all COVID-19 related expenditure between April and 31 July 2020.
This month's report also provides a breakdown of expenditure with SMMEs and I am pleased to report that just over 47% of all of our COVID-19 expenditure has been with small, medium, and micro enterprises.
I encourage members of the public to engage with the report which is available here.
An active, engaged citizenry is an important part of oversight and we encourage anyone to report any irregularities by emailing: Tip.Offs@westerncape.gov.za or making use of the reporting contact information provided in the report.
'We bring you the latest Garden Route, Hessequa, Karoo news'