Advertorial Video
GEORGE BUSINESS NEWS & VIDEO - When champagne bottles popped at the well-known George-based company Power Measurement & Distribution (PMD) last week, it was not for happiness to see its three directors retire, but because the reins are being taken up by the two seasoned staff members who have been managing the company for the past five years.
The retirement of Barry Shackleton, Llewellyn Thomas and Neal Douglass was marked during a memorable event at the company's offices in Merriman Street, where the staff gathered for the first time in a year to all celebrate together.
Barry Shackleton started PMD
25 years ago, in the kitchen of his in-laws in Wilderness. Llewellyn Thomas and Neal Douglass later joined him, along with the late William Erasmus. Together they grew the company, which provides electricity and water metering services to most of the shopping centres, golf estates and gated complexes in the Garden Route, to become a countrywide service provider with offices in Cape Town and Johannesburg.
The end of February saw the end of this leadership, with the official retirement of the three entrepreneurs. Due to Covid, the event had to be kept small, with the 40 staff members at the branches joining the celebrations by video.
The event was tastefully orchestrated by TADA Promotions, with beautiful flowers by Lilly & Lime, and video and photography by Chris Wilson.
The new directors, Johan de Klerk and Marietjie Launder, officially stepped into their new positions. Both are well equipped with many years' experience and are extremely excited about growing the future of the company together with their colleagues.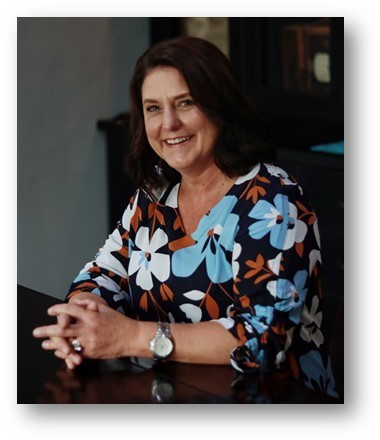 Marietjie Launder
Marietjie, the financial director, points out that Power Measurement & Distribution has, against all odds, managed to grow during the past year when businesses struggled to deal with the pandemic, load shedding and the weakening economy.
The power of pre-paid is vital for landlords during times like this, she says. There is no loss of revenue in unpaid bills as tenants pay upfront. In addition, this excludes any physical contact as there is no need for physical meter reading.
Johan has been with PMD for 16 years and together with JP Crafford and his technical team, is well known in the Garden Route. He is passionate about the company and the developments in smart and remote metering, and played a big part in the roll-out of the prepaid water and gas meters.
Johan de Klerk
The company also has a strong history within the municipal market throughout the Western Cape, and regularly provides Large Power Audits as far as Jeffreys Bay and the St Francis area in the Eastern Cape.
The future for this well-established, stable company looks bright and promising. As they love to say: "Meter vir Meter is ons beter!"
'We bring you the latest George, Garden Route news'