Advertorial Gallery Video
GARDEN ROUTE NEWS & VIDEO - Since the 22nd of October, Fire and Emergency Services personnel have been furiously fighting raging fires in the Garden Route region. Fortunately, the immediate risk to the town of George appears to have been contained.
A Disaster Management Centre was set up almost immediately in the heart of George to coordinate combined efforts of hundreds of people from around the country who joined the efforts; many of them having to work together for the first time. Highly volatile conditions with extreme temperature variations, heat in the high 30s, strong, changing winds and the vast extent of the area under threat, meant that firefighters were exposed to very extended shifts in the harshest of conditions.
George-based insurance company, Oakhurst Insurance, who have actively supported local firefighters in the past, jumped at the opportunity to do so once again. The priority was to ensure that our firefighters were hydrated and energised to continue their gruelling work in keeping our community safe. Upholding their motto of We Really Care, We Deliver, Oakhurst Insurance staff stepped up and within 48 hours provided over…
2 000 meals
600 bottles of water and energy drinks
400 chocolates, health and energy bars.
Assistance was provided to Fire and Emergency Services staff at the Airstrip, George Fire Station, and the Rosemore Stadium, as also to evacuees at the local Town Hall and Ebb and Flow.
Oakhurst Insurance's Managing Executive, Peter Grindlay, was on the ground with firefighting personnel and inter alia, met with Gerhard Otto, Head of Disaster Management at the Garden Route Municipality along with various other emergency services teams to offer and provide support wherever possible.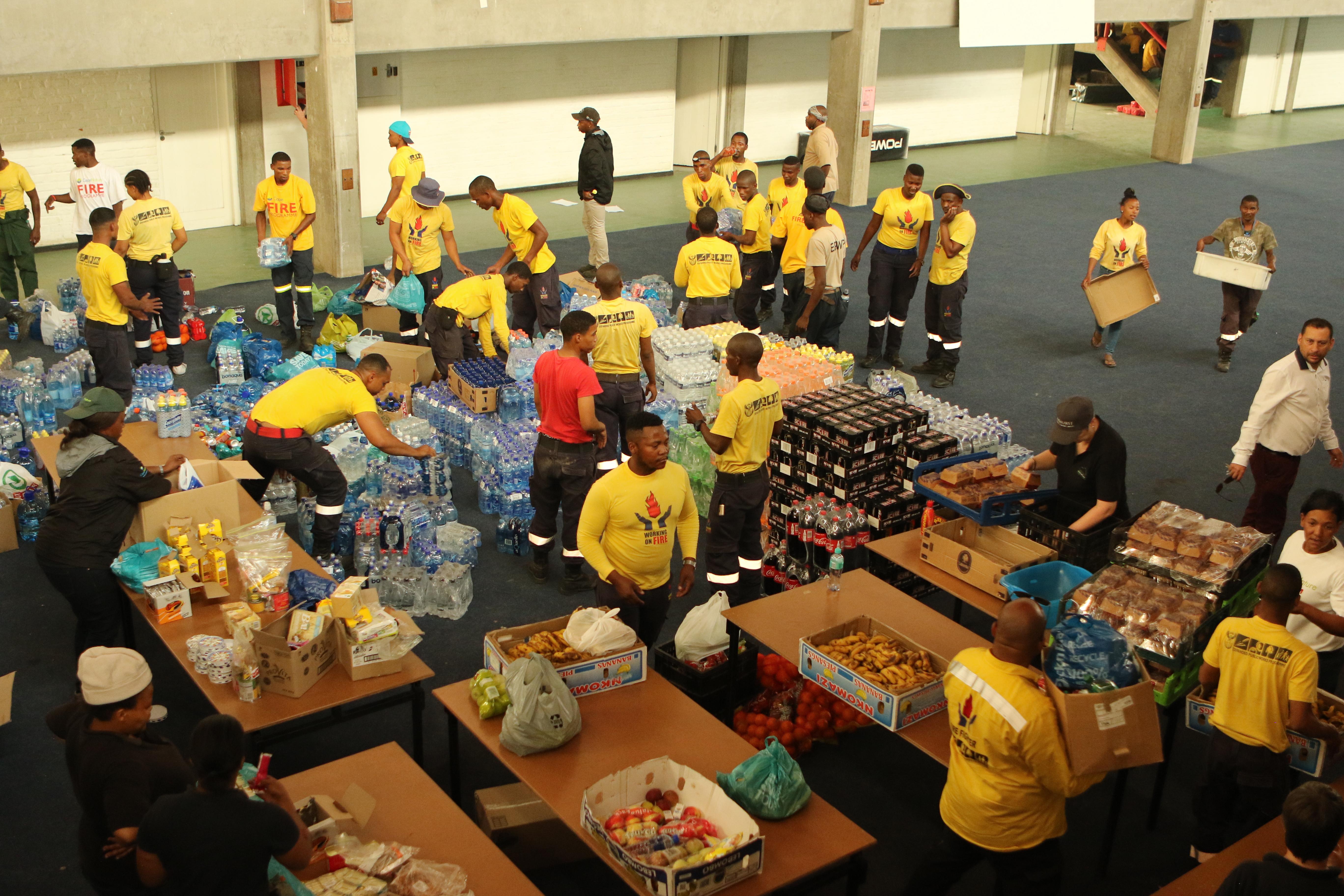 Peter commented the following: "If there's something about the George Fire experience that I've learned during the past few days, it's that firefighting is about team work, being on the ground at the coal face, strategic decision making, community support and the co-ordinated efforts of everyone involved; this in the face of imminent disaster.
But, more than that, what I witnessed was that we as a town are in exceptionally capable hands with our local emergency services, and that we owe these heroes a massive debt of gratitude for how they have managed what could have been an absolute disaster."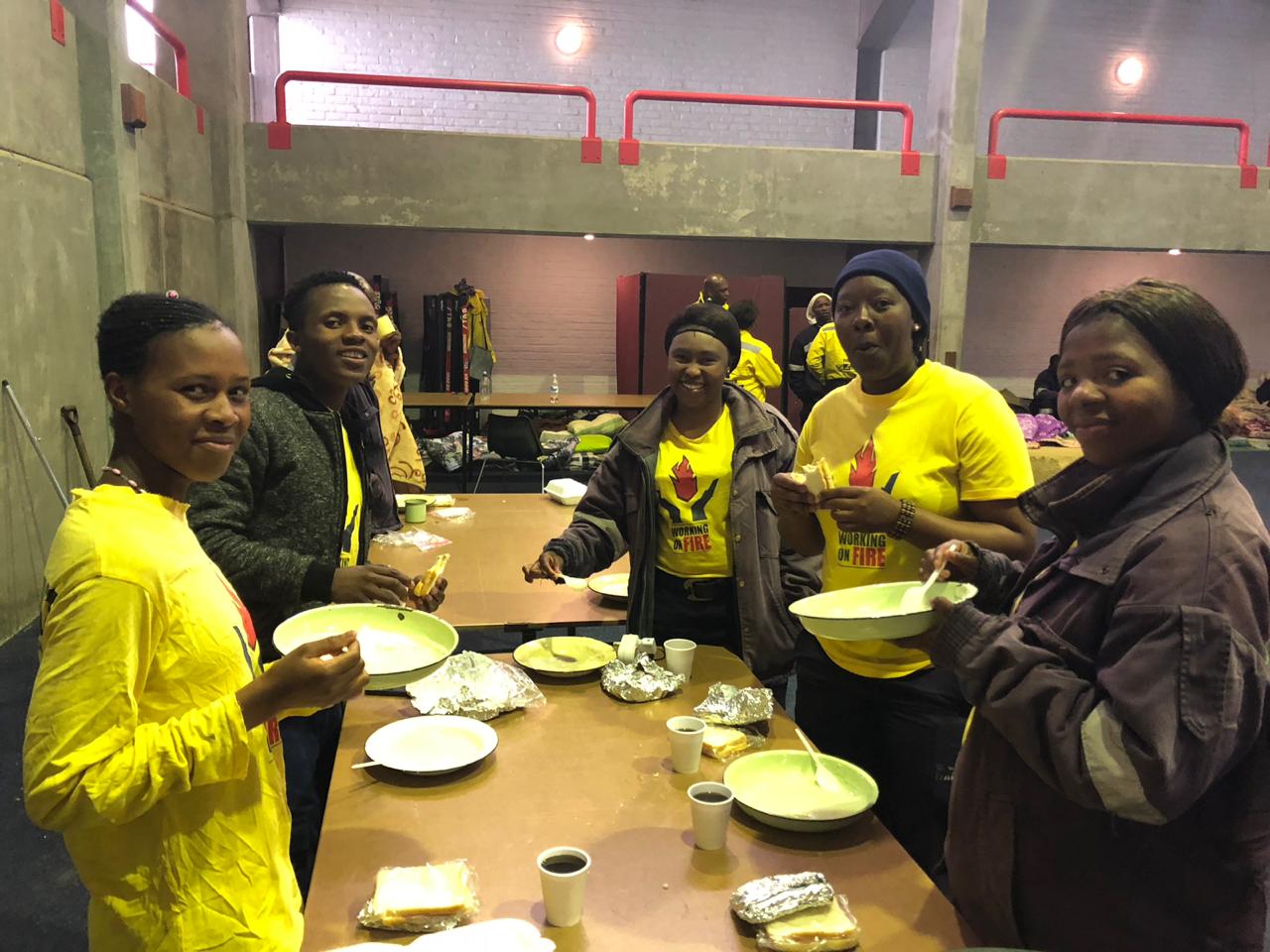 Watch a video below:
There's a belief amongst firefighters that it takes an entire community to fight a fire. This has certainly been the case with the local community playing a major role in indirectly keeping the fires at bay by providing our fire and emergency services teams with continued support. From individuals to business owners, the donations of food, drink and accommodation along with words of praise has been overwhelming.
We salute our brave Fire and Emergency Services personnel for their tireless efforts in saving our beloved George. You deserve the highest praise for keeping our communities, homes and environment safe. Thank you!!
A firefighter from Working on Fire putting out flames.
'We bring you the latest Garden Route, Hessequa, Karoo news'