GEORGE VERMAAKNUUS - 'n Groep studente (interns) wat indiensopleiding by die Oakhurst Insurance George Arts Theatre doen, het moue opgerol en jazzkonserte gereël om die finansiële druk op die teater te help verlig. Dit sal help dat die teater se deure vir eers oopbly.
Die teater is sedert verlede jaar onder groot druk en in een stadium was daar selfs sprake dat die deure sou moes sluit.
Bernie Schaap, bestuurder van die teater, bygestaan deur Joelien Pietersen van die teater, het by navraag gesê ofskoon dit beter gaan is die teater steeds onder druk. Covid-19 het 'n nadelige effek op die teater gehad, maar die onlangse verslapping van regulasies het gehelp dat dit weer beter gaan.
Die aandklokreël is nou later en produksies kan later aanhou. Voor inperking kon hulle 217 mense toelaat. Nou kan hulle 100 mense op 'n slag toelaat. Hulle gaan voort met die beplanning van produksies om seker te maak dat die deure oop bly.
Die bestuur verwelkom die studente se inisiatief. Elke jaar kom doen 'n groep studente indiensopleiding. Die huidige groep van drie het besluit om jazzkonserte te reël wat op 13 en 14 Maart plaasgevind het. "Dit was 'n reusesukses."
Die geld wat ingesamel is, word teruggeploeg tot voordeel van die teater.
Nog produksies beplan
Nog 'n produksie wat beplan word is, Dinner for five for three. Dit sou al in Desember plaasgevind het, maar is uitgestel tot 19 Maart. Plaaslike mense is daarby betrokke. Op 15 April begin 'n Afrikaanse toneelstuk, Repelsteeltjie.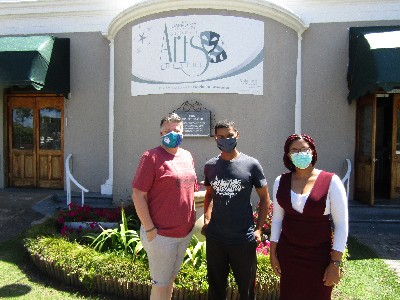 Bernie Schaap, bestuurder van George-kunsteteater, Ricardo Muller, een van die studente en Joelien Pietersen van die teater.
Foto: Eugene Gunning
Bykomende inkomste
Die teater het ook 'n kostuumkas wat uit verskeie tema-kostuums bestaan. Dit word uitverhuur en mense kan dit gebruik as hulle 'n funksie met 'n spesifieke tema aanbied. "Die pryse is baie billik."
Die teater word ook uitverhuur vir byvoorbeeld geleenthede soos troues. "Dit is alles deel van pogings om die pot aan die kook te hou."
Volgens Schaap is die teater een van net 'n hand vol gemeenskapsteaters wat nog bedryf word in die land. "Ons ontvang geen staatshulp nie en is baie afhanklik van die gemeenskap. As mense ons steun, kan ons voortgaan," het sy gesê.
A group of interns at the Oakhurst Insurance George Arts Theatre, is helping to keep the doors open. The theatre is under financial pressure. At one stage there was even talk that it might have to close doors. The group of interns organized jazz-concerts that took place on 13 and 14 March. The money will be used to help the theatre.
'Ons bring jou die nuutste George, Tuinroete nuus'