GEORGE FOOTBALL NEWS - The students of NMU faced the high-flying Raul Stars FC at Thembalethu Stadium on Saturday afternoon, 5 June. NMU played a 1-1 draw against the Geolfa League log leaders Raul Stars.
The two goals were scored by Siyabonga Aseni for Raul Stars and Yibanathi Khoza for the students.
Raul Stars were looking very sharp from the get go, creating scoring opportunities from the centre of the field, but they failed to break through the solid defence of the students.
With both sides driving hard, it was Raul Stars who scored the first goal of the game when Siyabonga Aseni netted a penalty for his side. The second half saw the students trying hard to equalise. Facing a weakened team after a Raul Stars player was sent off with a red card, NMU took the game from the log leaders, creating chances from their wings.
Using the pace of Iva Mhletywa and Kamva Maliwa to penetrate Raul Stars' defence, the students scored their first goal to equalise and change the score to 1-1. Both teams kept trying for the winning goal but they had no luck and the score was unchanged at 1-1 when the end whistle blew.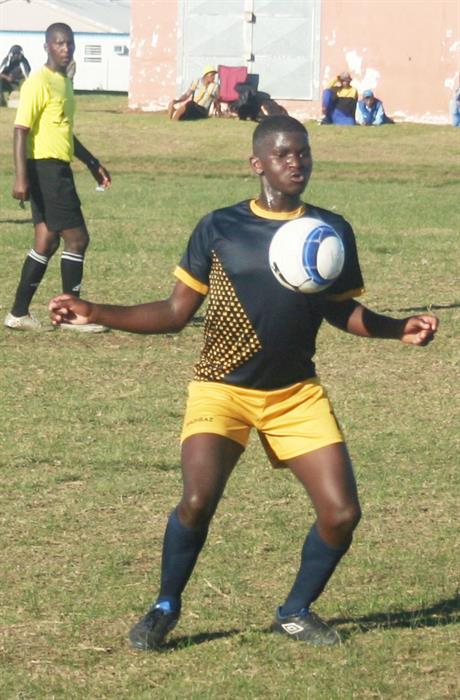 Paile Morwaashele of NMU controls the ball with his chest.
GEOLFA LEAGUE WEEKEND RESULTS
SATURDAY 5 JUNE
Domestic League:
All Stars 0-2 Bangalore
Paris United 0-6 Vista
Raul Stars 5-0 Young Masters
Black Cats 1-0 Heaven Stars
Fast Eleven 2-0 Thembalethu Brothers
Celtics 1-5 Vista
Young Brothers 0-0 Bangalore
Raul Stars 1-1 NMU
Paris United 1-3 Fast Eleven
Abahlali 3-0 Thembalethu Brothers
Ramaphosa 3-2 Young Masters
SUNDAY 6 JUNE
Heaven Stars 0-1 Raul Stars
Abahlali 0-1 Black Cats
Young Killers 1-1 Young Brothers
Ramaphosa 1-2 NMU
Promotional League:
Black Cats 2-1 Greenfield
Ramaphosa 1-0 All Stars
George Vultures 6-2 Galaxy Academy
Greenfield 2-3 Real Pacaltsdorp
Silver Stars 2-1 Western Tigers
Paile Morwaoshele of NMU controls the ball during their game against Raul Stars. Photos: Zama Gagu
'We bring you the latest George, Garden Route news'