GEORGE FOOTBALL NEWS - Fast Eleven football club gave a classical performance when they defeated Young Masters 2-0 in a Geolfa League game on Sunday afternoon, 23 May, at Thembalethu Stadium.
The goals were scored by Aphelele Gili and Nkosinathi Myeki. Fast Eleven are currently sitting in fourth position on the Geolfa League table and are fighting for the top position, while Young Brothers, occupying tenth place, are struggling to move up into the top eight.
The game started at a very slow pace with Fast Eleven launching the first attack. Young Brothers tried to attack on the right side of the field but their attempt went wide and missed the target. Fast Eleven's Masibulele Swelihashe tried his luck just outside the box but his shot was well saved by Wanda Mabunga, the Young Brothers goalkeeper.
Fast Eleven received the first corner kick of the game but they failed to score. Young Brothers' Aron Dyonase tried his luck from a free kick just outside the box with a beautiful long-range strike, which missed the goal. Both teams were playing beautiful attacking football and creating scoring opportunities, chasing that first goal.
Fast Eleven winger Nkosinathi Myeki tried his luck when he drove a powerful shot just outside the box, but his strike was well blocked by goalie Wanda Mabunga. Fast Eleven took the game from Young Brothers searching for a chance to break through the wall of Young Brothers defenders, but the defence was impenetrable. The exciting first half ended on a goalless draw.
The second half started on fire with both sides looking to score first. Young Brothers took the first opportunity, but their shot went wide after a dangerous attack from the right side of the field.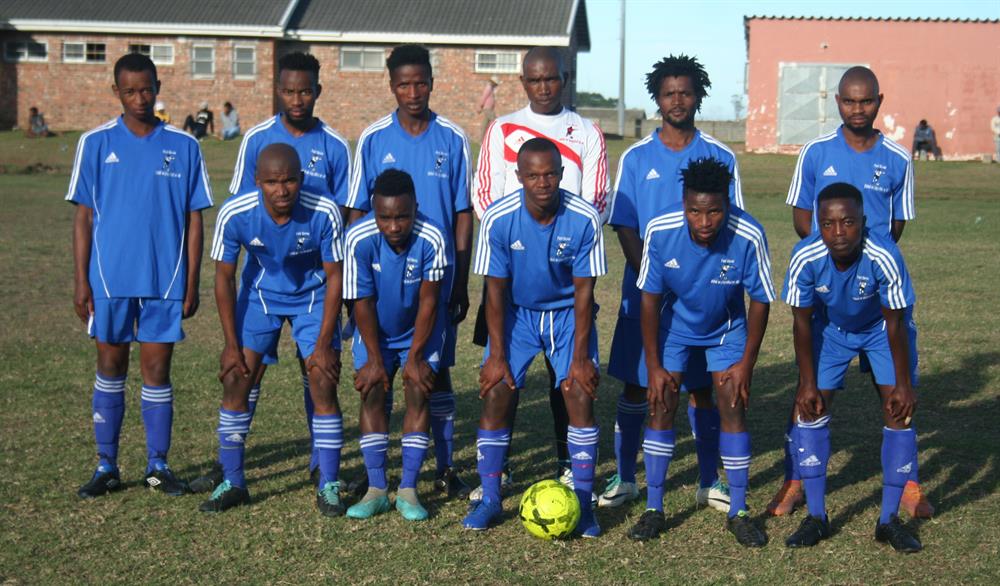 The winning team, Fast Eleven Football Club, before the game on Sunday afternoon at the Thembalethu Stadium.
Fast Eleven tried to come back, attacking from the centre of the field, but they failed to control the ball. Young Brothers launched another offensive on the right side of the field using the pace and skill of Mava Mooi, but his shot went wide.
Fast Eleven received a set piece just outside the box, but again the Young Brothers goalkeeper made a brilliant save. Fast Eleven was on fire, creating chances, which paid off when Aphelele Gili scored after a clever pass from the centre of the field, making it 1-0.
Fast Eleven were awarded a free kick on the right side of the field but it was cleared away by Young Brothers' defence.
Nkosinathi Myeki then added their second goal after receiving a marvellous cross from the left side of the field, driving a powerful shot that beat the Young Brothers goalkeeper. Boosted by this, Fast Eleven was on fire trying to add to their score. However, it was Young Brothers player Siyanda Gladile inside the box who got a last opportunity to score, but he missed the ball and the game ended 2-0.
The team of Young Brothers.
'We bring you the latest George, Garden Route news'