GEORGE FOOTBALL NEWS - The Lawaaikamp giants Black Cats maintained their unbeaten record when they sank last season's SAB League champions, Eastern City, with a score of 2-1 on Sunday afternoon 12 May at the Lawaaikamp Stadium.
The goals were scored by the hard-working striker Shane-Lee Windvoegel (2) for Black Cats and Odwa Daba for Eastern City.
Black Cats are the favourites and strongest contenders for the title, sitting comfortably at the top of the league with 68 points and two games left to play. In second position are Moonlight with 65 points and one game to go, and in third place are Peace Makers with 64 points, with two games left.
Playing on their home field, Black Cats started the game at a fast pace with both teams displaying maturity and discipline. Eastern City received a free kick after their right back Khetye Zukisa was fouled, but failed to score. The Back Cats centre midfielder played in a marvellous pass to Lunga Jantjies, who missed this first chance to score.
With Black Cats starting to build control of the game, Eastern City botched two scoring opportunities. Black Cats' Lunga Jantjies launched a beautiful shot from the centre of the field, but it went wide. The first goal was scored by Black Cats' Shane-Lee Windvoegel, from a delightful play-in by Luyanda Laho, beating Eastern City goalkeeper Aphelo Skiet.
Eastern City retaliated with an impressive cross from the left side, causing Black Cats defenders to panic and forcing a corner. Windvoegel scored his second goal after beautiful play from the centre of the field.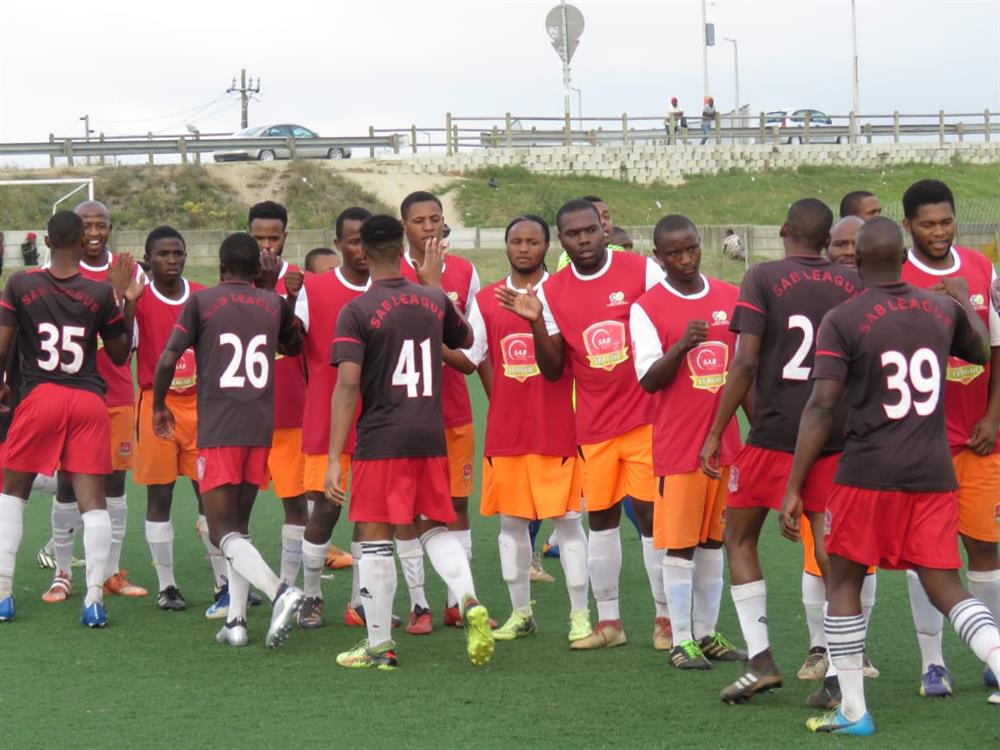 Eastern City and Black Cats players shake hands before the start of the game. Photos: Zama Gagu
For the rest of the first half Wanda Mkhosi and Tsepo Mbenyane controlled the game, assisted by Luyanda Laho, but no more points were added to the score board.
During the second half Eastern City tried unsuccessfully to make up their backlog. Lwazi Khetho missed another chance when his shot from the right side of the field went over the cross bar. Thozamile Senzele launched a powerful header that went over the cross bar.
Eastern City made a double substitution, exchanging Zukisa Khetye and Lwazi Mkhetho for Odwa Daba and Nyameko Ndwebisa to add power and speed up front. Daba soon proved himself, sending one cross after the other into the box and scoring Eastern City's only goal - a long-range shot from the centre of the field - making it 2-1.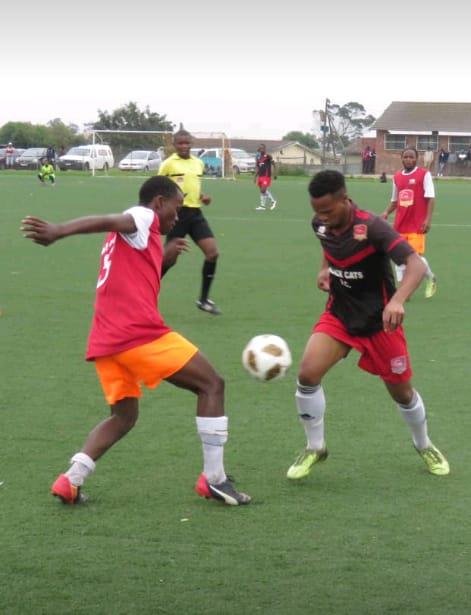 Black Cats Luyanda Laho trying to control the ball against Eastern City defender Zukisa Khetye.
Mthokozisi Senzele missed a chance during a one-on-one with Black Cats goalkeeper Chandré Jacobs, forcing a corner for Eastern City.
A malicious tackle by Eastern City just outside the box gave Black Cats a free kick. It was taken by Xolani Mandla, who drove another powerful shot, but it was well saved by Skiet. Zovuyo Maduna also missed a shot at the goal, shooting wide, and the game ended 2-1.
'We bring you the latest George, Garden Route news'