Gallery
KLEIN KAROO NUUS - Dryland Event Management in samewerking met Momentum Health en Biogen bied volgende jaar op 19 Januarie die Momentum Health Attakwas Half vir die 11de keer aan.
Volgens Carel Herholdt, mede-eienaar van Dryland Event Management, het die Half-wedren sy oorsprong gekry na talle fietsryers 'n versoek gerig het om 'n wedren aan te bied wat nie so uitdagend is nie.
"Hierdie is die ideale geleentheid om meer mense aan Groot-Brak se mooi roetes bekend te stel. Die ouderdomsgroepe vir dié wedren is oorwegend vanaf 16 jaar en ouer, maar is ook geskik vir die ouer garde wat nie meer so kompeterend is nie. Voornemende fietsryers moet egter nie die Half onderskat nie, omdat dié roete ook oor 'n paar steil bulte beskik wat die ryers sal moet baasraak," het hy gesê.
Vanjaar sal die fietsryers 52 km moet aflê met ongeveer 1 100 m klim. Die sirkelroete begin en eindig by Pine Creek Resort in Groot-Brak.
Die registrasie vir hierdie wedren vind Vrydag 18 Januarie 2019 by die Queens Hotel in Oudtshoorn plaas, of die volgende oggend by Pine Creek Resort in Groot-Brak. Aanlyn-inskrywings op die Dryland webwerf sluit reeds 10 Januarie 2019, maar daar sal ook aanlyn inskrywings beskikbaar wees vir die Vrydag en Saterdag.
Klik hier vir foto's van verlede jaar se wedren.
Kontak Dryland by 044 279 1013 of info@dryland.co.za. Skryf in op die web (www.atta.co.za) of op die dag.
Volgende jaar se kategorieë wat erkenning sal kry met voltooiing van die Half-wedren is die jeug seuns en meisies (15 tot 16 jaar) en die junior seuns en meisies (17 tot 18 jaar).
Daniël van der Walt (2:09:47) en Mia Bester (3:50:14) het vanjaar koning gekraai in die junior seuns en meisies afdeling. In die seuns en meisies jeugafdeling het Jean du Plessis (2:24:24) en Charlissa Schultz (2:49:15) met hul tye die septer geswaai.
Slegs die top-3-fietsryers in hul onderskeie afdelings sal prysgeld ontvang.
Inskrywings vir die Momentum Health Attakwas Half presented by Biogen-wedren kan op die webwerf www. atta.co.za gedoen word.
Vir enige navrae kontak 044 279 1013 of e-pos na info@dryland.co.za.
Op pad na die wenstreep. Foto verskaf
Deelnemers tree aan by die beginpunt. Foto verskaf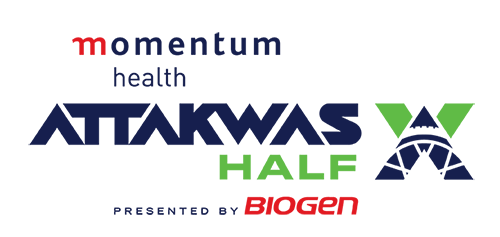 'Ons bring jou die nuutste Oudtshoorn, Klein Karoo nuus'