I don't have any profound thoughts or words to share today. Today I'm simply going to tell you a cheesy story about my bull terrier, Kasper.
Now it's general knowledge that we (Hugo and I) braai nearly every evening… well, we do braai every evening unless something earth-shattering happens. Something like a function we have to attend or my mom offering to cook for us. Anyway!
Last Thursday night we decided to braai snoek. For those who don't know snoek is a long, thin edible species of snake mackerel found in the seas of the Southern Hemisphere. It goes well with sweet potato (patats) and something we Afrikaans speaking souls call roosterkoek (literally grill cake – say "roostir-cook" and try to roll those r's!)
So the roosterkoek and patats were prepared and the snoek was just about to go onto the grill when my dear Hugo screamed my name so loudly that the roof lifted about 2cms. I rushed from the kitchen to the braai room where I found Kasper on the couch choking! Things happened really fast from there.
My motherly instinct kicked into overdrive and I stuck my hand down his throat to grab whatever was blocking his airway. I had to dig really deep. My entire hand was down his little throat. I grabbed hold of the object but couldn't make out what it was. It wasn't a bone. It was soft.
I pulled it out and as I opened my hand it look like an alien miscarriage. Excuse the graphic description, but it seriously looked like that. This soft white object of about the size of my palm, covered in blood. It was gross, but luckily I don't get sick easily.
I had no idea what it was. Thoughts of it being some kind of organ or cist or some body part that came lose crossed my mind. My puppy was dying! Moments of the day that Molly died flashed through my mind. No! This couldn't be happening again!
Then I saw the empty cheese wrapper on the table in the braai room and it all started making sense.
As part of the preparation, I took out a block of cheese to grate and eat with the roosterkoek. I put the cheese (600g) and the grater on the table and went back to the kitchen to fetch the butter. There my mom asked me to help her with something and I started chatting. Leaving Kasper with my dad and Hugo (chatting) in the braai room.
It all happened so quickly! Kasper must've grabbed the cheese off the table while no one was looking. Knowing full well that he isn't allowed, and being a naughty puppy, he decided to gobble down the cheese before anyone catches him in the act.
I think he thought someone saw him and wolfed down the last bite…the piece that got stuck in his throat.
The rest of the night didn't get better. Having about half a kilogram of cheese in his tiny tummy, my poor pupper (and I) stayed up all night. He couldn't lie down to sleep and sat up with his head in the air almost as if he was praying for the pain to go away and promising God that he will never do it again.
I tried to get him as comfortable as possible, but he refused to lie down. Eventually, I stacked pillows under his chin so he could sit and sleep 'comfortably'.
Eventually, the worry gnawed so badly that I phoned the vet at 23:00. He assured me that it was the cheese that caused the discomfort. I stayed up all night with Kasper monitoring him. At 06:00 the next morning he lied down for the first time and started looking better. I would have none of it though and hauled him off to the vet as soon as their doors opened.
On the way there he again seemed like he was dying. Squinting at me as if to say: "I can see the light mommy." That didn't last long though and as soon as we entered the vet's consulting room Kasper's tail started wagging.
Nevertheless, the little pig-like dog got an injection against the tummy ache, some anti-nausea tablets and a bottle of medicine.
He went back to normal the next day and is 100% fine now, but I can't help but wonder what he will do if I offer him some white cheddar.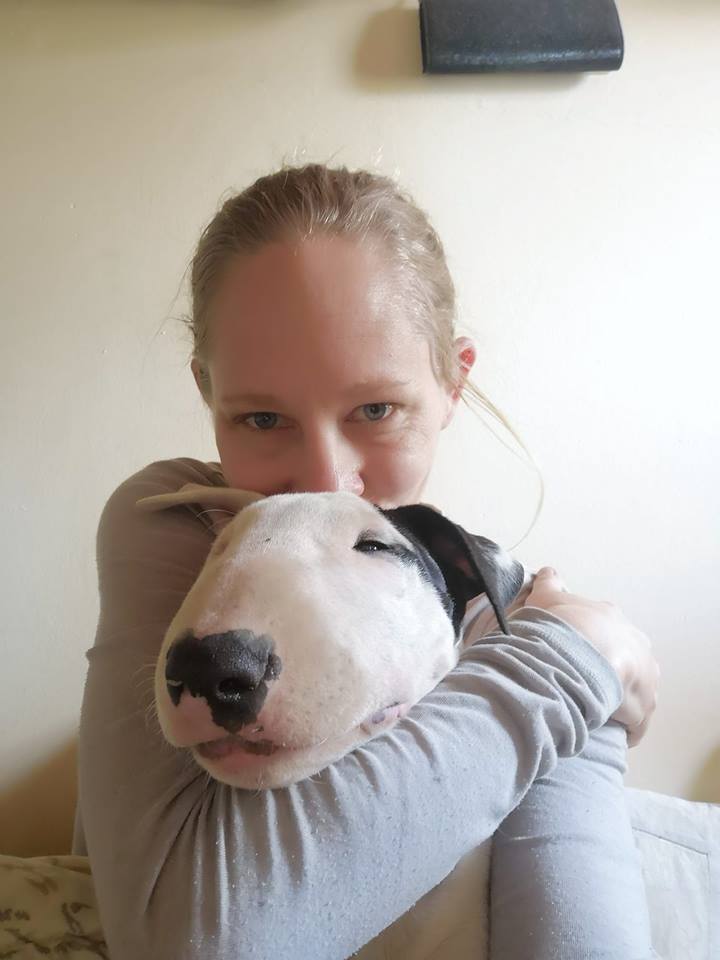 Kasper and I two days into recovery.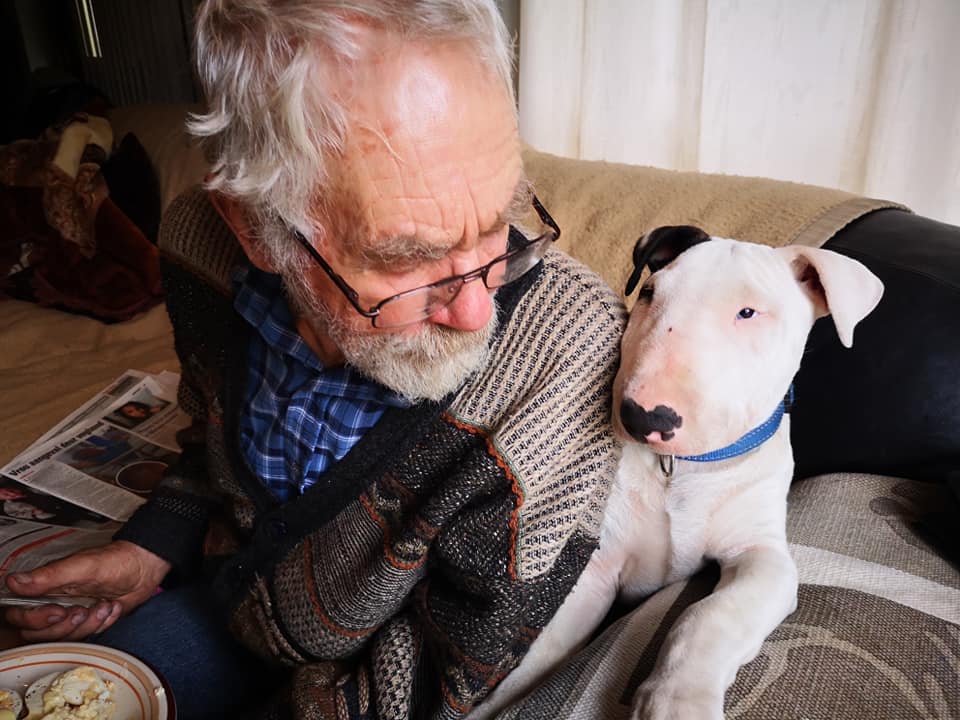 Kasper asking my dad for a piece of his breakfast.