GEORGE FOOTBALL NEWS - Legends Football Club won the Silver Town football tournament in Thembalethu by beating Juventus 2(4)-2(3) in a penalty shoot-out in the finals last Sunday to grab the title and handy cash prize.
In the semi-finals Juventus defeated Asazani 3-0 and Legends won their game on a penalty shoot-out 1(3)-1(1) against City Pillars.
The first half started at a fast pace with both sides hunting for the first goal of the game and creating goal-scoring chances. Lihle Guquka (Legends) received the first chance of the game but he failed to break the net.
The two teams were trying to play the ball on the ground with Juventus playing one touch football in the centre of the field. Again Guquka tried his luck, delivering a powerful shot from the right side of the field, but it flew over the crossbar.
Juventus' centre backs were working overtime fending off the strong attack from Legends' forwards. Juventus soaked up the pressure well and controlled the game. Lwazi Mkhetho (Juventus) managed to break through Legends' back line and scored the first goal of the game.
The first half ended 1-0 in Juventus's favour.
The second half kicked off with the young Juventus team creating chances for a second goal, but Mkhetho's powerful long-range shot went wide.
Legends goalkeeper Anele Mbunguzana made a brilliant save when he blocked Ayabonga Mbungu's powerful shot inside the box, denying Juventus a second goal.
Legends then scored their first goal to equalise. Lwazi Mkhetho scored the second goal for Juventus with a powerful header to lead 2-1.
Legends came back in full force and scored the equaliser to make it 2-2.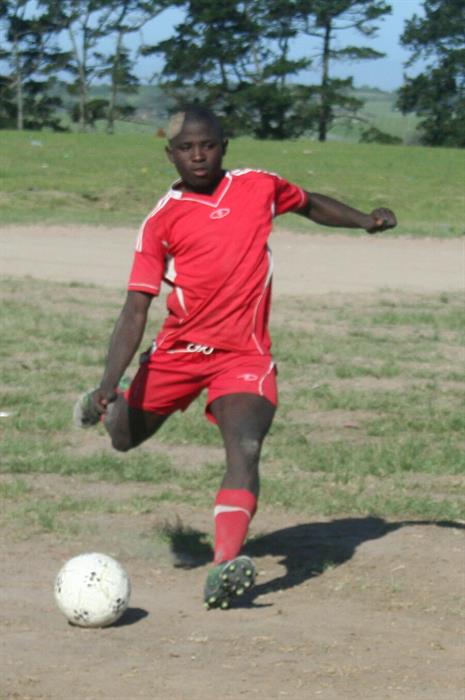 Lwazi Mkhetho (Juventus) scored the first goal in the finals of the Silver Town football tournament against Legends. Photos: Zama Gagu
'We bring you the latest George, Garden Route news'