GEORGE NEWS - A contentious item on Eden's agenda that was withdrawn at the last minute caused a stir at the Council Meeting on Friday 30 September.
The item relates to the extension of the service level agreement of Worley Parsons providing for the establishment of a regional landfill facility for Eden District Municipality.
More than a year after Minister of Local Government, Environmental Affairs and Development Planning Anton Bredell met with various role players from the different municipalities in Eden to discuss the way forward, some have withdrawn from the project. Mossel Bay Municipality is one of them. The reason for this was given as budget related.
Eden Mayor Memory Booysen expressed his concern regarding the situation: "It is totally out of order for B-municipalities to withdraw," he said. "Those kind of things can't bypass us, because the bomb will explode."
The new regional dumping site is earmarked for development adjacent the current landfill site, and next to PetroSA's petrochemical industry near Mossel Bay. Household waste from George, Bitou, Knysna and Mossel Bay will be dumped there. A new site is needed as the landfill site currently in use is nearing the end of its lifetime.
The necessary Environmental Impact Assessment (EIA) was completed in July 2015.
New appointee
Councillor Virgill Gericke, leader of the PBI, was appointed chairperson of Eden's Municipal Public Accounts Committee (MPAC). Gericke thanked council for the opportunity, and said he will be looking after the interests of all the smaller parties who chose him as representative, including the EFF and Freedom Front Plus.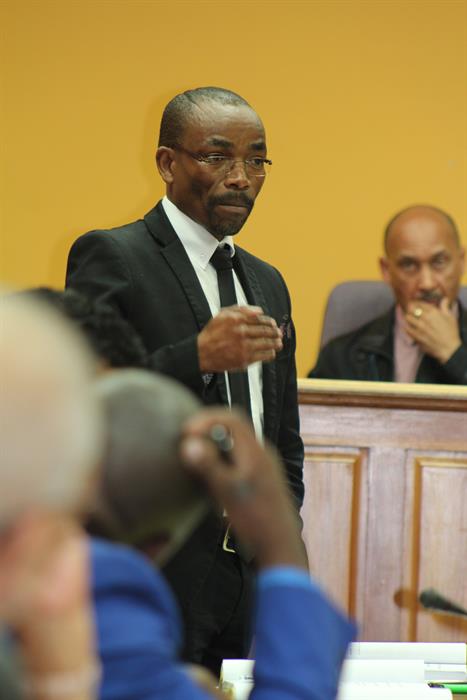 "The bomb will explode". Eden Mayor Memory Booysen explains the situation regarding the regional landfill site during the last Council Meeting on 30 September. Photo: Michelle Pienaar
ARTICLE AND PHOTOS: MICHELLE PIENAAR, GEORGE HERALD JOURNALIST
'We bring you the latest George, Garden Route news'