NATIONAL NEWS - A feel-good story that has been the talk of the town over the past two days has taken a bit of a sour turn after South Africans found out that the more than R400,000 raised for Nkosikho Mbele's children's education will not be paid out to him directly.

The 28-year-old a petrol attendant gained overnight fame after a post about his kindness went viral.

A 21-year-old woman named Monet Van Deventer took to Facebook to share the story of how Mbele had helped her by paying for her petrol the other evening. This was after she realised she couldn't pay because she had forgotten her purse at home.

The post has since been shared over 50,000 times.

Once the post gained traction, Van Deventer started a crowdfunding campaign for him with the aim of raising R100,000. The campaign has since surpassed that by raising over R400,000.

Keen-eyed social media users who read the campaign's description box and terms and conditions noted that the funds raised would not go directly to him and would instead be managed by the crowd-funding platform.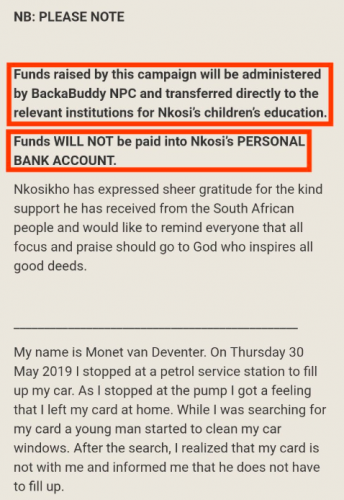 Backabuddy terms and conditions
Many viewed this as an insult to the man who kicked off this entire thing with one act of kindness and took to Twitter to share their conspiracy theories about it.