GEORGE NEWS - The George municipality has set up a drive-through donation centre at the Civic Centre in York Street for the safe drop-off and responsible distribution of food, hygiene products and supplies during the Covid-19 crisis.
The centre opened on Sunday 5 April and will be open seven days a week from 08:00 to 18:00.
Anyone who wants to donate essentials can to go to the front entrance of the Civic Centre at 71 York Street, go down the driveway and stop in front of the building. An official dressed in protective gear will be available to receive donations and take down details to log on the donation register.
Donated items will be sanitised before being stored and distributed.
The centre also has fridges and freezers for storage of fresh produce. Donations will, among other things, sustain more than 80 municipal soup kitchens in vulnerable communities across the municipal area and the temporary shelter for the homeless at Rosemoor Stadium.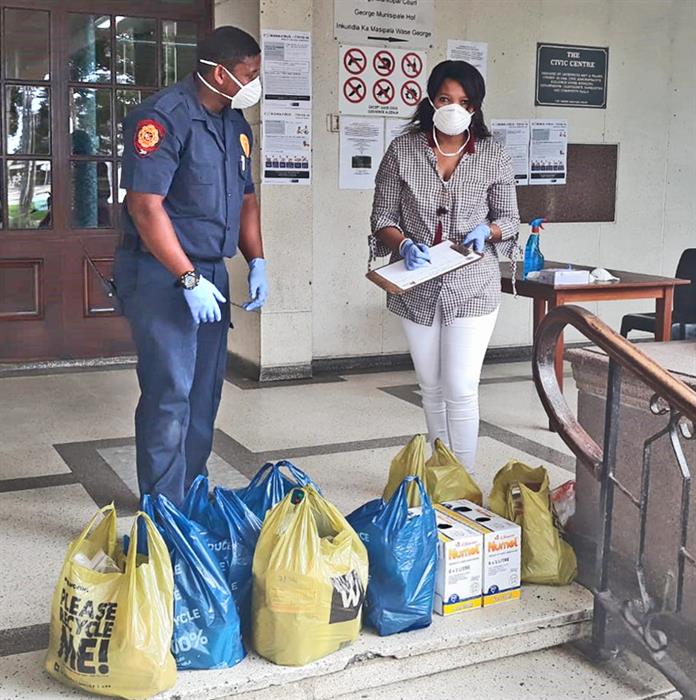 George firefighter Ricardo Michaels and fire department administrator Edith Booysen register donations on the steps of the Civic Centre where the municipality has established a drop-off-and-go centre for donations.
The centre will be managed by the George Municipality Fire, Rescue and Disaster Management departments in coordination with the municipality's community and social development section.
The municipality is working with Eden Lions to facilitate quick, efficient and responsible help where it is needed.
Financial donations to assist local communities during Covid-19, can be deposited in the following bank account:
Eden Lions Club
FNB
Account no: 62235045045
Reference: COVID19
George Municipality thanks you in advance for everything you are doing for your community.
George firefighters Simphiwe Sibosana, Ricardo Michaels and Shane Fisher packing out the first donations soon after the donation centre opened on 5 April.
Dear reader, As your local news provider, we have the duty of keeping you factually informed on Covid-19 developments. As you may have noticed, mis- and disinformation (also known as "fake news") is circulating online. Group Editors (publications and online platforms) is determined to filter through the masses of information doing the rounds and to separate truth from untruth in order to keep you adequately informed. Local newsrooms follow a strict pre-publication fact-checking protocol. A national task team has been established to assist in bringing you credible news reports on Covid-19.
'We bring you the latest George, Garden Route news'