GARDEN ROUTE, KAROO, HESSEQUA NEWS - Garden Route Disaster Manager, Gerhard Otto, has warned residents to not lower their guard against Covid-19 because of the easing of lockdown.
"The risk of being infected and the level of lockdown have absolutely nothing in common. People may misinterpret the lower level as linked to the lowering of the threat of infection, but this is completely and utterly wrong.
"To the contrary, people are now more at risk than ever as they return to work in greater numbers and move around more freely. With increased human contact and interaction I predict a steep rise in the rate of infection. On the positive side, this is the only way to ensure the formation of herd immunity."
He asked people, especially the elderly and people with other health problems to stay at home as far as possible. "Please do not lower your guard. Be extremely careful. Wash your hands, wear your masks, keep your distance and do not expose yourself to people unless it is unavoidable."
He says the situation in the various towns and municipalities of the Garden Route District is reassessed every day. "We have 700 beds available at the Petro SA isolation facility and at the moment it is housing only two people. At least 5 back-up facilities have been identified in each of the municipalities that will be opened should the need arises. In total these provide an extra 2 000 beds. A hot spot may appear anywhere in the district and each town's and municipality's unique needs will be addressed should place specific action be required."
Protect the vulnerable
The Western Cape Department of Health has also urged residents to do their part in protecting the vulnerable members of society from becoming infected during level 3. To date the province has recorded 562 deaths.
"Our data reviewed on 26 May (403 deaths at the time) showed that the overwhelming majority of COVID-19 positive people who have died in the province have had one or more comorbidities."
Co-morbidity is the presence of one or more additional diseases or conditions occurring with a primary medical condition.
According to the department the most prevalent comorbidities in deaths due to COVID-19 across all age groups were diabetes and hypertension.
People with existing comorbidities are more at risk of being severely ill if they contract COVID-19.
Those most at risk include those who are:
Individuals with comorbidities, at any age
55 years an older, with or without co-morbidities
Top three comorbidities per age group:
20 – 39 years (30% diabetes, 25% HIV, 20% Hypertension)
40 – 49 years (51% diabetes, 33% HIV, 28% Hypertension)
50 – 59 years (70% Diabetes, 63% Hypertension, 27% HIV)
60 – 69 years (74% Hypertension, 58% Diabetes, 8% HIV)
70 years and older (58% Hypertension, 46% Diabetes, 29% Chronic Kidney Disease)
The successful management of co-morbidities depends on the type of condition the person has. It is therefore imperative that vulnerable residents take extra precautions. Staying home is the best way to reduce the risk of infection, strictly abide by the golden - including frequent hand washing and other hygiene measures and keeping a distance of at least 1,5 metres from any other person.
The department called upon broader society to assist in protecting vulnerable groups by keeping their distance and offering to do tasks for them that require them to go into public.
The department gives these tips to reduce risk of infection
Avoid gatherings (crowded places), stay at home
Continue with your treatment
Maintain a healthy lifestyle and eating habits, exercise regularly
Reduce personal exposure to tobacco smoke
Control your blood pressure
Wear a cloth mask and always follow the golden rules of good hygiene (a mask alone is not enough).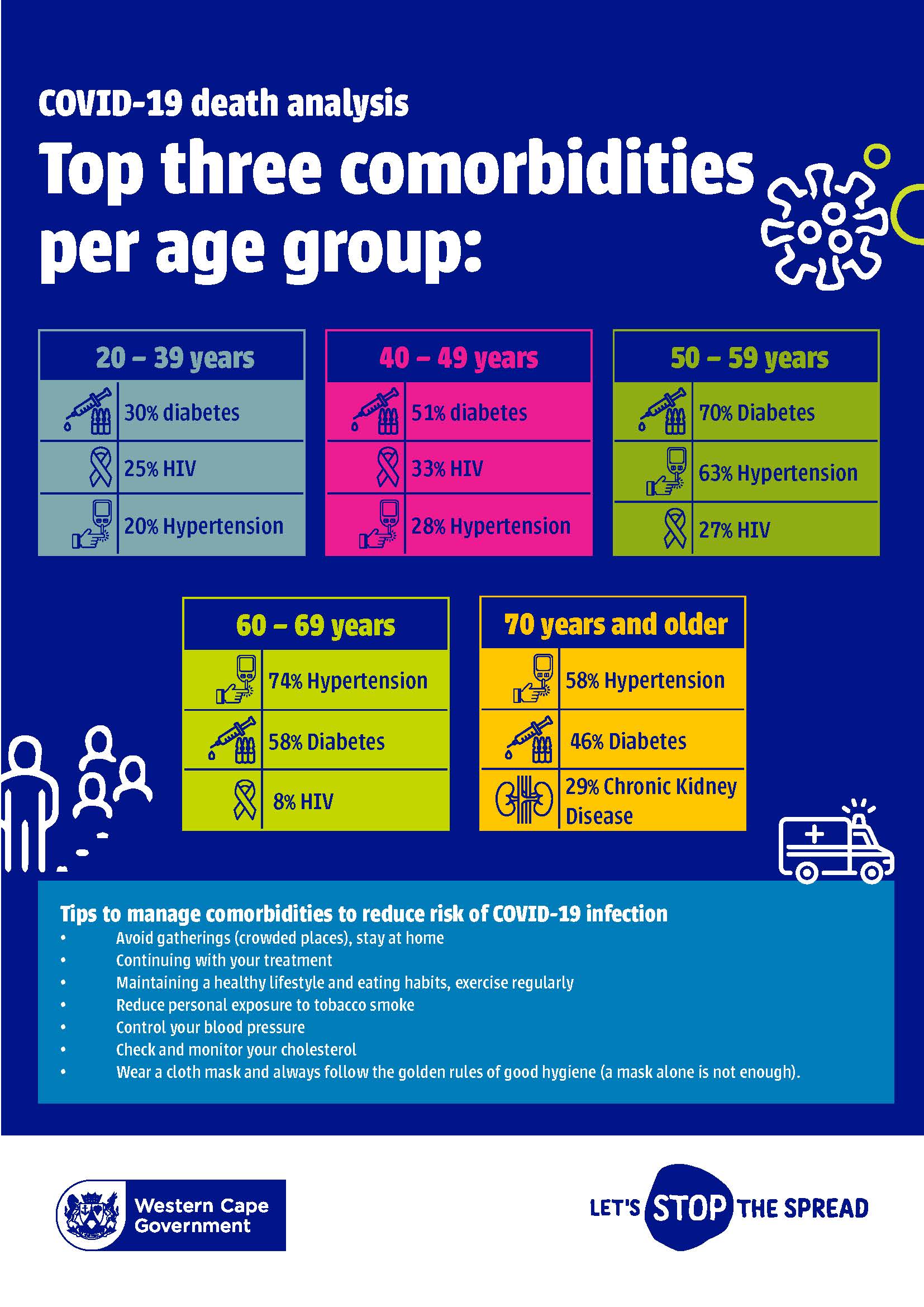 Dear reader, As your local news provider, we have the duty of keeping you factually informed on Covid-19 developments. As you may have noticed, mis- and disinformation (also known as "fake news") is circulating online. Group Editors (publications and online platforms) is determined to filter through the masses of information doing the rounds and to separate truth from untruth in order to keep you adequately informed. Local newsrooms follow a strict pre-publication fact-checking protocol. A national task team has been established to assist in bringing you credible news reports on Covid-19.
'We bring you the latest Garden Route, Hessequa, Karoo news'