Gallery Video
MOTORING NEWS AND VIDEO - There is just something about the Ford Mustang that makes heads turn. This I can vouch for. Some direct competitors get the "I appreciate you, but there is nothing special" look, but the Mustang is different. People stare, point and shout, girls giggle and boys try to dice - in vain.
Darth Vader inspired
I was invited to the new 2019 Darth Vader-inspired Ford Mustang launch last week. It took place in a very windy and wet Western Cape. My fears that the gale-force weather would place a damper the fun didn't realise. The car handled extremely well through all the wet passes and the road holding was out of this world. It was a great improvement on my flight to Cape Town!
Most powerful sports car in South Africa
The 5.0-litre V8 Mustang delivers a whopping 338kW with an accompanying torque peak of 529Nm, supported by Ford's new high-pressure direct injection and low-pressure port fuel injection system/s which improve low-end torque.
Few cars deliver such a combination of heritage, style and performance to such a wide audience, and the New Ford Mustang offers the most compelling package yet. Since 1964 Mustang has been Ford's most popular sports car and it's been the best-selling sports car in South Africa since its reintroduction in 2016.
There also is a more fuel-efficient 2.3-litre EcoBoost petrol engine which delivers 213kW and 441Nm of torque - an increase of 11Nm. The revised engine offers a more responsive and engaging driving experience thanks to a transient overboost function for the turbocharger - triggered under heavy acceleration to provide an extra burst of boost following each up-shift.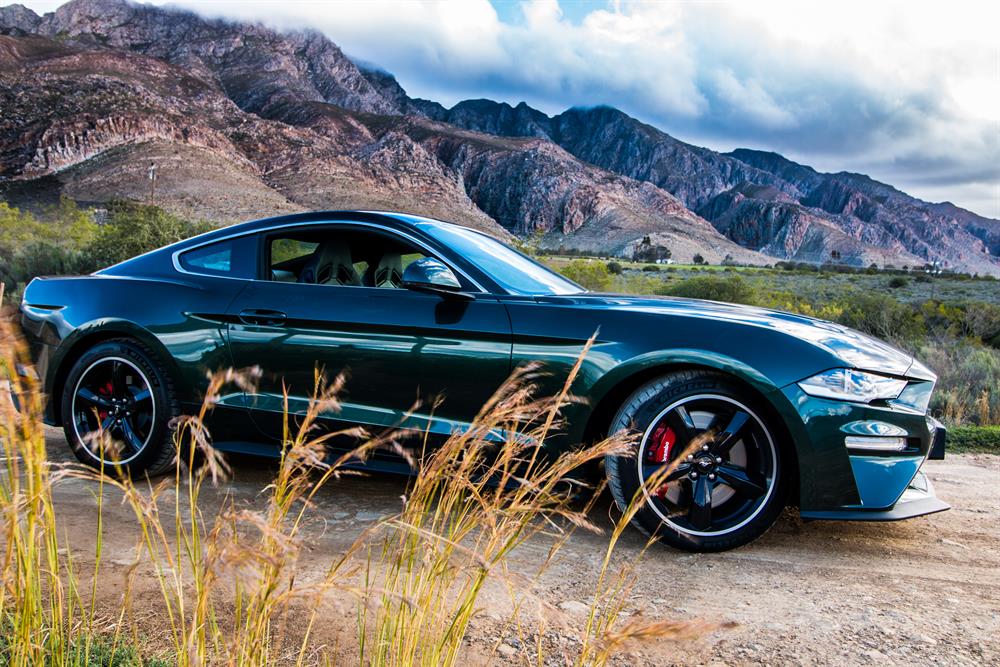 The limited edition 5.0-litre V8 Ford Mustang 6-speed manual Bullitt delivers a whopping 338kW with an accompanying torque peak of 529Nm.
Only 50 Bullitts
I also got to drive the exclusive Mustang Bullitt. This special edition, limited to only 50 units, pays tribute to the 1968 Steve McQueen film with the same name, which is legendary for its ground-breaking car chases. The Bullitt also offers a 5.0-litre V8 engine with a six-speed manual gearbox, which adds some vroom to the ride.
Lightning-fast acceleration
The 2.3 Mustang can reach 0-100 in 5,8 seconds and the V8 will get you there in only 4,8 seconds. The deep lion roar of the V8 when you step on the gas will challenge the sophisticated side of any person. This is the most powerful Ford ever sold in South Africa.
Ford's pioneering 10-speed automatic transmission is standard across the range - except for the Mustang Bullitt - and uses an electronic control system which enables settings that optimise performance for drive modes.
We also took both the Fastback and the convertible, with Ford's advanced 10-speed automatic transmission, through their paces and were impressed with its roadholding. Even in the wet conditions it never lost traction.
Ford engineers have further optimised Mustang's driving dynamics to deliver the most engaging driving experience yet. Recalibrated shock absorbers improve stability through corners, and the rear suspension is stiffened with a cross-axis joint that reduces unwanted movement at each corner, which can lead to body flex. Thicker anti-roll bars also provide better controlled body-roll for sharper handling.
Wessel van Heerden taking the more fuel-efficient Ford Mustang 2.3-litre through its paces. It sports an EcoBoost petrol engine that delivers 213kW and 441Nm of torque.
Interior and comfort
All the knobs and buttons in the Mustang have a chrome retro look. For a vehicle of R700 000-odd, you would expect a high-quality interior finish, and the Mustang delivers.
A customisable, all-digital, 12-inch LCD instrument cluster provides information displays optimised to match the selected drive mode - similar to the Ford GT supercar - helping drivers get the most from every driving experience. The cluster configuration will automatically change depending on drive mode, and can be programmed by the driver to display a range of gauges in one of seven colours.
The new Mustang also features Ford's SYNC® 3 communications and entertainment system, which allows drivers to control their connected smartphones, audio, and climate functions with conversational voice commands, and by using pinch and swipe gestures on the central 8-inch touchscreen. The system is compatible with Apple CarPlay and Android AutoT. Embedded navigation is also standard on the Mustang range.
Be a good neighbour
It is not easy to be considerate with a 5-litre V8 in your garage, and you may have the odd altercation with your neighbours. There is hope, though. The new Active Valve Performance Exhaust technology means drivers can for the first time adjust the intensity of the Mustang's exhaust note to suit their mood and the driving scenario. The innovative Good Neighbour Mode can be programmed to automatically limit the exhaust's noise output at pre-programmed times of the day to avoid disturbing the neighbours, not least when firing up the legendary 5.0-litre V8 early in the morning. It all depends on your neighbours' dog's behaviour the night before... I think it is any man's heart's desire to have a stallion like this in his stable.
Safety
The new Mustang is offered with a comprehensive range of driver assistance technologies including pre-collision assist with pedestrian detection, designed to reduce the severity of and, in some cases, even mitigate frontal collisions involving vehicles and pedestrians.
For the first time Mustang is equipped with adaptive cruise control and distance alert technologies that help drivers maintain an appropriate distance from the vehicle ahead, as well as lane departure warning that warn drivers when they unintentionally drift out of lane, and lane keeping aid that can apply torque to the steering wheel to steer the vehicle back into lane.
This was a fun and a real traditionally American themed launch with hamburgers on the roadside and riding into the sunset in "wild west"-style with real American horse power. The 2019 Ford Mustang is a vehicle I will remember.
Not only for its looks and power, but also for being a crowd magnet. Who needs a psychologist?
Cost
The Ford Mustang starts at a price of R768 000 for the EcoBoost and maxes out at R995 400 for the iconic limited addition Mustang Bullit.
Watch a video below
'We bring you the latest Garden Route, Hessequa, Karoo news'