WESTERN CAPE NEWS - The Western Cape Government activated an emergency feeding program for learners in the province during the week of 6-10 April, to ensure that those children who regularly received meals through the School Nutrition Programme, were still able to receive nutritious meals.
According to a statement by premier Alan Winde today:
"Emergency feeding has been a massive, collaborative effort by teachers, principals, departmental officials and volunteers and I would like to thank them for their work and their kindness. As a result, we have been able to serve 1.2 million take-away meals to children across the province, serving an average of 65 000 children each day for the two days per week of feeding.
I would also like to thank all of those businesses, individuals and farmers who have contributed towards the feeding of children. This truly shows what is possible when we all share the love.
Update on the coronavirus:
As of today, 14 May 2020, the Western Cape has 4518 active cases of Covid-19, with a total of 7220 confirmed cases and 2573 recoveries.

Sub Districts Cape Town Metro: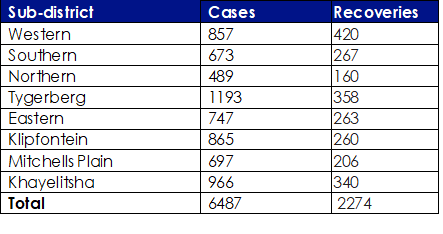 Sub Districts Non-Metro: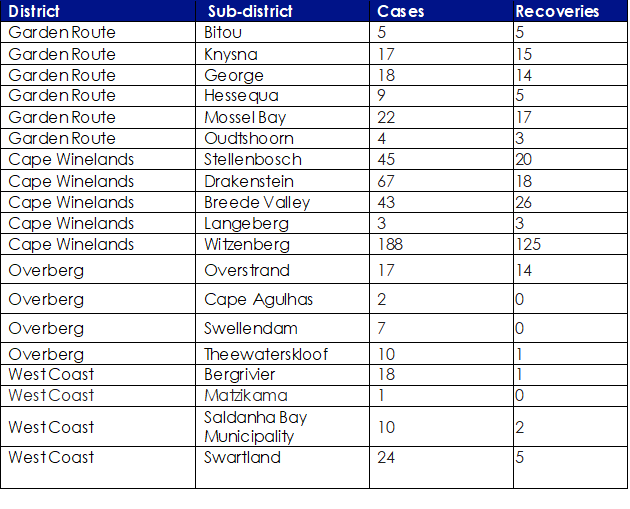 Unallocated: 222
The Western Cape has recorded an additional 12 COVID-19 deaths-bringing the total number of deaths from the virus in the province to 129. We extend our condolences to their loved ones at this time.
We have started providing sub-district recoveries data in addition to the overall number of people who have recovered.
This data is also available on the Western Cape Government data dashboard here.
Most people who contract COVID-19 will recover and 90% will not need to be hospitalised for treatment.
Additional humanitarian relief:
The workstream dealing with the social and humanitarian response to the COVID-19 pandemic in the Western Cape has been mapping the relief being made available. Over 134 000 food parcels and nearly 200 000 daily cooked meals have been provided across the province by provincial and national departments, municipalities, businesses, NGOs, faith-based organisations, SASSA, and the Solidarity Fund. In total, the Western Cape Government has allocated in excess of R70 million in food relief during this period, while municipalities have contributed more than R18 million.
Alert level 3:
The demand for food and relief reflects the massive need that exists for assistance as a result of the economic pressures residents of the Western Cape and South Africa have been under since the lockdown was first put into place. As President Cyril Ramaphosa indicated last night, the lockdown has had an impact on slowing the spread of the virus, allowing us time to prepare our healthcare systems.
It is for this reason that I indicated earlier today that the province will use the consultation process announced by the President last night, to indicate that the province should move to level 3.
The Western Cape Government has developed a detailed, data-driven hotspot plan which includes the efforts and expertise of all of our government departments, in conjunction with local governments, businesses and individuals. This plan is already showing results in Witzenberg where it was first introduced, and we are working closely with the City of Cape Town to place a similar, focused approach on the geographical hotspots in the metro.
Opening up the economy further must however be done with care and with careful planning. It is for this reason that we have developed clear protocols for businesses and specific industries aimed at reducing the risk of workplace infection.
Alert level 3 will also require a heightened sense of responsibility from individuals. This level still carries restrictions on social and workplace behaviour which must be observed. We will all still need to practice good hygiene practices like regular hand washing, coughing into a tissue or the crook of the arm, and physical distancing while wearing a clean, cloth mask.
E-commerce:
We welcome the announcement by Minister Ebrahim Patel today that e-commerce sales have been re-opened. E-commerce allows many businesses, especially a number of small enterprises to continue to trade,in a way that reduces the risk of infection as contact is limited.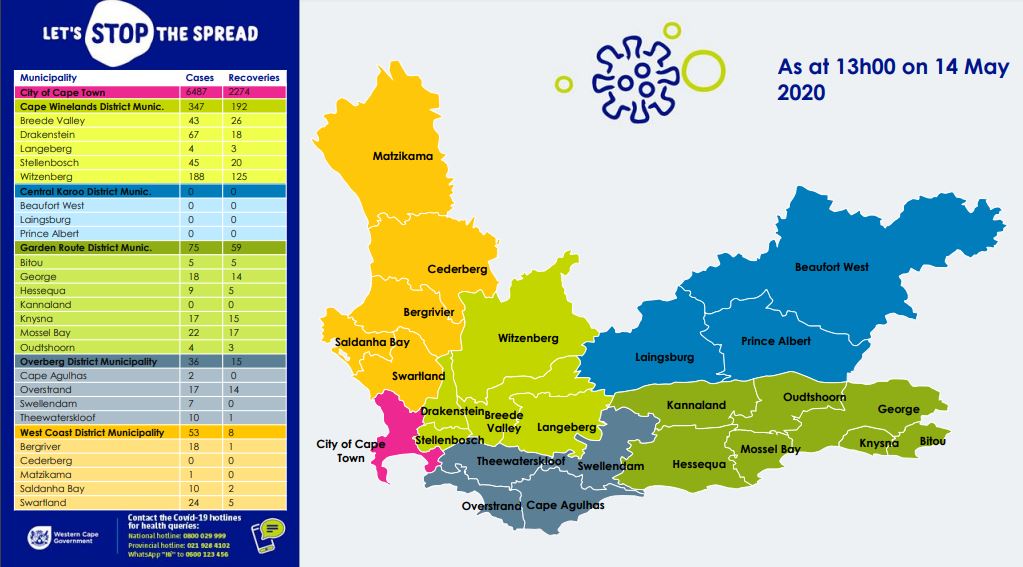 'We bring you the latest Garden Route, Hessequa, Karoo news'