GARDEN ROUTE NEWS - The Garden Route district has been declared a Coronavirus hotspot.
The Garden Route is one of five Western Cape hotspots.
The Garden Route was declared a Coronavirus hotspot by the Department of Health on Wednesday, having exceeded the required five Covid-19 cases per 100 000 people.
This now leaves the Central Karoo as the only Western Cape district yet to be declared a hotspot.
According to Knysna Municipality, in hotspot areas, districts will be subdivided into ward clusters to allow for a more targeted and rapid response.
These include deploying teams of health experts to analyse and support districts; extreme social distancing measures (including working from home); strict health protocols; and a phased-in approach to return to work.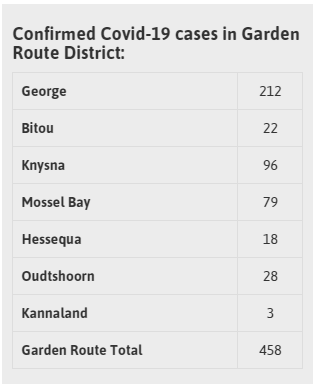 Read more on sister publication, Knysna-Plett Herald
Dear reader, As your local news provider, we have the duty of keeping you factually informed on Covid-19 developments. As you may have noticed, mis- and disinformation (also known as "fake news") is circulating online. Group Editors (publications and online platforms) is determined to filter through the masses of information doing the rounds and to separate truth from untruth in order to keep you adequately informed. Local newsrooms follow a strict pre-publication fact-checking protocol. A national task team has been established to assist in bringing you credible news reports on Covid-19.
'We bring you the latest Garden Route news'