GEORGE NUUS - Drie gesinne van die Syferfontein informele nedersetting buite Pacaltsdorp is Saterdagaand, 6 Augustus, dakloos gelaat nadat hul huise in 'n brand verwoes is. Twee kinders is ook deur paramedici van Metro-nooddienste op die toneel vir rookinaseming behandel.
Die George Herald verneem dat die polisie 'n klag van brandstigting ondersoek. Navrae aan die Pacaltsdorp-polisie oor die brand, is nie beantwoord nie.
Debra Sauer, assistent mediabeampte by die George-munisipaliteit, het by navraag gesê die oorsaak van die brand is onbekend.
"Ons wag nog vir 'n verslag oor die ondersoek na die oorsaak van die brand. Die geaffekteerde gesinne het aangedui het dat hulle by vriende en familie gaan slaap, totdat hulle strukture herbou is. Hulle is egter wel van matrasse en kospakkies voorsien. Die afdeling van gemeenskapsontwikkeling het ook Sondagaand kos aan die gesinne voorsien.
Daar sal weer aan die gesinne kospakkies voorsien word," het Sauer bygevoeg.
Intussen is twee van die drie huise Maandag met sinkhuise vervang en deur Wyksraadslid Johan Stander aan die Tamboer- en Boesak-gesinne oorhandig. Die derde gesin het aangedui dat hulle na Oudtshoorn gaan verhuis.
Tydens die oorhandiging het Stander en nuwe raadslid, Lize Stroebel, 'n kontantbedrag van R1 000, uit hul eie sak, aan die gesinne geskenk vir die aankoop van broodnodige items.
Inwoners van Delvillepark het ook uitgereik na die gesinne en deur hulle buurtwag klere, kos en beddegoed ingesamel en oorhandig.
IN SHORT.

* Three shacks were destroyed in a fire in Syferfontein last Saturday 6 August. The cause of the fire is unknown although the George Herald was told the police is investigating a case of arson. This could not be confirmed as the Pacaltsdorp Police did not respond to media enquiries.
On Monday the George Municipality erected new structures for two of the three families and donated items such as food, blankets and mattresses. The third family indicated that they are moving to Oudtshoorn.
Ward councillor Johan Stander and newly elected George councillor Lize Stroebel also donated R1 000 cash, out of their own pockets, to the families. Residents from Dellville Park also reached out to the families and donated clothes and food.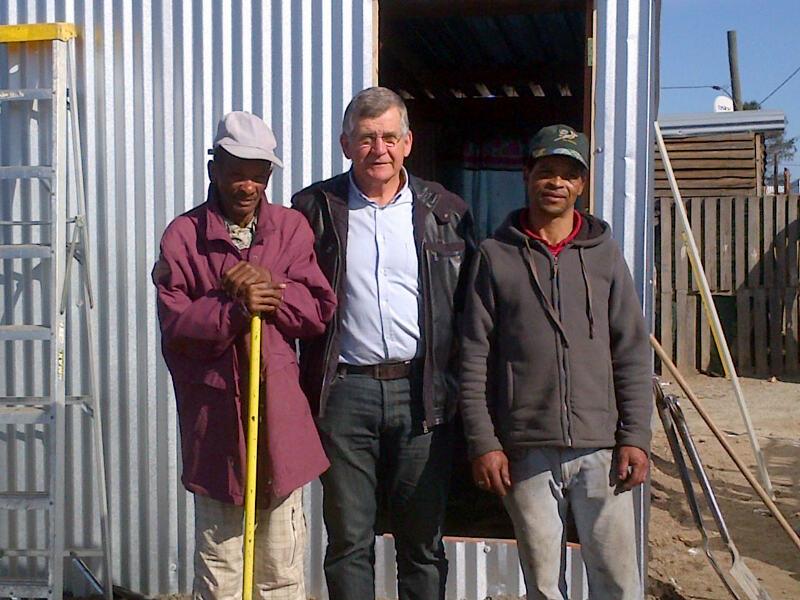 Wyksraadslid Johan Stander saam met Andries Boesak en Piet Tamboer Maandag tydens die oorhandig van hul nuwe sinkhuise.
ARTICLE: LIZETTE DA SILVA, GEORGE HERALD-NUUSREDAKTEUR
'Ons bring jou die nuutste George, Tuinroete nuus'