GEORGE NEWS - A local petition to add George Community Police Forum (CPF) and neighbourhood watches to the list of essential services, has spread countrywide within days.
According to George CPF chairman Rupert Pretorius, they offer a critical link between the police and the community and should therefore be added to the list of essential services.
"We are here to improve communication between the police and the community, to promote transparency and foster joint problem-solving and cooperation to improve service delivery by the police, to help combat crime and enforce lockdown regulations as prescribed. In conjunction with the CPF, all neighbourhood watches must be recalled and permitted to operate under lockdown," he said.
Since the petition was released last week, it has spread like wildfire.
Pretorius said should they be added to the list of essential services, the CPF and neighbourhood watches will be able to assist by clamping down on the influx of crime, promoting safety and security of all neighbourhoods and giving the police and security services more time to help in the hotspot areas.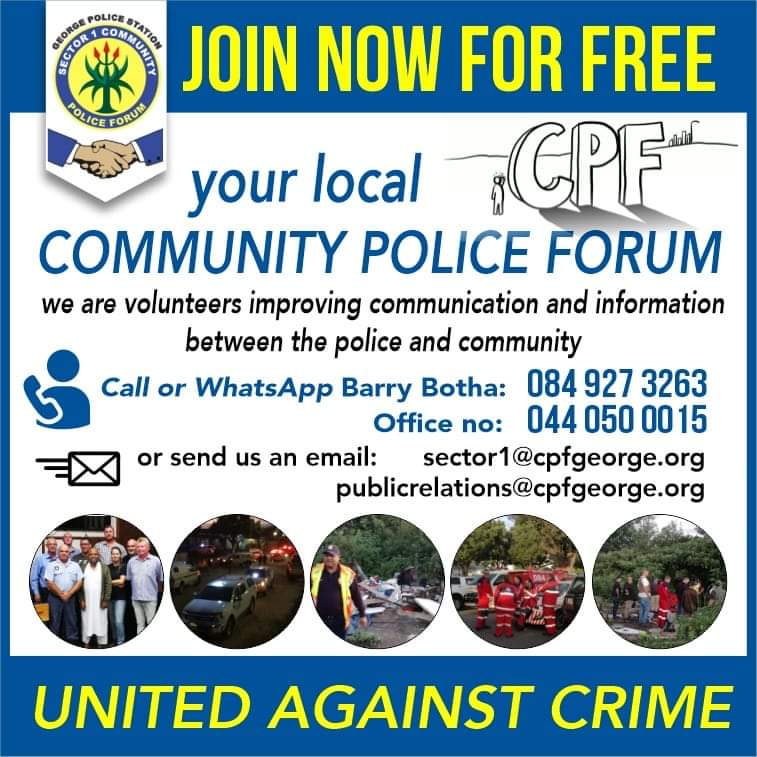 "With more than 21 000 signatures in four days, the online petition has gained tremendous support from the public. A formal letter will now be drafted and sent to the Western Cape Minister of Community Safety, Albert Fritz. Since lockdown started, the CPF received valuable support from various security companies in preventing crime.
"We invite all security companies to contact the CPF and become part of a fast-growing network," said Pretorius.
For more information about the CPF or to join their structures, please contact Pretorius via e-mail at chair@cpfgeorge.org, or phone him on 082 822 1870.
'We bring you the latest George, Garden Route news'